State Must Do More to Create Jobs & Opportunities for NYers with Disabilities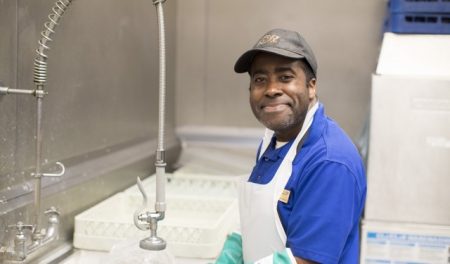 "It would be wrong to balance the state budget on their backs"
Bill Clinton wisely noted that the best social program was a good job.
In New York State, the jobless rate for people with disabilities – even before the COVID shutdown – was a staggering 67 percent. That's too many people with too much to offer who are being left behind.
The lack of jobs for people with disabilities marks a serious deficiency in New York State's otherwise laudable efforts to create an environment of inclusivity, equity, justice and opportunity.
As a state, we can and we must do better.
As leaders of non-profits working in communities across our state, we are doing our part — despite extremely challenging circumstances that include low government reimbursement rates and the withholding of state funding while Albany waits for federal aid.
Collectively, AHRC Nassau, The Arc of Erie County and Arc Herkimer provide supports for more than 6,000 individuals and their families. Among the services provided by our three non-profit agencies are employment services to help those with disabilities get the training and support they need to obtain and succeed at meaningful work that comes with a real paycheck.
The people we support have autism, Down syndrome, traumatic brain injury, muscular dystrophy and other intellectual/developmental disabilities.
They are good workers and good people – smart, warm, dedicated. They make great neighbors. Like all of us, they have families, hopes, dreams, and goals for their lives.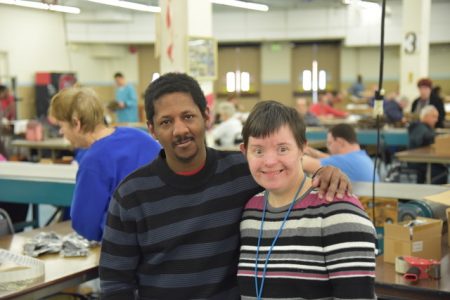 AHRC Nassau on Long Island trains and employs individuals in many business lines, including janitorial services, catering, grounds maintenance, and a greenhouse. We contract with local businesses and government agencies to provide these services. As a result, Long Islanders with disabilities are providing janitorial services for DMV in Massapequa and grounds maintenance for the Town of Hempstead and State Police in East Meadow.
Many of these contracts are through the New York State Industries for the Disabled (NYSID) and the state's Preferred Source Program (PSP), an incredibly innovative and successful employment opportunity program for those with disabilities, created in 1975 as part of the reforms coming out of New York State's hideous embarrassment at Willowbrook.
This program offers job opportunities for people with disabilities at non-profits who can provide goods and services to government entities, at a competitive, market rate price. Many of the cleaners you see in government buildings are hired through this program, as well as workers who have cleaned Metro North stations during the pandemic.
Orders for Gov. Andrew Cuomo's NY Tough poster were fulfilled by a Long Island non-profit business where eight in 10 employees has autism.
Just recently, the state authorized the purchase of protective face shields from a non-profit that employs people with disabilities.
Nearly 500 Western New Yorkers with disabilities have jobs in their community thanks to the efforts of the Arc of Erie County, which partners with more than 125 businesses, government entities and non-profits the region. Also working with NYSID, the Arc of Erie County has employees working at several state and local government sites, including the University at Buffalo, the Erie County Water Authority and the Niagara Frontier Transit Authority.
Through its Herkimer Industries division, Arc Herkimer employs about 100 local workers, 90 percent of whom have autism, Down syndrome or other developmental disabilities. Our customers include the State Police, the Thruway Authority, the State Fair and the American College of Surgeons. Arc Herkimer's sewn products team produces all of the sewn straps for one of the nation's largest military ballistic eyewear producers.
These jobs, and others through the efforts of our colleagues around the state and NYSID, provide a paycheck and hope for so many. Jobs go to the heart of independence for those with disabilities. They support individuals' professional development and provide meaningful personal development, enhancing their lives and those of their families and communities.
These jobs also make good economic sense. The Rockefeller Institute of Government found that the Preferred Source Program has created thousands of jobs for people with disabilities (and turned them into taxpayers), reduced government public assistance costs, and generated $368.9 million in economic output for New York in 2018 alone.
Yet, the needs for employment opportunities – and other services – for New Yorkers with disabilities remains great.
As we approach the holidays as well as the 2021 legislative session – and continue to battle the coronavirus pandemic – we must not forget the lives of New Yorkers with disabilities. Our agencies and staffs won't, and we won't let our state leaders forget them either.
We're looking to Gov. Cuomo and state lawmakers to join us more fully in the supporting New Yorkers with disabilities. We know governing isn't easy, particularly these days.
But they must realize that people with disabilities are part of the solution to New York's future. It would be wrong to balance the state budget on their backs. Rather, New York's leaders must continue to expand opportunities for those with disabilities – starting with the ability to have a good job.
Douglas DiGesare is CEO of The Arc Erie County
Stanfort Perry is Executive Director of AHRC Nassau
Kevin Crosley is President/CEO of Arc Herkimer