WORKERS WITH DISABILITIES DELIVER CUOMO NY TOUGH POSTER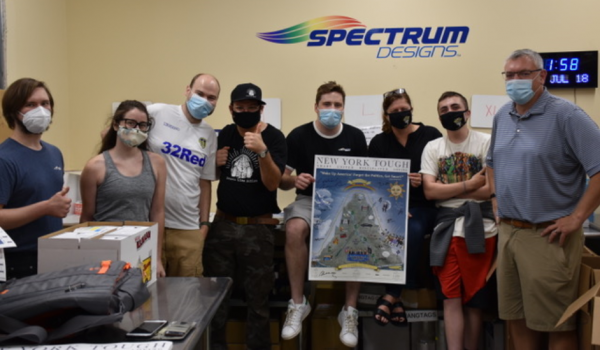 When New York State government needed someone to fulfill orders for a very high-profile piece of artwork on a lightning-quick turnaround, they knew where to go.
It was us, Spectrum Designs, a 10-year-old non-profit based on Long Island. In addition to mail fulfillment, we make custom apparel and promotional items. As a non-profit, 100% of our profits go directly back to our mission.
Of course, we're talking about Governor Cuomo's "New York Tough" COVID mountain poster. We handled more than 25,000 orders – rolling, labeling and shipping 38,000 posters throughout the US and the world.
What makes us so special?
For one, we're good. Our team has a strong track record of delivering on time and within budget, with tremendous quality control.
But more than that, we do good. Eighty percent of our employees have autism.
Supporting people with disabilities was why we created Spectrum Designs a decade ago. We knew we could provide high-quality, high-value products and services to the community and help individuals with autism lead full and productive lives through the world of work.
In the United States today:
One in 59 people are on the autism spectrum.
70-90 percent of adults with autism are jobless or underemployed.
Over the next decade, 500,000 working-age adults will have autism
$2 million is the estimated lifetime societal cost of each unemployed individual with autism.
In our state, the unemployment rate for people with disabilities in a shocking 67 percent.
By providing real jobs to real people, Spectrum reduces these social costs, enhances our local economy, and builds an inclusive workplace where all employees can thrive.
We're able to make this happen thanks to the wisdom and progressive foresight of Governor Hugh Carey and the state Legislature who, in the aftermath of the Willowbrook disgrace in the 1970s, developed a program that integrates people with disabilities into community life through work.
The Preferred Source Program's goal was to create jobs and economic opportunities — and spur all the larger societal benefits – for people previously shut out of the labor force and, even worse, had for years been shoved into institutions like Willowbrook on Staten Island and Letchworth Village in Rockland County.
It's working. The Rockefeller Institute of Government found that the Preferred Source Program has created thousands of jobs for people with disabilities (and turned them into taxpayers), reduced government public assistance costs, and generated $368.9 million in economic output for New York in 2018 alone.
Spectrum has grown and learned much in the last decade. With the help of Empire State Development, we'll soon be expanding into a new location in Pleasantville to be able to better serve our customers, which have included Google, Northwell Health, Uber, JP Morgan Chase, and MTA-Metro North.
We've created a business model where education and life skills work hand-in-hand with vocational training and opportunities. We are creating meaningful learning and employment opportunities for New Yorkers with disabilities who have untapped and too-often underappreciated gifts.
Just this summer, we celebrated our first graduating class of 11 students, working through the American Screen Print Association, who received extensive training and learning both in the classroom and hands-on in our print facility. Yes, we did this – safely and smartly – in the midst of a global pandemic. Of course, these helped: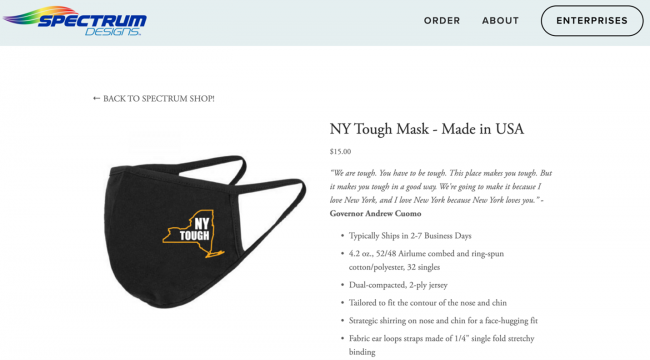 As a result, these extraordinary individuals have demonstrated their endurance, attention to detail and ability to perform tasks effectively. They are ready to prove to the world that they will be productive, wage-earning members of our community.
The New York Tough poster assignment generated hundreds of hours of living-wage work for our neuro-diverse workforce. And it tapped into the exceptional skills of our team members, plus our ability to move fast when the customer calls.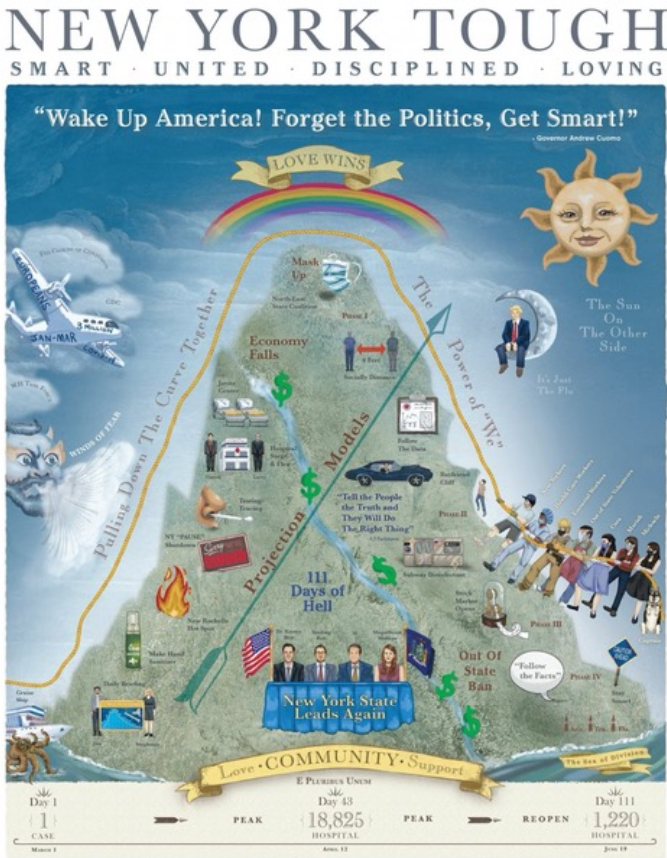 We are not alone. Our state is filled with non-profits like ours: capable, customer driven and cost effective, motivated by a shared mission to provide value to taxpayers while helping people with disabilities achieve their potential.
October is National Disability Employment Awareness Month, a special time when we celebrate the personal and societal value created when people with disabilities are in the workforce.
This year we also celebrate the 30th Anniversary of the landmark Americans with Disabilities Act, a remarkable product of bipartisanship that prohibits discrimination against individuals with disabilities in all areas of public life.
Let's create even more opportunities for New Yorkers with disabilities, building a stronger Empire State and a brighter future for all.
Patrick Bardsley is Co-Founder, CEO of Spectrum Designs in Port Washington, NY. Spectrum Designs is a custom apparel and promotional items business with a social mission – to help individuals with Autism lead full and productive lives through the world of work. As a non-profit, 100% of their profits go directly back to the mission.