Why Fair Pay for Home Care is Needed

As NY's Population Rapidly Ages, Voters 50+ Want Cost-Effective Long Term Care Services at Home; State Must Address Worst Home Care Worker Shortage in U.S.
ALBANY, N.Y. – With New York State's population rapidly aging and voters 50 and over wanting long-term care at home, where it can be provided far less expensively than in mostly taxpayer-funded nursing homes, AARP New York is calling on Governor Kathy Hochul and lawmakers to boost home care worker pay in the state budget due April 1 to head off the worst home care worker shortage in the nation and ensure services are available.
A new report from AARP New York spells out the problem – and the solution.
Home care workers are underpaid, earning on average less than $15 an hour for a median salary of just $19,000 a year. Nearly half live in poverty, and 57% are on public assistance to help make ends meet; 92% are women and 81% people of color.
"Home care is so important to our older loved ones, and it is difficult work. Simply put, home care workers should be paid a decent wage – and if they aren't, we won't have enough workers to provide the services our loved ones already need – and will certainly need more of as the Baby Boomer generation ages," said AARP New York Director of Government Affairs & Advocacy David McNally.
Ensuring availability of home care services has plenty of support from the State's largest and most powerful voting bloc – the 50+. About nine of every 10 – across political parties – want to receive any needed long-term care at home, with assistance from family caregivers and favor increased state funding for such services.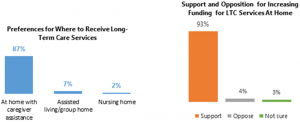 "The state as a matter of policy should ensure that older New Yorkers who require long-term care have the opportunity to stay in their homes, as the vast majority want, where they are happier and care can be delivered less expensively," the report concludes.
"Home care workers along with unpaid family caregivers will bear the responsibilities for providing such care," the report adds. "Now is the time for Governor Kathy Hochul and the New York State Legislature to ensure that New Yorkers who need long-term care can receive it at home by investing in a home care workforce that not only provides care but saves New York taxpayers money by delaying the need for more expensive – and mostly taxpayer-funded – institutional care."
AARP New York is calling for inclusion in the state budget of the provisions in S5374A (May)/A6329A (Gottfried).
Follow AARP New York on Twitter:  @AARPNY and Facebook: AARP New York
AARP is the nation's largest nonprofit, nonpartisan organization dedicated to empowering Americans 50 and older to choose how they live as they age. With nearly 38 million members and offices in every state, the District of Columbia, Puerto Rico, and the U.S. Virgin Islands, AARP works to strengthen communities and advocate for what matters most to families with a focus on health security, financial stability and personal fulfillment. AARP also works for individuals in the marketplace by sparking new solutions and allowing carefully chosen, high-quality products and services to carry the AARP name.  As a trusted source for news and information, AARP produces the world's largest circulation publications, AARP The Magazine and AARP Bulletin. To learn more, visit www.aarp.org or follow @AARP and @AARPadvocates on social media.