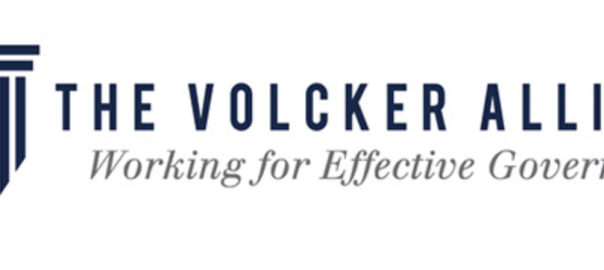 US Jobs Report: States Face Difficult Decision Between Attracting Employees & Preparing For The Future, Says Volcker Alliance

New York, November 4, 2022 – The US Bureau of Labor Statistics reported today that total nonfarm payroll employment rose by 261,000 in October while unemployment edged up to 3.7 percent from 3.5 percent in September. State and local government employment increased by 22,000 jobs, seasonally adjusted, with the sector's post-COVID 19 pandemic recovery trend showing possible signs of slowing as state revenue growth faces growing uncertainty amid inflation and fears of a recession stemming from Federal Reserve interest rate hikes .
"States and localities are facing a difficult decision between using their current surplus revenues to continue to attract employees in a tight labor market and preparing budgets for the future through savings and tax relief" said William Glasgall, senior director, public finance, at the Volcker Alliance. This can be seen in Texas, as record tax revenues have prompted the governor and legislators to debate putting a projected $27 billion budget surplus toward property tax cuts or infrastructure and workforce training. September's tally of 1.9 million Texas state and local jobs compares with 2 million in March 2020, when the pandemic was declared.
These long-term economic challenges are reflected in rising expectations for a US recession. Economists surveyed by Wall Street Journal in October forecast an average 63 percent likelihood of recession in the next twelve months. The unemployment rate is predicted to rise to 4.75 percent by June 2024.
Economic caution can be seen in state governments, which employed 5.2 million workers in October, 7,000 below September's total and still under their February 2020 peak employment level of 5.3 million before COVID-19 caused a year-long partial shutdown of the US economy. While local governments tallied an increase of 29,000 jobs from September, they were 500,000 positions short of the February 2020 total of 14.7 million. Today's reported figures continue the long-term trend of little growth in the sector following the 2007-2009 recession.
As the long-term impact of economic headwinds, such as home mortgage rates reaching twenty-year highs, begin to impact state and local tax revenues, big cities face yet another challenge in their recovery from the pandemic. The Volcker Alliance's monthly Special Briefing webinar on November 17 will address what cities can do to address continued inflationary pressures and prepare for the  future. The webcast is produced in partnership with the University of Pennsylvania Institute for Urban Research and is also available as a podcast on Apple, Google, Spotify, and other platforms.
The Volcker Alliance is continuing to provide research into the long-term impacts of national economic trends on state and local finances, along with its longstanding work empowering and inspiring the next generation of public servants to fill these jobs.
###
About The Volcker Alliance
The Volcker Alliance is a nonprofit organization founded by former Federal Reserve Board chairman Paul A. Volcker dedicated to advancing his vision of an empowered public sector workforce. The Volcker Alliance's work supports current and aspiring public servants by strengthening public service education, championing public service values, and providing strategies to help them deliver better results.
Visit volckeralliance.org to learn more. Follow the Alliance on social media @VolckerAllianceand subscribe to the Volcker Alliance newsletter for the latest news and developments. The Volcker Alliance is a 501(c)(3) organization.