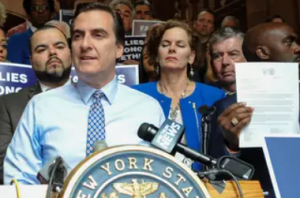 TODAY AT 11:30: ELECTED OFFICIALS, ADVOCATES HOLD PRESS CONFERENCE BEFORE STATE SENATE EXPECTED TO PASS HISTORIC ANTI-TRUST LEGISLATION TO REIN IN DOMINANT CORPORATIONS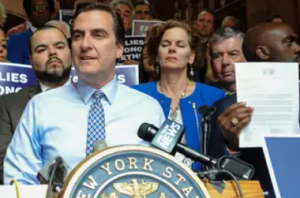 NEW YORK – Senate Deputy Majority Leader Michael Gianaris, Assembly Member Jeffrey Dinowitz, and a broad coalition of unions, industry associations, workers, and small business owners will hold a press conference to celebrate the State Senate's expected passage of the 21st Century Anti-Trust Act and to call for an Assembly vote before the legislative session concludes at the end of the week. The press conference will be today, Monday, June 7, at 11:30 am. Register here.
The first-in-the-nation legislation is bringing together a unique coalition of labor and business to update century-old antitrust laws and rein in powerful corporations that are driving down wages and stifling competition. The closely-watched vote on the New York legislation is helping build momentum for similar action at the federal level.
WHEN:
Monday, June 7
11:30 AM
LOCATION:
https://us02web.zoom.us/meeting/register/tZEuce6hqTgsHtD30Cvd2ofgxNFkqngSxEg8
ATTENDEES:
Senate Deputy Majority Leader Michael Gianaris
Assembly Member Jeffrey Dinowitz
ALIGN
Teamsters Joint Council 16
New York Communities for Change
Make the Road NY
Retail, Wholesale, and Department Store Union (RWDSU)
Institute for Local Self-Reliance
Strategic Organizing Center
Public Citizen
Open Markets Institute
Center for Popular Democracy
American Economic Liberties Project