THE SANCTUARY FOR INDEPENDENT MEDIA TO HOST FIRST-EVER STATEWIDE SYMPOSIUM ON LEGALIZATION OF PSILOCYBIN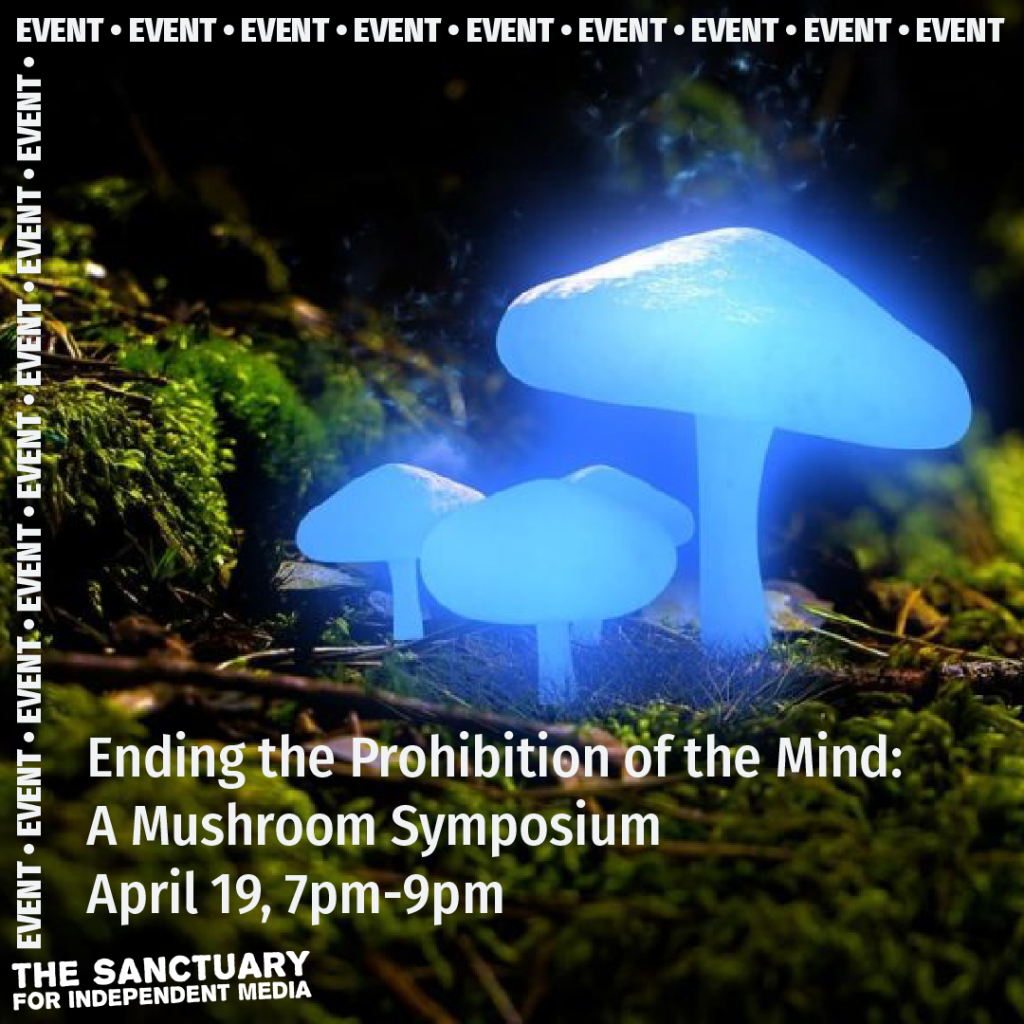 Troy, NY – Advocates, lawmakers, organizers, mental health professionals, lawyers, mushroom farmers, and other experts will gather on Tuesday, April 19, 2022 from 7:00 – 9:00 pm for a free virtual event to discuss the movement to create change in the legal system surrounding the use of psilocybin. For more information and to register, visit https://www.mediasanctuary.org/event/mushroom, email [email protected], or call (518) 272-2390.
The event, "Ending the Prohibition of the Mind: a Mushroom Symposium," will feature speakers covering: an introduction to psilocybin and its varied uses; the state of the legalization movement across the country; what various models of decriminalization and legalization might look like; what pending legislation in New York would do; and how people are organizing to support themselves in their use of psilocybin. The event will allow for questions and answers as well as community discussion following the speakers.
Psilocybin, the naturally-occurring compound found in "magic mushrooms," was banned in 1970 by the federal Controlled Substances Act. It was classified as a Schedule I controlled substance that has "no currently accepted medical use in treatment in the United States" and a "high potential for abuse."
Within the past ten years however, research from institutions like NYU, Johns Hopkins, Imperial College and others has consistently demonstrated psilocybin's ability to help treat conditions like depression, anxiety, OCD, substance dependency, and many others.
This research has propelled a grassroots movement to decriminalize psilocybin starting in the late 2010s, with Denver, Colorado becoming the first city to do so in May 2019. Other cities have followed suit, such as Oakland and Santa Cruz, CA, Washington, D.C., and Somerville and Cambridge, MA. There are now more than 100 cities and close to a dozen states, including New York, considering either decriminalization or legalization of psilocybin.
Featured speakers include:
The event will be co-moderated by political & public affairs correspondent for the Hudson Mohawk Magazine, Corinne Carey, and community activist and radio producer Aileen Javier.
Event co-sponsors include:
For more information and to register, visit https://www.mediasanctuary.org/event/mushroom, email [email protected], or call (518) 272-2390.
Ending the Prohibition of the Mind: A Mushroom Symposium
April 19, 2022
7:00pm – 9:00pm at The Sanctuary for Independent Media
THIS IS A VIRTUAL EVENT
To register for this event, click here: https://mediaalliance.secure.force.com/default/CnP_PaaS_EVT__ExternalRegistrationPage?event_id=a1z2M0000054QUgQAM
The Sanctuary for Independent Media is a telecommunications production facility dedicated to community media arts, located in an historic former church at 3361 6th Avenue in North Troy, NY. The Sanctuary hosts screening, production and performance facilities, training in media production and a meeting space for artists, activists and independent media makers of all kinds.