THE NEW YORK STATE SENATE RACES WORTH WATCHING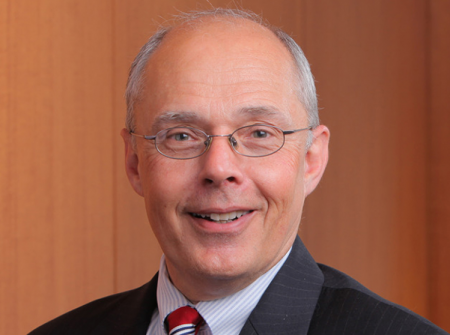 Heading into the closing stretch of the 2020 campaign is a useful time to spotlight the key State Senate races here in New York. While it is still too early to predict the outcomes of these races with any precision, the stakes are clear.
Currently the Democrats hold a commanding 40 seats to 20 seats held by the Republicans, with 3 vacancies (in seats previously held by the Republicans). The Senate's Democratic majority is not in jeopardy, but if the Democrats achieve a net gain of 2 or more seats they will reach or surpass 42 seats, providing the arithmetic potential for a veto proof majority, in both houses of the Legislature. After all the only question is whether after the elections is if the Democrats will be closer to 105 or 110 Assembly seats in a 150 member body. A triad of factors will determine the outcome of these State Senate races: two competing postulates and an anomaly.
The first postulate is the Republicans' assertion that the Senate Democrats have moved so far left that Democrats can't make any appreciable gains Upstate. Currently, the Democrats hold 5 seats Upstate and two of those seats are in the Mid-Hudson (Jen Metzger and James Skoufis) which could actually be considered to have morphed into demographic extensions of the Northern Suburbs which have been trending Democratic over the last decade. The other 3 seats held by the Democrats Upstate are held by Neil Breslin in an Albany County based seat, Rachel May in a seat anchored in Syracuse and Tim Kennedy in Erie County.
The second postulate is the Democrats' strongly held belief that the Republican weakness under Trump in the suburbs (Upstate as well as Downstate), especially among highly educated women and Independents, plus strong candidate recruitment resulting in vital center candidates in swing districts, buttressed by superior fundraising resources attaching to their firm majority in the Senate, will enable Democrats to hold their gains in the Suburbs while breaking out Upstate.
Which postulate proves accurate becomes the seminal question underlying this year's State Senate races. As an aside, the Democrats have a clear cash on hand advantage heading down the stretch of this campaign cycle. The Democratic Senate Campaign committee ("DSCC") has $2.7 million on hand after spending $3.8 million as reported in the last fundraising period, supplemented by an advantage among the funds raised by individual candidates. The Senate Republican Campaign committee ("SRCC") has $977,808 cash on hand, after reporting spending $442,137 in that same reporting period. The Republicans have received some significant help from Independent Expenditure ("IE") spending led by Ron Lauder (at least $2.3 million but that could grow by November 3rd), the Good Government for New York group (who has spent $337,000 against Senator Jen Metzger) and the looming transfer to an IE account of $1mllion by the NYCPBA. These IE's benefiting Republican candidates is balanced by separate robust IE operations by several labor unions for Democrats led by NYSUT, the UFT and 1199. In addition, in somewhat of a surprise the charter school advocacy groups and REBNY (the advocacy arm of NYC's real estate industry) have jumped in to support several Democrats: Senator Kevin Thomas and Laura Ahearn in two LI races. The bottom line is that the Democratic candidates have a large resource advantage over Republican candidates, although these GOP leaning IE's have reduced that resource deficit.
The third leg of this triad is the sheer number of hotly contested State Senate races. Traditionally here in NYS, there are usually 4-7 contested State Senate races in any one election cycle, which we call swing contests. This year, 16 races are worth charting. That is an astounding anomaly. These 16 races could split evenly between the parties after the votes are counted, but if they broke sharply for either party, that could result in a major shift not only within the Senate as a whole, but within each party Conference's balance of influence by dint of ideology and/or regional strength. Moreover, these 16 races do not account for the surprise outcomes that periodically pop up (e.g., in 2010 when Republican Mark Grisanti came out nowhere to beat Democrat Antoine Thompson in Erie county and in 2018, when Democrat Kevin Thomas upset Kemp Hannon in Nassau County). Let's chart this year's Sweet 16 of swing contests.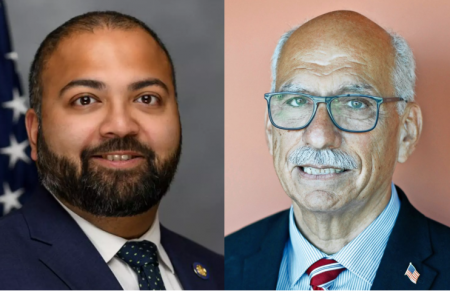 Senator Kevin Thomas and Dennis Dunne
There are 8 Republican challenges to incumbent Democratic Senators:
There are 3 serious Republican challenges to incumbent Democrats on Long island. In Suffolk's 3rd Senate District ("SD"), Republican Alexis Weik is challenging first term incumbent Democratic Senator Monica Martinez. In 2018, Martinez won a hard fought 52-48 percent victory against Republican Assemblyman Dean Murray. Martinez has proven herself as an effective and scrappy Senator with a disciplined constituent service operation. Weik is proving to be a hard working challenge candidate. This race will measure not only the power of gender gap favoring Democratic candidates (even as Weik is a female Republican) and the potency of the rising influence of Hispanic communities in Suffolk County. Martinez began with the edge of incumbency on name recognition, but the outcome here is not pre-ordained and will speak volumes about where an ever more diverse Long island is heading politically.
In the 5th SD stretching along the North Shore of eastern Suffolk and western Nassau Counties, incumbent Democrat Jim Gaughran is facing a challenge from Republican Edmund Smyth. This North Shore district was not so long ago considered safely Republican, but its relatively affluent and highly educated demographic base has made it the kind of district that Democrats often win with good candidates. Gaughran proved himself both in his close loss in 2016 and his solid win in 2018, to be that kind of successful Democratic candidate (liberal on social issues and strongly pro-education and on the environment, while being a hawk on local property taxes). Moreover, Gaughran is a hard-working and politically savvy candidate. Smyth is not a known quantity as a candidate, but that does not mean he can't mount a potent challenge. Though so far Smyth has proven a comparatively anemic fundraiser when compared to Gaughran. The Republicans are probing in this race. If by the end of the third week in October, Smyth has not gained traction, one could see the limited Republican resources being shifted toward more urgent and promising races.
The toughest race for an incumbent Democrat, lies in the 6th SD in Nassau County. Here Republican Dennis Dunne is challenging first term incumbent Kevin Thomas. This district has three unequal parts: Levittown to the west where older voters with blue collar roots rule the roost, the core of the district in Garden City where more affluent and highly educated voters drive the vote, and the growing share of Hispanic and black voters from the Hempstead end of the district (the smallest geographic portion of the district's three communities, but where Democrats can roll up the margin if the turnout from Hempstead is comparatively strong). This is a true swing district, where neither party holds the whip hand. Thomas will not lack for resources directed by a triumvirate of the DSCC, the Nassau County Democrats who have made Thomas' re-election a priority and a surprisingly significant IE effort directed by the charter school advocates. Meanwhile Dunne has proven himself a doggedly hard working candidate. This contest could go down to the wire. This race is the Republicans best chance for knocking out a Democratic incumbent not just on LI, but statewide.
The second toughest race for an incumbent Democratic Senator and the only one in play within NYC, is Brooklyn's 22nd SD. In this district Republican candidate Vito Bruno is challenging first term incumbent Andrew Gounardes. This is a blue-collar district, where the Democrats registration edge has been increasingly driven in large part by Hispanic and white hipster voters moving in, leavening the district's long time white Catholic base. Gounardes' vulnerability is not due to any mistakes, for in fact he has had a productive first session in terms of bills passed into law. But this district is not easy terrain for either party. The district leans progressive on bread and butter worker issues, but tilts conservative on law and order and property tax issues. No surprise then that Bruno has been running hard on the rise in crime issue and blaming the Democrats for being soft on crime.
Gounardes may have several face cards in the hole. An Ace in terms of labor support, given his Chairmanship of the Senate's key Civil Service and Pensions Committee. Gounardes had strong labor support last time and his Committee Chairmanship may just lock that in, regarding both fundraising and labor's vote pulling muscle. In addition, the DSCC is likely to invest heavily in trying to grind out a win in this district, while the local Republican party has a largely empty cupboard in terms of dollars and troops.  Meanwhile, no one should discount a vibrant Republican candidate like Vito Bruno in a district like this. If the Democrats resource advantages prove decisive anywhere it is likely in this district.
Moving north outside of New York City, one of the most talked about races in the media is Republican Rob Astorino's challenge to first term Senator Pete Harckham in the 40th SD. This district is lodged in northern Westchester and most of Putnam County. Astrorino was the former Westchester County Executive who lost not only as the Republican challenger to Andrew Cuomo in the 2014 gubernatorial race but also a double-digit loss to George Latimer for re-election as the Westchester County Executive in 2017. Nevertheless, Astorino is a skilled and energetic candidate. If this year's contest between Astorino and Harckham were happening in 2010, 2010 or even 2016, Astorino would be favored. But in 2020, running underneath Trump could prove to be akin to swimming with cement shoes in the socially liberal northern Westchester core of this district, with not enough Republican strength this year in Putnam County to put Astorino over the top. Nor have New York voters proven friendly in the past, when major political players try a comeback in a down ballot race (as Mary Anne Krupsak and John Lindsay found out). Plus, Pete Harckham has been a genial, attentive and disciplined Senator. Astorino's political talent and name recognition mean his candidacy should not be dismissed, but he did not pick a soft, lazy or mistake prone target in Harckham. This race merits watching, but if past is prologue, voters may prefer a nose to the grindstone district oriented incumbent, over a twice defeated pol in search of a comeback he might be angling to take statewide down the road.
The open seat in Rockland County's 38th SD, pits the Democrat Elijah Reichlin-Melnick against William Weber the Republican candidate. David Carlucci who held this seat easily for the Democrats, gave it up to pursue a losing primary challenge for the open congressional seat.  Reichlin-Melnick is steeped in Rockland issues and politics, despite his youth, from his years serving at the Rockland liaison for the popular outgoing Congresswoman Nita Lowey. He ground out a primary victory and rather quickly united the Democratic coalition behind his general election campaign. But this district is not a slam dunk as Rockland unlike neighboring Westchester is not overwhelmingly Democratic. In fact, Rockland only leans Democratic, more riven by other divisions and rivalries. Within Rockland, the Republicans have a clear albeit narrow lead among White Catholic voters (the largest voting bloc in the County). Democrats have a strong hold on the districts Reform and Conservative Jewish as well as the emerging Haitian-American community.  The Orthodox Jewish and Hasidic community in the county is large, cohesive and politically sophisticated; they are registered mostly as Democrats but have often voted for Republican candidates when they found Republicans worth supporting (e.g., when Republican Joe Holland held the State Senate seat). Navigating all these voting blocs and derivative rivalries tests the coalition building skills of all Rockland County elected officials.
Weber has been an active campaigner. The Republicans are seeking to put together a crazy quilt coalition where they lock in white Catholic support behind Weber, often jealous of the political attention the cohesive Hasidic bloc tends to get from politicians of both parties, while simultaneously securing what is often called the bullet vote from Hasidic and Orthodox voters. Some deem this a cynical strategy but this type of ploy has been a staple of Rockland's evenly divided politics. Weber should be seen as a serious candidate.
All of this has made handicapping this race difficult even in mid-October.  Meanwhile, most experts in Rockland's rather byzantine political culture, believe that Elijah Reichlin-Melnick has been out working Weber on the hustings and is poised to benefit from the gender gap that is fast becoming a gender gulch for Republicans this year in suburbs like Rockland.  Just as with the Democratic primary for this seat, the final result may not be determined until the absentee votes are counted (Reichlin-Melnick was behind in the machine count but prevailed when the absentees were tabulated). If you listen carefully to those steeped in Rockland politics they figure Reichlin-Melnick wins, their only question is whether the margin is 3-5 or 8-10 percent. Only time will tell if they are correct.
In the 42nd SD, the first term Democratic incumbent Jen Metzger is being challenged by Republican Mike Martucci. This district encompasses much of the Hudson Valley west of the Hudson River and parts of the lower Catskill Mountains region. This district used to be safe Republican terrain, but over the last decade or so, it has become what I call a teal district. Where the pro-environmental positions of highly educated suburban and exurban voters merging with traditional Democratic blue support for women's reproductive health and bread and butter economic issues, allows Democrats to overcome the Republican hold on the issues of taxes and crime. Metzger won in 2018 with that teal coalition winning in what used to be the Republican's safely orange fields.
Martucci has probably been the most accomplished fundraiser of all the Republican challenge candidates and he appears to be working hard. Martucci has also benefited from a sizable IE from the Good Government for New York group. Given the fact that this district gives neither party a clear registration advantage, the outcome here will come down to turnout and who can win the lion's share of unaffiliated (what we like to call Independent) voters. This is the third best opportunity for the Republicans to snag back a seat the Democrats won in 2018. Meanwhile, Metzger works as hard at grass roots networking as you will find in any candidate on the track this year. Consequently, I see this race as a talisman race for which party's postulate proves to be a theorem.
In the 53rd SD, former Syracuse football player Sam Rodgers (Republican) is running against first term Democratic Senator Rachel May. This district is anchored in the city of Syracuse (except for the North End), but extends to Madison county and parts of Oneida County.  This district is a unique mix of urban, suburban and small town rural voters. In a Democratic primary this district leans progressive, but in a general election the winning candidate must be able to carry centrist voters outside their party's base, especially if a Democrat. In a good year for Republicans Upstate (1994 or 2014), where the SRCC was flush with resources a candidate like Rodgers might be favored for an upset. But this is not such a year. May has a clear advantage from incumbency in a region where incumbency helps in a general election. Nevertheless, it would be a mistake to dismiss Rodger's potential for an upset. But if May holds on to this seat that may portend bad news for the Republican supposition that Upstate Democrats can't win, because Downstate Democrats often veer pure progressive.
In assessing these 8 challenge races, for the Republicans to make any dent in the Democrats current hold on 40 seats, the GOP must take back at least 5 of these 8 seats. If, however, the Republicans can only take back 2 or fewer of these 8 seats, then the Democrats are likely to have a net gain of seats beyond the 40 seats they now hold.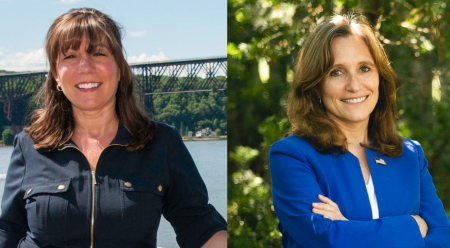 Senator Sue Serino and Karen Smythe
The Democrats are making 3 sustained challenges to seats held by Republicans:
In the 1st SD, Democrat Laura Ahearn has reversed the conventional wisdom that the Republican should be favored to win this seat long held by Republican Kenneth LaValle. LaValle was once dubbed "The Colossus" of Suffolk County politics by Larry Levy then the editorial board chair of Newsday. This change in perception regarding Ahearn's candidacy comes out of hard work. Ahearn has proven a singular force in terms of fundraising (combining a Suffolk network of small dollar donations with large contributions from the real estate and charter school interests craving moderate allies in the Senate Democratic conference), while also projecting her not for profit advocacy on behalf of protecting families from sexual abuse and promoting animal rights. Ahearn has also been a bold advocate for protecting the environment which was LaValle's calling card as well as his higher education portfolio. In short, Ahearn has transformed herself into well- funded candidate tapered to the rather unique often contradictory political impulses of eastern Suffolk County. Not to mention that she is running in a good year to be running as a female Democrat, with the potential to draw the votes of independent and Republican women. Having said all of that, this race is not in the bag, the Republican Anthony Palumbo is a skilled candidate and advocate with the potential to hold this seat for the GOP, especially if Trump and Zeldin bounce back to carry the district comfortably. But so far, the energy and hence the momentum in this race have clearly been with Laura Ahearn.
In Suffolk's 4th SD, former Democratic Assemblywoman Christine Pellegrino is challenging incumbent Republican Senator Phil Boyle. Boyle is a formidable candidate, with strong alliances not only within the GOP, but with the Conservative Party (long a pivotal factor in Suffolk politics) and he even has some quiet alliances with key Democrats in Babylon. Boyle is energetic and a clever albeit a sometimes quirky pol. Pellegrino, shocked the world winning a special election in the 9th Assembly District (long a GOP bastion) in 2017, but lost her re-election in 2018.  Pellegrino should not be dismissed, as she is a high energy candidate, but most experienced Suffolk hands think Boyle has a distinct edge. If Pellegrino pulls off another surprise upset, it will almost assuredly be a function of an anti-Trump rout, that most folks figured wouldn't extend all the way out to Suffolk.
The 41st SD, is a rematch between Republican Senator Sue Serrino and Democrat Karen Smythe. This district is centered in Dutchess County, but includes parts of Putnam County (Kent, Phillipstown and Putnam Valley). This race was one of the real surprises of 2018, as Smythe surprised nearly everyone by losing by only 646 votes. Smythe has managed to maintain her momentum from 2018, as measured by the grass roots network she has built and her success at fundraising. Smythe could also benefit from the fact that unlike 2018, when Dutchess County Executive Marc Molinaro ran much better at the top of the ticket for Governor, than Trump is likely to run this year. The demographics of Dutchess and Putnam Counties are becoming more like the Northern Suburbs, than the Dutchess and Putnam Counties of the 1940's through the end of the last Century, when it was quintessentially small town Republican in its politics. Smythe as a businesswoman who had a long record of community involvement was perfectly tapered to these new political dynamics and her earnest issues oriented approach struck an energetic chord within the district last time that has carried forward into this campaign.
However, there has not been a wholesale change within the district. This district while no longer red, is deep purple rather than bright blue. Serrino has long been rooted in her district. She had been a formidable vote getter until Smythe fought her to practical draw last time. This race will be hard fought and tight down to the wire. Most folks on the ground, consider the outcome a flip of the coin.  If women voters were to inflict a tidal wave on Trump's Republicans, however, this is one of the district's where that tsunami might land.
If the Democratic gains from these 3 seats, were to equal or surpass the Democratic losses from the 8 Democratic Senators the Republicans were challenging, their quest for a veto proof majority would be in sight. Alternatively, for the Republicans to pick up a net gain of State Senate seats statewide, they must play almost perfect defense in these 3 seats.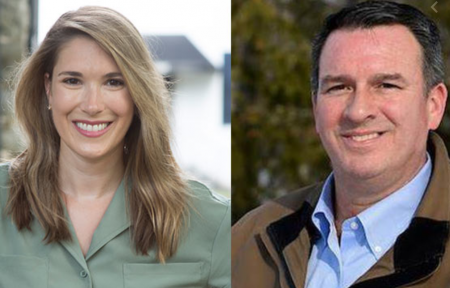 Michelle Hinchey and Rich Amedure
The 5 Marquee Races Upstate:
If Michelle Hinchey defeats Rich Amedure in the 46th SD, the Republicans will only have themselves to blame. Amedure has run a stealth race which local pundits have dubbed a lazy race. Democrats in the district surmise that the real GOP strategy was to hope that voters presume that the outgoing Senator George Amedore, who after losing his first race for this seat by a mere 18 votes in 2008, won by ever larger margins from 2010-2018, was still on the ballot.  I have no idea why Amedure has run his race beneath the surface. I would hate to think that his strategy was really one of hoping that voters thought that the name on the ballot is misspelled and that Amedure is really Amedore.  Meanwhile, if Hinchey wins it will also be a tribute to the DSCC's candidate recruitment efforts. Hinchey has been an energetic, purposeful and rather classy candidate from the start. Yes, she inherited a big name from her late father, a hero to the environmental movement who was a fixture first in the Assembly and then Congress. But Michelle Hinchey used that as a door opener for carving her own path in this geographically and hence, politically far flung district.
One reason that the criticism of Amedure's lethargy rings true is that to prevail in this district a candidate has to master three distinct political cultures. After all the 46th SD is like Caesar's Gaul it is divided into three parts (though unequal in political potency). The Democrats have the edge in the Ulster portion of the district. The progressive pulse beats strong in the Southeastern portion of this district. But the western portion of the district in the Rotterdam portion of Schenectady County and Montgomery County, supplemented by Greene County just south of Albany County, all of which are rock ribbed Republican. The third portion is Guilderland a highly educated though not quite affluent Suburb of Albany (Republican thirty years ago but now Democratic, but not by an overwhelming margin). When you distill all that down for a Democrat to win, they have to sweep the Ulster County region, try to shave the GOP edge just a tad in Greene and or Amsterdam in Montgomery County. But even with all that the Republican edge in the western portion of the district will outvote the Democratic strength from Ulster. To put it over the top a Democrat must run up the score in Guilderland. The only Democrat who pulled that of was Cecilia Tkaczyk in 2008 and to repeat it she won by a mere 18 votes, only to lose her re-election by double digits in 2010.
Hinchey is now up with TV ads after a long summer of virtual campaigning supplemented by video ads and buttressed by her grinding away at fundraising. If hard work guaranteed success Hinchey would win. But the voters will have the final say. I am not counting Amedure out, but I join those who remain mystified at the relative dormancy of his campaign. This seat is a prime but by no means a certain pick up opportunity for Democrats Upstate.
In the 50th SD, Democrat John Mannion is back for another crack at this seat where he beat expectations, but came up just short against Bob Antonacci (losing 52-48 percent or 2300 votes). Antonacci surprised and angered Republicans by seeking a judgeship and now Mannion faces Angi Renna. This district includes the North End of Syracuse and the lion's share of Onondaga County's suburban towns and a small portion of Cayuga county (including Auburn).
Mannion proved himself a formidable candidate in 2018 and that has carried forward to his 2020 campaign. Mannion has outraised Renna by 3-1 (Mannion has raised $303,000 while Renna has raised only $104,000). Not to mention that NYSUT has no doubt repositioned an active and well- funded IE effort on behalf of Mannion, who has long been a teacher. Renna, however, is central casting for the kind of Republican woman who runs well in Upstate New York. But her lack of resources and the difficulty she has faced sustaining her issue based attacks, has left Mannion with the momentum. Moreover, polling data of this section of Upstate reveals that Biden currently enjoys a significant lead over Trump at the top of the ticket. Mannion should not presume beneficial coattails, but if they come that would likely cinch the deal for his second run at this seat.  But for now, this seat should be seen as up in the air, representing a good but not a certain shot for a Democratic pick up.
The two open Monroe County seats, previously held by the Republicans, represent a real litmus test for both parties Upstate. For the Republicans holding these two seats should be seen as a critical to their objective of retaining their base Upstate. Correspondingly if the Democrats were able to take one and certainly if they were they to take both of these seats, then they will have gone a long way to broadening the regional base of their conference.
In the 55th SD, the seat currently held by Rich Funke, centered in Rochester and Monroe County's more affluent suburban towns, the political demographics are moving toward the Democrats on issues like a woman's right to choose, health care, the environment, education and gun control, but the voters in this district keep their elected officials on a short leash on taxes and tend to be of decidedly mixed minds on criminal justice. Democrats tend to succeed in districts like this one when they can bridge the gap between the progressive pulse on social as well as economic issues and fiscal prudence. This year the Democrats are confident that their candidate Samra Brouk can prevail, while the Republicans have high hopes for their candidate Christopher Missick.  The voters will determine which side's optimism accurately read the voter's minds.
In the 56th SD, the seat long held by Joe Robach, this Greece centered district is a mix of urban and suburban Monroe County. This year's race features Jeremy Cooney as the Democrat and Mike Barry for the Republicans. Cooney gave Robach a much tougher run than most outside of Monroe County expected. Robach won, but Cooney set himself up for making a strong run in his second shot at this seat. In both of these Monroe County contests gender gap, minority turnout (Black voters in the 55th and Black and Hispanic voters in the 56th) as well as the pivot among Independent voters will prove decisive.
Finally, in the 60th SD, the Erie County seat once held by former Senator now Congressman Chris Jabobs (Republican) has become a major objective for the Democrats. This district tends to be liberal on bread and butter issues, moderate on social issues and conservative on taxes, guns and criminal justice issues. Consequently, to win in this district, demands a candidate who can show range and depth in building his or her electoral coalition. Crossover appeal beyond one's partisan base is a necessity, not a luxury in this district.
The Democratic candidate, Assemblyman Sean Ryan is a disciplined and ring wise candidate who has proven to be a prodigious fundraiser. The Republican candidate, Joshua Mertzlufft has tried to play the outsider card, which often works well in WNY politics. But Mertzlufft has proven to be weak fundraiser (Ryan raised $500,000 by his September fundraising report, whereas Mertzlufft had raised less than $20,000). Most insiders from WNY, rate Ryan's resources and campaign experience as well as his derivative name recognition edge as virtually prohibitive advantages. I see no reason to dispute the locals' take on the state of this race.
When all is said and done, if the Democratic Conference 's seats from Upstate grow from its current 5 towards 10 seats, that will become of great significance going forward. Although if the Republicans can reduce the Democratic seats from Upstate to under 5 that too will be of real significance. In the final analysis, when all the votes are counted most observers will focus upon whether the Republicans can pick up a net gain of 5 or more seats statewide or whether the Democratic ranks swell to hit or surpass 42 seats, the yardstick for a veto proof majority, or something in between.
However, I think the more significant question will become what is the regional mix within the Republican conference and what is the ideological as well as regional mix within the Democratic conference, even if the Democratic conference were to grow towards 45 seats. The ultimate question for the Senate Democrats will become whether their moderate ranks within their conference remains limited to 6-8 members (from Long Island and one or two others) or whether that moderate bloc grows to or beyond a Baker's Dozen, given the potential for growth Upstate. If the Senate Democrats' moderate wing grows and proves cohesive, it need not lead to a civil war within the larger Democratic conference, provided the entire conference learns to listen to the full range of political realities in their collective districts. After all, they could find the synergy between the Senate Democrats' progressives from NYC and the moderates form the Suburbs and Upstate, much like the productive Stanley Fink era in the Assembly in the late 1970's and early 1980's. Not to mention that a moderate block could become a wall protecting the Senate Democrats in 2022 or beyond, should the political headwinds be in their faces, rather than at their backs. This is of course inevitable, as the iron rule of politics is that there are no final victories.
With 16 State Senate seats in serious contention this year, it is prudent to watch these races with a skeptical and studious eye, rather than a falsely omniscient eye. There will be electoral lessons to be learned from the results in these 16 contests.  I would urge my fellow pundits to resist certainty and be open to how the voters instruct us in teaching those lessons.
Bruce N. Gyory is a Democratic political consultant and a senior advisor at Manatt, Phelps and Phillips LLP.    
Correction: an earlier version of this column incorrectly stated that the Congressional candidate in Rockland County Mondaire Jones was a member of the Haitian community which might increase The Haitian vote in Rockland impacting the State Senate race in the 38th SD. That was based on an incorrect early profile of Jones' candidacy. The author apologizes for that  error which has been been corrected.