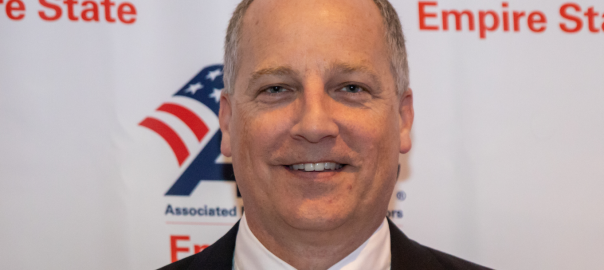 THE AMERICAN JOBS PLAN, OR THE UNION JOBS PLAN?
During President Biden's rollout of the $2 trillion "American Jobs Plan," he admitted he is a "union guy," and wants to give unions a "piece of the action." This is why his plan urges Congress to pass the Protecting the Right to Organize (PRO) Act: a gross rewrite of America's labor and employment laws, filled with troubling provisions that will harm America's workers, small businesses and our economic recovery.
Only $1 trillion of Biden's plan funds infrastructure, and he wants those construction projects to be built by union workers, and union workers alone. His plan calls on Congress to tie federal infrastructure investment to government-mandated, project labor agreements (PLAs).
These controversial PLA schemes steer publicly funded construction contracts to unionized contractors, creating jobs exclusively for union members at the expense of hardworking taxpayers. Non-union construction workers, who comprise over 70 percent of New York's construction industry, won't even be eligible to get this work under the president's plan.
Research shows PLA mandates increase construction costs by up to 20 percent, resulting in fewer infrastructure improvements and less job creation for New York's construction industry. We all know our roads and bridges need dramatic improvements, with nearly 50 percent of them classified as deficient. New York is already behind the 8-ball with infrastructure improvements; we need every project we can for the sake of our residents' safety.
As Biden administration officials continue to sell this plan to the American public, listen for the familiar refrain that it will create union jobs. While such transparency is refreshing, rewarding powerful special interest groups, through anti-competitive policies, rarely translates into positive outcomes for the American people.
If the American Jobs Plan truly "includes everyone," why are President Biden and Transportation Secretary Pete Buttigieg refusing to provide opportunities for millions of American workers, pursuing successful careers through well-paying, open/merit shop jobs? You cannot claim to be a voice for all while rewarding the chosen few.
We expect – we demand – better from our Commander-in-Chief and Secretary Buttigieg. Promote jobs for all workers and eliminate discriminatory PRO Act provisions and PLAs from your plan. Be the leader you promised to be when elected. Millions of Americans deserve it.
The Empire State Chapter of Associated Builders and Contractors, part of a national construction industry trade association established in 1950, was founded on the merit shop philosophy. ABC Empire State Chapter helps its more than 400 members develop skilled tradesmen and women, submit winning bids for work and deliver that work in a safe, ethical and timely manner for the betterment of the communities in which
ABC and its members work. Visit us at abcnys.org.