Steve Cohen Releases Community Feedback From First Series of Listening Sessions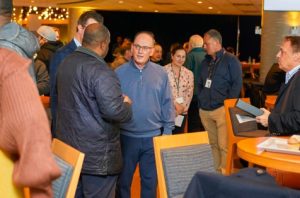 98% of Participants Want To Build Something Great vs Keeping 50 Acres of Asphalt
Read the report HERE
Watch the video HERE
Queens, New York – Today, Steve Cohen and his team released the findings from the first series of listening sessions that brought together over 1000+ members of the community on how best to re-imagine the 50 acres of asphalt around Citi Field. Through these collaborative listening sessions, Cohen and his team have collected thousands of points of feedback and have started to piece together the community's hopes and concerns when it comes to improving this area.
"Having spent hours with the community at these sessions, one thing is abundantly clear: everyone believes we can do better than 50 acres of parking lots," said Steve Cohen. "We're encouraged by what we have been hearing and will continue to host these sessions over the coming weeks to further inform our ultimate vision for the area."
Across the first six sessions, participants often used words such as "empty," "gloomy," "underutilized," and "desolate" when describing how they feel about the existing 50 acres of asphalt surrounding Citi Field. When prompted to express what they want to see in the future, there was a clear desire for an improved area that would feel "vibrant," "welcoming," "green," and like a "destination."
This was overwhelmingly evident when participants were presented with a clear choice for the space:  
98% of participants want "to build something great" and only 2% of participants chose to "keep the 50 acres of asphalt."
Building something great was defined by both the core values Cohen initially laid out for the project in addition to ideas that were raised in different listening sessions:
Public Green Space
Thousands of good paying jobs
Queens Food Hall featuring local restaurants and vendors
Improved public transit and parking infrastructure
Space for community groups and local artists
Community athletic fields
New connections to waterfront and community
Hotel with live music venue, gaming, and conference space
Overall there was broad support for each of the core values of the project and consensus that each would improve the area around Citi Field.  Yet, community interest was greatest around these three key areas:
Creating good-paying local Jobs
Throughout the community sessions, participants were asked what are the most important qualities that should be emphasized when new jobs are created.
A living wage and local hiring were nearly tied as the top two priorities
This was closely followed by supporting locally owned businesses, with a specific emphasis on hiring minorities and women.
Overall these three attributes were a priority for more than half of total participants across the visioning sessions.
Supporting Year-Round Entertainment
Year-round entertainment is core to any vision for the area and will ultimately support the ability to deliver on good-paying local job opportunities.
Session participants showed interests in having live music performances, community events and restaurant and bar options.
Many specific ideas that were suggested included hosting the Flushing Meadows Soap Box Derby and a Louis Armstrong Jazz Festival.
The desire for restaurants and bar options, including a food hall with local vendors was echoed when participants were asked what would get them to come earlier or stay later at a ballgame.
Expanding and Improving Green Space
Parks and public space are essential for any community. Throughout the sessions, the community expressed a strong desire to create significant dedicated green space and parkland.
Open space was the highest-ranked feature when asked what would improve your day at the ballpark.
Interest in designated areas for recreational activities was frequently mentioned.
The report summarizes input heard from 1,000 + community members and fans across six sessions, conducted in 4 languages and with ideas and feedback submitted through more than 5,000+ dots placed and 800+ sticky notes.
These community listening sessions were first announced in December and have ranged from large-scale Citi Field sessions to smaller neighborhood-focused sessions. They have sought input through interactive boards, small group roundtable discussions and direct feedback.