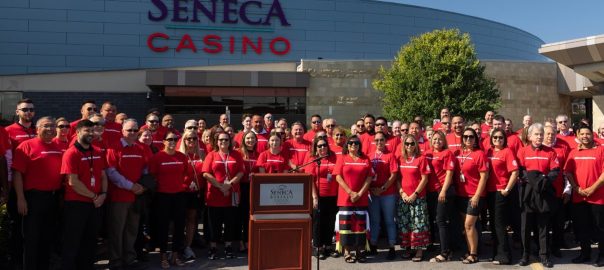 SENECA COMPACT AGREEMENT REPRESENTS A PATH FORWARD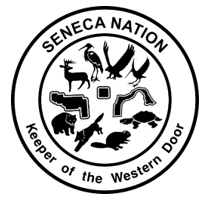 Agreement will protect Nation's operations, jobs, economic benefits, funding for critical services
ALLEGANY TERRITORY, SALAMANCA, N.Y – CATTARAUGUS TERRITORY, IRVING, N.Y. – Following several months of negotiations, the Seneca Nation recently announced that it has reached an agreement in principle with New York State for a new 20-year casino gaming Compact. The Nation's current Compact, signed in 2002, is set to expire on December 9 of this year.
"Negotiating a fair Compact was critical to the future of the Seneca Nation and the future of Western New York," said Seneca Nation President Rickey Armstrong, Sr. "Throughout months of negotiation, our focus remained on arriving at a fair deal that secured the future of our gaming operations, the vital funding our operations provide for critical services for our people, and the significant jobs and economic benefits they generate in Western New York."
Although the terms of the new compact are not yet finalized, the potential opportunity to establish a new Seneca Nation-owned gaming facility in the Monroe County area is part of the agreement.
"Nothing is set in stone, and our agreement would simply enable the Nation to start a process of working with our neighbors on a potential facility.  We are excited by the opportunity to engage with local leaders and stakeholders to expand this powerful economic engine by building and operating a new, world-class development consistent with the priorities of local communities," President Armstrong said. "We see the important role our facilities play in the development of Buffalo, Niagara Falls, and Salamanca, and if it makes sense for the Nation and for local communities in Monroe County, we think we could be a part of the Rochester area's future growth and success as well."
The Nation signed its current Compact agreement with New York State in August 2002, opening the door to an unprecedented wave of private investment and job creation in Western New York.
Since then, the Seneca Nation has invested nearly $2 Billion to build, develop and operate its three casinos in Western New York – Seneca Niagara Resort & Casino in Niagara Falls (opened 2002), Seneca Allegany Resort & Casino in Salamanca (opened 2004), and Seneca Buffalo Creek Casino in downtown Buffalo (opened 2007).
Today, the Seneca Nation stands as one of Western New York's most powerful economic engines and one of the region's largest employers. Between its casino facilities, other business enterprises and its government operations, the Nation is responsible for more than 5,000 direct jobs, more than $300 million in annual wages, and nearly $600 million in annual spending with vendors and suppliers. All told, the Nation has an annual economic impact of more than $1.1 Billion on the Western New York economy.
"We are talking about tens of thousands of individuals, families and businesses who depend on the Seneca Nation and our gaming operations for the wages and benefits necessary to support their families, pay their mortgages, and raise their children, and business partnerships that help pay employees and bolster companies across this state," Seneca Nation Councilor Tina Abrams said during a recent press conference in Albany.
In addition to the Nation's investments and the jobs created and supported by the facilities, from union construction jobs, casino and hospitality jobs, and jobs at thousands of vendor and supplier companies across New York, the casinos have generated tens of millions of dollars for local governments, as part of the Nation's revenue share payments to the State.
Under the current Compact, the Nation provides a share of net slot machine revenues to New York State, a portion of which the State shares with the host communities where the Nation's casinos are located. Over the life of the current Compact, host communities have received more than $500 million in new revenues because of the casino operations.
"The communities that host our facilities are important partners," President Armstrong added. "We believe that local governments should receive as much of our exclusivity fee as possible, because that is where the funds will have the strongest impact. We are proud of what Seneca gaming revenues have meant to our local partners, and we look forward to building a new partnership with our anticipated expansion."
For the Seneca Nation, revenues are essential to the continued operation of its government, the services it provides, and the continued health and well-being of the Seneca people. Revenues from its gaming operations represent a significant portion of the Seneca Nation's annual budget and fund important services for the Seneca people, including healthcare, education, housing, Elders' services, infrastructure, public safety, and more.
Once finalized, the proposed Compact must be reviewed and approved by the United States Department of Interior before it can go into effect.
"We have come a long way, as a Nation and as a region, over the last 20 years," President Armstrong said. "Our agreement with the State is good for both the State and the Nation, and for our region as a whole. The Nation is committed to seeing our agreement through and getting this done so that we can continue to transform life for the Seneca people and the economy in Western New York for generations to come."
For more information on the Seneca Nation and the importance of a fair and equitable Seneca gaming Compact, visit StandWithSeneca.com.
*sponsored*