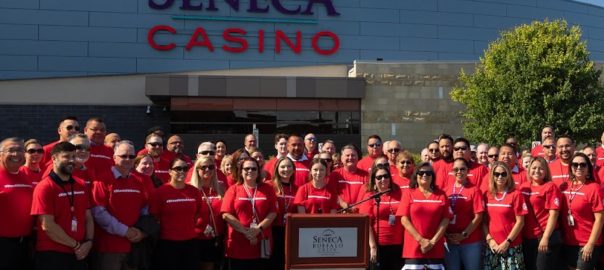 Preparing the Way – Seneca Nation is building a stronger future for its people and for the Western New York region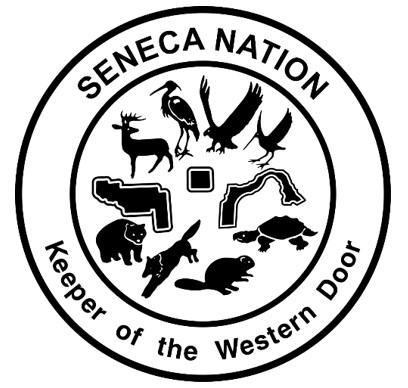 BUFFALO CREEK TERRITORY – BUFFALO, N.Y. – The Cobblestone District is a thriving entertainment destination in the Queen City's downtown core. It boasts a growing collection of restaurants and bars, fun year-round, family-friendly activities and programs at Canalside, as well as being the home of the Buffalo Sabres NHL hockey team. The Cobblestone District is also home to a new children's museum, new hotels and attractions, with more development on the way propelling outward growth to other parts of the city each day. The energy is unmistakable. For those who remember what the area was like 15 years ago, the difference is dramatic.
"There were a lot of vacant industrial buildings and underutilized parcels," said Seneca Nation President Rickey Armstrong, Sr. "The area was more of a reminder of what used to be than a sign of what could be. The Seneca Nation changed that."
Indeed, the tide began to change in 2007, when the Seneca Nation opened its Seneca Buffalo Creek Casino. The success and excitement were so immediate that the original facility twice had to be expanded before planning and construction were complete in 2013. Another major expansion followed in 2017.
Today, Seneca Buffalo Creek Casino stands as a central destination in the completely reimagined Cobblestone District, attracting millions of visitors each year. The casino is also a major employer, with more than 500 employees, and it generates millions of dollars in business for local vendors and suppliers each year. To date, the Seneca Nation has invested more than $300 million on its Buffalo Creek territory in less than 20 years.
"Seneca Buffalo Creek Casino would stand out as an amazing success story on its own, but it's only a fraction of what the Seneca Nation has accomplished in just the last two decades," said Seneca Gaming Corporation President & CEO Kevin Nephew.
The opening of Seneca Buffalo Creek Casino continued the wave of economic momentum the Seneca Nation created with the opening of Seneca Niagara Resort & Casino in Niagara Falls in 2002 and Seneca Allegany Resort & Casino in Salamanca in 2004. Together, the Nation's three gaming facilities represent nearly $2 billion in private investment by the Seneca Nation. Seneca Gaming Corporation is one of the region's largest employers, with more than 3,000 workers in Western New York. The company supports thousands more jobs through the hundreds of millions of dollars it spends each year with vendors, suppliers and business partners throughout Western New York and across the state.
What does that all mean for the regional economy? Quite a bit.
Between all of its various business enterprises and the Nation itself, the Seneca Nation generates more than $1 billion in annual economic impact in Western New York, providing nearly 6,000 jobs and accounting for more than $500 million in spending with businesses of every size.
"We are proud of what we've built and the important role we play in our home region," President Armstrong. "We want to continue our growth so that we can continue to deliver important economic benefits to Western New York. This has always been our home, and always will be."
Economics is just part of the equation. If the Nation's investments prepared the way for future development and growth in Niagara Falls, Salamanca and Buffalo, they have also prepared the way for important improvements for the Seneca people.
As a sovereign government, the Seneca Nation is responsible for serving the needs of its people and ensuring their future. Unlike municipal government, the Seneca Nation does not tax its citizens, many of whom reside on the Nation's Allegany and Cattaraugus Territories, located within the southern tier of Western New York. Instead, the Nation's business enterprises generate approximately 70% of governmental funding for essential services and programs, including healthcare, education, public safety, infrastructure, housing and Elders services.
"For many years, our people did not have access to the quality of services, even some basic services, that other communities take for granted," President Armstrong said. "Thanks to our business endeavors, most notably our gaming enterprise, we have been able to make important strides toward closing those significant socio-economic gaps."
Among the recent advances on Seneca territory there have been new healthcare centers, improved infrastructure, quality housing and programs to support home ownership on Seneca land, recreation and community centers with world-class facilities and programming for local youth, dramatic improvements to education facilities and services, and even the construction of a reliable, high-speed broadband network to finally bridge the digital divide for Seneca students, households and businesses.
Central to the Nation's dramatic economic impacts in Western New York and the important advances it has made for the Seneca people is the Nation's gaming Compact agreement with New York State. The Compact, which was signed in 2002, is set to expire in December 2023. The Nation and state officials are currently engaged in negotiations on a new agreement.
"Just look at everything we have been able to do and accomplish, as a region and as a Nation, in the last two decades," President Armstrong continued. "Getting a fair agreement in place that recognizes our important role in the Western New York economy and preserves our competitiveness in the rapidly-changing and expanding gaming market will help shape the future of the Seneca Nation for generations to come and continue to bolster Western New York through our job creation, investment and operation."
For more information on the Seneca Nation's history and its economic impact on Western New York, visit StandWithSeneca.com.
*sponsored content*