PBA of New York State Members Have Answered the Call for New Yorkers in Need – Now Governor Hochul has the Opportunity to Address the Needs of PBANYS Members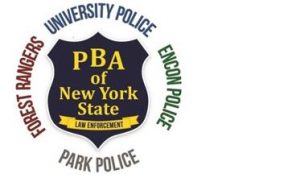 The past two years have seen a number of challenges to public health and safety ranging from COVID to natural disasters to a greater demand for fair, modern and community policing, not only in New York but across the country. During that time the PBA of New York State (PBANYS) members have answered the call by manning testing and vaccination sites, collecting and delivering PPE to first responders and putting not only themselves but their families at risk as they exposed themselves to a deadly virus, all in the name of serving and protecting. Our members did not look for or expect expressions of gratitude – though they were always sincerely appreciated – they simply sought to be respected for their work and to take comfort in the knowledge that they were providing a secure future for themselves and their loved ones.
Governor Hochul has the opportunity to provide that financial security by enacting a 20-year retirement bill for PBANYS officers, a bill that both houses of the state legislature passed with unanimous bi-partisan support under the leadership of bill sponsors Senator Andrew Gounardes and Assemblyman Peter Abbate Jr. This bill would simply provide PBANYS officers with the same retirement benefit already received by 97% of state and local law enforcement officers in the Empire State. It's only right, it's only fair and it's long overdue.
When natural disasters struck, our members were at the vanguard leading search and rescue teams in neighborhoods flooded out from raging rivers and runoff. Hikers lost and stranded in the mountains were saved from imminent disaster by rescuers working through the night in dangerous and deadly weather. As fires tore through forest lands across the nation, our members were part of the wildfire response teams Governor Hochul sent to answer the call of governors in California, Oregon, Montana and Minnesota. And just this past weekend, PBANYS officers deployed as part of Governor Hochul's Incident Management Team to aid the Commonwealth of Kentucky and her residents as they recover from devastating tornadoes that claimed scores of lives and destroyed homes and spirits during what is supposed to be a joyous season.  And daily, they are on the front lines of ensuring environmental justice.
PBANYS members answered the call of New Yorkers and Americans in need. When will New York answer the call of PBANYS members and their families?
Recently, a number of high-profile law enforcement incidents across the nation sparked a conversation that is pushing policing more in line with how PBANYS agencies have policed for decades. PBANYS member agencies are not your typical law enforcement agencies. We employ non-confrontational policing, de-escalation, and active listening with a mind toward understanding the diversity of the communities we serve long before it entered the discourse of reform; our members are the model for modern policing.
The PBANYS welcomes a greater adoption of these techniques. But because we pioneered this model, municipal police agencies actively recruit away, and cherry pick our experienced and highly trained officers – particularly our multicultural officers as they seek to expand the diversity of their own departments.  This shortchanges our parks, our state universities and colleges (including students and their families) the environment and, ultimately, the public.
Our college campuses, public beaches, vast forest lands and state parks host tens of millions of visitors a year, not just from New York state and the United States as a whole, but from around the world. PBANYS members are often the face of New York state and have been ambassadors of goodwill since the State Park Police were formed in 1885 to protect the visitors of Niagara Falls as they enjoyed one of the great wonders of the world. As we seek to protect these tremendous resources that are the engine of a tourist economy, we must ensure that the law enforcement agencies that protect our natural resources, vibrant vistas, and diverse and international student bodies are highly reflective of the visitors and communities that utilize them.
The PBA of New York State understands that there are fiscal implications to this bill. However, we would urge Governor Hochul to keep in mind the costs of not enacting the 20-year retirement. Within the New York State Park Police alone 159 officers have been lost since 2014, 85% of those were to resignations not retirements. This represents nearly $20 million in lost training costs, not to mention the combined on-the-job experience which one simply cannot place a value on – especially if it is your life or a loved one's saved during a high angle or swiftwater rescue.
The 20-year retirement bill will help to ensure that PBANYS member agencies have the resources to recruit, train and retain the best, brightest, most capable and diverse officer corps possible. Governor Hochul has a once-in-a-lifetime opportunity to put the resources of New York state fully behind the vision of reimagining policing by enacting the 20-year retirement bill needed to bring PBANYS members fully in line with the standard for law enforcement benefits across New York state – and in the process retain dedicated, highly-specialized and diverse officers that are the foundation of community policing.
By ending the disparity Governor Hochul will provide the security PBANYS members need to remain with the agencies they love for the duration of their careers and thus provide stability and security to the communities they serve as well as their families.
ABOUT: Established in 2011, the Police Benevolent Association of New York State (PBA of New York State), is a law enforcement labor union representing the interests of approximately 1,200 members of the New York State Agency Police Services Unit (APSU).  The PBA of New York State is the exclusive bargaining agent for the New York State University (SUNY) Police, the New York State Environmental Conservation Police, the New York State Park Police, and the New York State Forest Rangers.  Our members police and protect New York State's public universities and colleges; state parks and historic sites; and they enforce state laws and protect our lands and forests and ensure environmental safety and quality throughout the state.
*sponsored content*