PATIENT CARE IN JEOPARDY AT STATEN ISLAND UNIVERSITY HOSPITAL/NORTHWELL, SAY NURSES; RNs POINT TO PERSISTENT UNDERSTAFFING ACROSS HOSPITAL UNITS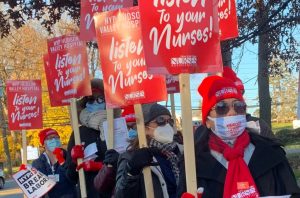 New York City –  The continued practice of understaffing of nurses at SIUH/Northwell is leading to potentially dangerous conditions on multiple hospital units, putting patient care in jeopardy, say nurses. The nurses, members of the New York State Nurses Association, are holding a Day of Action on Thursday, Dec. 2 from 11:30 AM to 1:00 PM, to bring attention to these conditions and demand immediate efforts by management to staff the hospital safely.
WHO: Nurses of the New York State Nurses Association at SIUH/Northwell
WHAT: Day of Action to call for filling RN vacancies and an end to the practice of RN understaffing
WHEN: Thursday, December 2, 11:30 AM to 1:00 PM
WHERE: 475 Seaview Avenue, Staten Island
Sixty vacant RN positions have remained unfilled for nearly a year. Management shows no commitment to hiring new nurses or retaining experienced ones.
Here are examples of some of the staffing assignments for the nurses: In Labor & Delivery, 5 nurses have cared for 10 laboring patients with no resource pool to help; Maternity/Well Baby, frequently a nurse cares for 9 or 10 patients when professional standards call for 6 patients; Med/Surg Telemetry, the care of post-operative and other cardiac patients, each nurse has cared for 7 or 8 patients, when 5 should be the maximum assignment; in Med/Surg Oncology each nurse has cared for 8 or 9 patients when 6 patients should be the maximum. One RN has been assigned 2 patients in the ICU and 2 Step-down patients, far in excess of what is safe.
Northwell offers large bonuses to bring in "flex" nurses from their other facilities, instead of investing in retaining and building the nursing workforce in the Staten Island community.
When SIUH/Northwell eliminated its psychiatric unit the number of acute psychiatric patients in the community did not disappear. Now psychiatric patients are admitted to a Med/Surg floor where nurses are unable to supervise or care for them.
In some instances, nurses are reassigned to units where they have received no training, potentially putting nurses and patients in danger.
"Understaffing at SIUH/Northwell has become a permanent management ploy to cut costs," said NYSNA President Nancy Hagans, RN, BSN, CCRN. "But the people who pay are the Staten Island families that must rely on an understaffed hospital. The Staten Island community deserves a hospital committed to quality patient care. Our nurses are determined to fight until all vacancies are filled, professional staffing levels are met and patient care is no longer in jeopardy."
###
 The New York State Nurses Association (NYSNA) represents more than 42,000 members in New York State. We are New York's largest union and professional association for registered nurses. For more information, visit nysna.org.