Ostroff Associates Kicks Off Feed Albany's Spring 2022 Fundraising Campaign with $25,000 Donation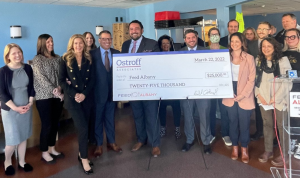 ALBANY, N.Y – Ostroff Associates helped Feed Albany launch its spring 2022 fundraising campaign on Tuesday, with a $25,000 commitment to the non-profit dedicated to providing packaged meals to people in need in the Capital City.
"Food insecurity is a significant issue and one that our company and team is committed to combating," said Rick Ostroff, president and CEO of Ostroff Associates. "Our contribution last year helped Feed Albany secure a fully functioning commercial kitchen at its Sheridan Hollow facility so that it could continue to produce freshly cooked meals. This additional donation will now assist Feed Albany in providing even more resources to those in our community who are at-risk."
The donation made by Rick and Diana Ostroff marks Ostroff Associates' second consecutive $25,000 donation to Feed Albany, after committing the same amount of money in 2021. Feed Albany is now working to raise $50,000 this spring and has challenged other area businesses to lend a hand.
"We cannot thank Rick, Diana, and the Ostroff Associates team enough. We are grateful for their continued generosity and dedication to fighting food insecurity," said Matthew Peter, president of Feed Albany. "This $25,000 pledge will be used to encourage a match from our other generous stakeholders and the community. Thanks to leaders like Rick and Diana Ostroff, Feed Albany will be able to keep our mission of providing over 100,000 meals annually going."
On hand to witness Rick Ostroff's donation on Tuesday were representatives for City of Albany Mayor Kathy Sheehan and Albany County Executive Daniel P. McCoy. Albany County Comptroller Susan Rizzo and Albany Common Council Representative Joyce Love were also in attendance.
"Feed Albany quickly became a driving force in providing assistance to our neighbors in need when COVID began and has since made our community stronger during unprecedented times," Albany Mayor Kathy Sheehan said. "I am proud of the community members involved in this program and want to express my gratitude for your efforts to feed many of our friends and neighbors who found themselves without income over the past two years. This significant contribution from Ostroff Associates will allow Feed Albany to continue their important work throughout our communities by fighting food insecurity and helping neighbors across our region."
"Feed Albany was born out of the COVID crisis thanks to the selflessness of just a handful of individuals who answered a higher calling. However, the crisis of food insecurity isn't over for many, and it is our responsibility as a community to ensure their mission continues," said Albany County Executive Daniel P. McCoy. "Just as Feed Albany came to the aid of those in need, Rick, Diana and Ostroff Associates continue to demonstrate their compassion with another $25,000 donation. I encourage anyone who can to follow their lead to ensure more of those who are struggling are able to put food on the table."
Feed Albany began serving the city in March of 2020, at the start of the COVID-19 pandemic. Since then, it has provided more than 600,000 meals to unemployed restaurant and hospitality workers, first responders, and at-risk and in-need individuals. Feed Albany has also provided groceries to senior citizens and families throughout New York's Capital Region.
For more information or how to donate, visit feedalbany.com.
About Feed Albany: Feed Albany provides at-risk and in-need individuals in New York's Capital Region with access to prepared & packaged meal solutions by utilizing commercial kitchens, unemployed restaurant workers, volunteers and the use of donated vehicles to produce, package and distribute prepared meal solutions. Feed Albany works closely with local and regional governments, non-profits, and various other local organizations and service providers to identify those at-risk and in-need and through our resources & partnerships, to facilitate delivery of both prepared meals and food items to these individuals and organizations.
About Ostroff Associates: Experience, integrity and results define the work of Ostroff Associates, one of the premier and most successful government relations firms in New York. Providing services in lobbying, budget advocacy, procurement, strategic consulting, rules and regulations, compliance and communications, the Ostroff team has a proven 26-year track record of expertly meeting the needs of clients of every size in every field.