New York State Nurses Association Endorses Governor Kathy Hochul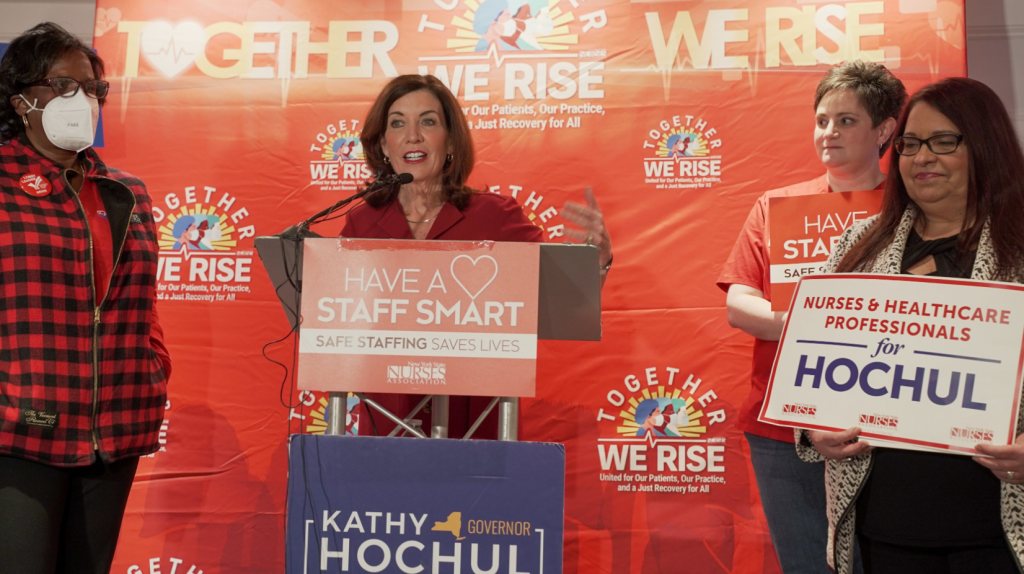 NEW YORK – The New York State Nurses Association (NYSNA) today announced their endorsement of Governor Kathy Hochul's campaign for a full term.
NYSNA praised Governor Hochul's historic investments in New York's healthcare system and her efforts to recruit and retain nurses and other frontline workers who've faced unprecedented challenges throughout the COVID-19 pandemic.
"The wellbeing of every New Yorker depends on a strong, accessible, and equitable healthcare system, and NYSNA's 42,000 members are the very heart of its foundation," said Governor Kathy Hochul. "Whether it's higher wages, safer working conditions, or greater resources, we'll continue to deliver for the frontline heroes who've shown up for New York during our darkest hours. I'm honored to have earned NYSNA's endorsement, and look forward to furthering our progress to protect workers and ensure New Yorkers receive the highest quality of care possible."
NYSNA President Nancy Hagans, RN:
"The 42,000 nurses and healthcare professionals of the New York State Nurses Association are proud to join our sisters and brothers in labor to elect Kathy Hochul for New York State Governor. NYSNA members care for New York, and we are dedicated to our communities. We need a fighter, like Kathy Hochul, who has that shared interest and vision in order to build a strong pandemic response, a sustainable economic recovery, and a more just New York. Kathy has already shown her commitment to frontline and essential workers by strengthening COVID health and safety protections in her first few days. She understands the need to recruit and retain more nurses to ensure quality care, and that's why she introduced historic investments in healthcare in the state budget. These investments are needed to support nursing education programs in the state and shore up our public and safety-net hospitals that were under-resourced and understaffed throughout the pandemic.
We are proud to endorse Kathy Hochul for Governor and we look forward to working alongside her to ensure we deliver safe quality patient care, build a just healthcare system, and fight for workers' rights everywhere."
NYSNA is the state's largest union and professional association for registered nurses, representing more than 42,000 members statewide.