NEW YORK POLICE OFFICERS SAVE MAN FROM OPIATE OVERDOSE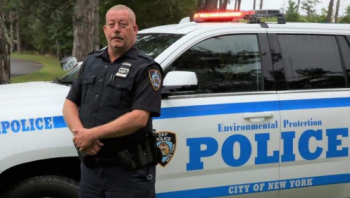 While the primary mission of the Department of Environmental Protection Police is to protect NYC's water supply against contamination and threats of terrorism, the men and women (approximately 220 strong) routinely perform duties consistent with more conventional Police agencies.
For the members of the DEP Police, it's important to maintain a balance between their primary responsibility of protecting the water supply for over 8 million NYC residents and at the same time assisting other Police Officers and members of the public, during emergencies.
On August 21, 2020 Officer Kenneth Anson, an 18-year veteran of the DEP Police, was patrolling the area of the Ashokan Reservoir when he responded to an Ulster County 911 dispatch for a 37-year-old unconscious man in the Town of Hurley. Once on scene Officer Anson administered CPR and two doses of Narcan to the subject who was experiencing an opiate overdose.  Shortly afterwards, New York State Police Officers arrived on the scene and provided two more doses of Narcan as Officer Anson continued to administer CPR. After at least 15 minutes of CPR and 4 canisters of Narcan the man was revived and regained consciousness.
In addition to Officer Anson, members of the NY State Police, the Ulster County Sheriff's Office, the West Hurley Fire Department and Emergency Medical Technicians from Mobile Life all assisted in a collaborative effort to save the man's life.
For his actions in response to the emergency, Officer Anson received the "Excellent Police Duty" citation from his chain of command, which is in addition to his "Life Saving Award" he received back in 2006. One of his fellow officers stated, "Ken is a solid cop who remains to be a role model for the younger officers who join our ranks. He's truly an asset to our Department and the mission it serves."
Officer Anson is also a U.S. Army Veteran, where he served as a Military Police Officer in Germany from 1986 to 1994.
The Author, Bruce Mateer is an Environmental Police Officer at New York City DEP Police and Former 1st Battalion, 75th Infantry Regiment.