NEW YORK GOVERNOR KATHY HOCHUL HEADLINES RALLY IN SUPPORT OF MAYORAL CANDIDATE RON KIM AND OTHER DEMOCRATS ON THE BALLOT IN SARATOGA SPRINGS AND SARATOGA COUNTY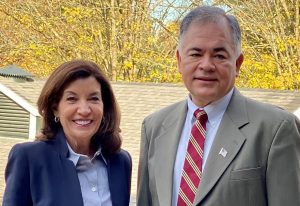 Saratoga Springs, NY.  One the first day of early voting, a high energy "Get Out The Vote" event featuring Governor Kathy Hochul, in support of Saratoga Springs Mayoral Candidate Ron Kim and other Democratic candidates running for city-wide and county positions was held at the Fasig-Tipton Sales Grounds in Saratoga Springs on Saturday, October 23.
The event was sponsored by the Saratoga Springs Democratic Committee and the Saratoga County Democratic committee and attracted more than 100 local supporters and media. In addition to the governor, speakers included U.S. Congressman Paul Tonko, Saratoga Springs Mayoral candidate Ron Kim and, Waterford Town Board candidate Barb Turpin.
"[Ron Kim] has a long history of public service and has lived the America Dream," said New York Governor Kathy Hochul. "He has dedicated himself to working on public safety, land use issues, and so many things that are important. In Ron Kim, you will have an extraordinary mayor."
"Experience matters," said Congressman Paul Tonko. "As a former Commissioner of Public Safety, as a budget expert, as a lawyer with a career defending the consumer, we have the right person in Ron Kim. We have the profile, the ability, the resume and the passion to make a difference."
"Having leaders such as Governor Hochul and Congressman Tonko come to Saratoga Springs shows how important this election is locally and how it reverberates nationally," said Kim. "I am humbled by their shared love for Saratoga Springs, their partnership, and their supportive kind words."