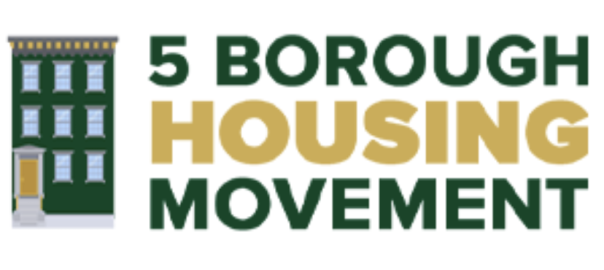 NATIONAL URBAN LEAGUE, NAACP BACK EFFORTS TO COMBAT NEW YORK'S HOUSING AND AFFORDABILITY CRISIS

Civil Rights Leaders Urge State Legislature to Support Mayor Adams' and Governor Hochul's Conversion Plans to Add Housing
Leaders of two legacy civil rights organizations today called on the State Legislature to support efforts by Mayor Eric Adams and Governor Kathy Hochul to address the housing and affordability crisis that has driven hundreds of thousands of New Yorkers of color out of the City. Their support adds to the growing momentum of the 5 Borough Housing Movement's push to see these necessary reforms as the deadline for the State budget approaches.
"It is no secret housing costs are driving Black families to leave the City as high rents in Manhattan push people into the other borough, sending prices beyond the reach of more and more people who grew up in these communities," said Marc Morial, President and CEO of the National Urban League. "There is no single solution to this problem but creating more housing in Manhattan, and ensuring substantial affordable housing, is one way to relieve the pressure on communities of color in Uptown Manhattan and in the outer boroughs. We need action now so we can begin to address these issues."
"Mayor Adams knows that housing is a civil right, which is why he is pushing sensible plans to address it through the conversion of commercial building for residential use," said Dr. Hazel N. Dukes, President of the NAACP NYS Chapter. "We need more housing, we need more affordable housing, we need Manhattan to do its fair share through conversions and we need it now."
According to a recent New York Times article, the city's Black population has declined by nearly 200,000 people in the past two decades, or about 9 percent. The number of Black children and teenagers living in the city fell more than 19 percent from 2010 to 2020, and school enrollment data suggests the decline is continuing.
The exodus is transforming traditional communities of color. Harlem, for example, lost more than 5,000 Black people over a decade, while nearly 9,000 white people moved in, according to census data analyzed by the Times. Bedford-Stuyvesant lost more than 22,000 Black residents while gaining 30,000 white residents.
"The support of these legacy organizations – the same groups that have fought for decades to bring civil rights to the fore across America – is an incredible boost to our efforts to create more affordable housing in New York," said Carlo A. Scissura, Chair of the 5 Borough Housing Movement. "There has never been a better time to build in New York, but we have to make sure we build for every community. I am honored to stand with Dr. Dukes and Mayor Morial and fight this good fight."
"We have best chance in years to pass legislation to update the Municipal Dwelling Law and lift the FAR cap to allow the conversion of commercial buildings for residential use and include a reasonable incentive to encourage the inclusion of affordable units," said John Sanchez, Executive Director of the 5 Borough Housing Movement. "There is no silver bullet to addressing gentrification, but we can take steps to stem the exodus of Black and Brown families from New York. The Legislature knows what it must do, and there is broad support for it. The time to act is now."
The 5 Borough Housing Movement – a new coalition focused on expanding the supply of housing, including affordable housing, at a time when the City faces a dire housing crisis – counts nearly three dozen organizations from every part of the City among its supporters.
The movement is calling on State lawmakers to put forth policies including:
Enabling Office-to-Residential Conversions
Making sensible changes to State law will allow the large-scale conversion of commercial buildings to residential use. The most likely targets for conversions are older office buildings in Manhattan that are struggling to compete with newer offices due to the impacts of the pandemic.
Lifting the Floor Area Ratio (FAR) Cap
The current 12 FAR cap obstructs affordable housing by limiting the density of new construction in New York City. Lifting the cap will unlock opportunities for conversions, particularly around Manhattan transit hubs.
Helping New Conversions to Deliver Affordable Housing
It is not enough to promote conversions that will deliver market rate housing. Government should provide a tax incentive to encourage converted buildings to include affordable units.
With these policies, the coalition believes future conversions could produce tens of thousands of new homes in Manhattan over the next decade, with a significant portion set aside as permanently affordable. More information on the 5 Borough Housing Movement can be found at 5borohousing.org.