Mr. John " Jack " Wolcott Vandervort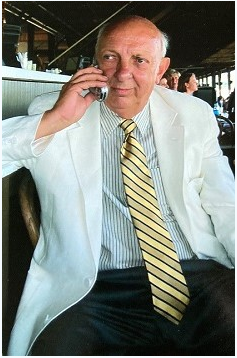 Mr. John Wolcott Vandervort
July 7, 1933 – January 16, 2021
JOHN W. "JACK" VANDERVORT – After a valiant two-year battle with pancreatic cancer, Jack Vandervort of Naples, Fla. passed away peacefully on Saturday, January 16, 2021, at the age of 87 surrounded by his loving family.
Jack, a man loved by so many, genuinely enjoyed sharing stories and making connections. One of his favorite ways to connect with others included asking the question "So, where are you from?" Now, let us share with you Jack's journey.
On July 7, 1933, in State College, Pa., he was born to John Vandervort and Helen Manning Bull Vandervort. When he was a teenager, Jack's family moved to Ithaca, N.Y., where he graduated from Ithaca High School. Jack attended Wake Forest University and Cornell University.
Jack moved to Albany, NY at the young age of 26 to work for the New York Republican State Committee. It was there that he met his wife of 60 years, Gayle Brandow Vandervort. They were introduced by Gayle's mother, Jane, a Republican State Committee staff member. Thus, began their loving journey together, and later, the creation of their beautiful family.
Jack was a true icon in New York's political world going back to the 1950's. He worked on numerous political campaigns over the years, beginning with Dwight Eisenhower's presidential re-election campaign in 1956. He was Nelson A. Rockefeller's only advance man in his first election campaign and served as Executive Director of the New York Republican State Committee under six State Chairs. Jack built many personal connections throughout these political endeavors, impacting the lives of many across the Empire State and beyond.
In May of 1973, Jack moved his family to Manlius, N.Y. to work for Carrier Corporation, where he served as Corporate Vice President of Public and Government Relations from 1977 to 1986. His accomplishments and successes while at Carrier, and in the Syracuse, N.Y. community, were immeasurable. Most notably, Jack was instrumental in securing state funding for the High-Tech Center in Syracuse and the Carrier Dome at Syracuse University.
Jack also served on various boards of directors and committees including Clarkson University's School of Management Advisory Council, Regent of Le Moyne College, Siena College's Board of Associate Trustees, the NYS Trooper Foundation, and the Board of Governors of the Child's Hospital of Albany, N.Y. He was very involved in the formation of the Business Council of New York State, and sat on several of their key committees.
In 1986, he and Gayle moved back to Albany where Jack started his own lobbying firm, John W. Vandervort Consultants. After taking early retirement from Carrier, Jack parlayed his 30+ years of political experience into building his new venture with his sons, Jay and Todd. Together they built a lucrative family business that is still in existence today and currently operated by Todd and daughter-in-law, Margaret.
When Jack wasn't working, he thoroughly enjoyed spending time with his loving family and friends at his vacation home in Manchester, Vt. He also loved his time in Naples, Fla., where he and Gayle moved full-time in 2014. His favorite retirement hobby was playing golf at Royal Wood Golf & Country Club. Some of his favorites over the years included Manchester Country Club, Wolferts Roost Country Club, Olde Kinderhook Golf Club, and Colonie Golf & Country Club. He was also a long time social member of the Fort Orange Club of Albany, N.Y.
Golf…well that's another story. Jack's style was the same as his character: straight and right down the middle. And what about those ten-foot gimmies? Nobody enjoyed playing golf more than Jack. For him, golf was more about spending time with family and friends than it was about his score. His involvement with the Carrier Classic, as the co-chairman, resulted in him forming lifelong friendships with many of the Senior PGA Tour players…yet another example of Jack's innate ability to form friendships that lasted a lifetime.
Jack, a class act from start to finish, had a charismatic personality unlike any other. He had a remarkable capacity for instilling calm and balance into every situation. Jack and his wife Gayle also had an endearing ability to open their hearts and their homes to anyone and everyone. All who crossed paths with them quickly became dear friends.
Jack is survived by his wife Gayle, who resides in Naples; four children, Jay (Christine), Todd (Margaret), Holly (Jeff Johns), and Amy (Celeste Foley); and four grandchildren, Jake, Morgan (Kevin Crowley), John "Jack" II, and Jane. He was predeceased by his sister Phebe Goldstein.
No evening was complete without Jack's favorite cocktail – vodka on the rocks, filled to the rim with ice and a splash (or as he would say, a "tiny little pinch") of Rose's lime juice. So please join us in raising a glass in honor of our giant of a man named Jack and a life well lived.
A Celebration of Life will be held at a later date in both Albany, N.Y. and Naples, Fla.
In Lieu of flowers, please consider donating to one of the following charities.
Avow Hospice, Naples FL (www.avowcares.org)
Capital District YMCA Circle of Champs, Albany, NY (www.cdymca.org)
original obit: https://www.naplesfuneralhome.com/obituaries/mr-john-jack-wolcott-vandervort/