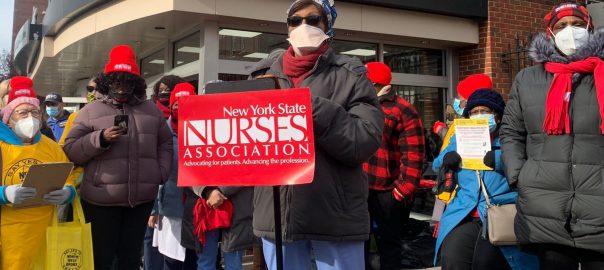 MOUNT SINAI HOSPITAL IN CONFLICT: UNDERSTAFFING OF UNITS ACROSS THE FACILITY THREATENS PATIENT CARE, SAY NURSES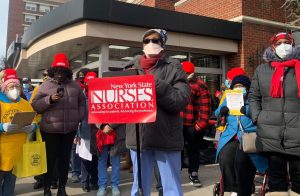 Hospital Holds $1.7 Billion in Cash and Liquid Assets as RNs are Overwhelmed
New York City –Nurses at Mount Sinai Hospital are speaking out about threats to patient care as a result of hospital management's unrelenting understaffing of RN units across the facility. Nurses and supporters are speaking out on Wednesday, December 15 at 8:30 a.m. in front of the hospital.
Nurses of the New York State Nurses Association, staffing the Emergency Department, Intensive Care Units, Labor & Delivery, and Medicine floors, including oncology and cardiac patients, say they are routinely too few to adequately care for patients. Nurses say that Mount Sinai Hospital understaffing is the worst they've ever seen, with more than 300 RN vacancies unfilled.
WHO: Nurses of the New York State Nurses Association at Mount Sinai Hospital, New York City
WHAT: Nurses and supporters speaking out about severe understaffing across the hospital that threatens patient care
WHERE: Mount Sinai Hospital (on Madison Avenue and 99th Street)
WHEN: Wednesday, December 15 at 8:30 a.m.
Understaffing persists despite the fact that Mount Sinai Hospital's surplus in the first nine months of 2021 totaled $187.5 million, and the hospital had $1.7 billion in cash and liquid assets.
"This is money that should be allocated to patient care, care that requires safe RN staffing levels and, to a large extent, those are absent," said NYSNA President Nancy Hagans, RN. "Mount Sinai seems to be putting its profits over patients, in conflict with the public's health. Management needs to use its resources to hire more nurses."
###
The New York State Nurses Association (NYSNA) represents more than 42,000 members in New York State. We are New York's largest union and professional association for registered nurses. For more information, visit nysna.org.