Major Economic, Community and Human Impact of Disability Service Providers on the Mid-Hudson Economy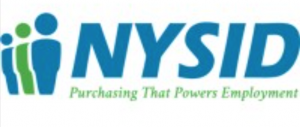 Preferred Source Program Creates Thousands of Jobs for NYers with Disabilities, but Also Must Be Strengthened, Rockefeller Institute Report Says
New City, NY – The Mid-Hudson region's non-profit disability service providers support more than  33,000 full-time jobs and generate more than  $2 billion  in economic impact, according to a new report from the Rockefeller Institute of Government highlighted by providers and state lawmakers at a news conference today at Jawonio.
"The Rockefeller Institute report puts hard numbers to what we've been saying for years — that when people with disabilities have jobs, our entire state benefits," said Maureen O'Brien, President and CEO of New York State Industries for the Disabled (NYSID), which facilitates job opportunities for people with disabilities.
NYSID alone generated nearly $30 million in economic impact for the Mid-Hudson Region, according to the Rockefeller Institute report.
"The report tells a numbers story, but every number represents a fellow New Yorker whose life has been made better. Behind every number is someone with autism, Down syndrome, cerebral palsy, a mental health issue, or a traumatic brain injury. And because of their job, they can earn a living, live a fuller life and contribute to our communities as well as New York's tax base," O'Brien said.
The Rockefeller Institute in December issued a report, "The Role of Disability Service Providers in the New York State Economy." The report examined the economic impacts of both the Preferred Source program (PSP) – a model for ensuring people with disabilities have employment opportunities – and the larger non-profit service delivery system for New Yorkers with disabilities supported through the State Office for People with Developmental Disabilities (OPWDD).
The statewide numbers show:
427 New York nonprofit disability service providers reported $14.3 billion in economic output.
The providers supported nearly 200,000 full-time jobs and contributed $2.2 billion in federal and state tax revenue.
NYSID alone generated $407.3 million in economic impact.
Jawonio CEO Randi Rios-Castro said: "At Jawonio, we know the value of employment and the dignity of a paycheck for those with disabilities. We operate a social enterprise called Jawonio Commercial Cleaning that employs 156 people.  These individuals, a majority of whom have disabilities, are responsible for cleaning our main campus facility as well as 35 other sites, most of the sites through the NYSID Preferred Source Program.  These custodial services cover over 2.3 million square feet of space in the Rockland and Westchester communities.
We are very proud of the success of our Commercial Cleaning Business and the success the employees achieve through the supports of our employment services staff.
The Rockefeller report confirms without question, that people with disabilities and mental health challenges contribute to the economic success and vibrancy of their communities."
New York Alliance for Inclusion and Innovation President & CEO Michael Seereiter said: "The Rockefeller report provides compelling data that supports what we in the non-profit disability service provider sector have known for a long time. Namely, that investments in disability services not only make huge impacts in the quality of life of New Yorkers with disabilities, but also offer the State of New York an outstanding return on those investments. Looking ahead, New York must make this sector a priority by addressing the workforce crisis and ensuring sustainability of these organizations now and beyond. With the support of legislators and Gov. Hochul, we can make that a reality."
The Rockefeller Institute Report notes, "The nature of employment opportunities and workplaces have shifted since NYSID was founded in 1974 and a regular review of requirements and thresholds is warranted." The report recommends legislation that would:
Simplify the process for approving Preferred Source contracts to make it closer to other diversity and inclusion contracting initiatives. Right now, the OGS review threshold is $50,000 – a level set 18 years ago. Rockefeller recommended it be raised to $250,000.
Modernize the rules and expand opportunities for Preferred Source contractors by lowering the disabled ratio required on a given contract that must be performed by people with disabilities – from 75 percent to 50 percent. This would recognize the fact that much of the employment now takes place in community-based settings in which persons with disabilities work side by side with people without disabilities.
"Passing this legislation, which has bipartisan support, would strengthen the Preferred Source Program so it can support more people and turbo-charge its economic benefits for the state while remaining under the watchful eye of regulators and policy makers," O'Brien said.
"Gov. Hochul's budget and State of the State message clearly articulated that issues important to New Yorkers with disabilities are a priority for her administration. We support her desire to make New York a model for the employment of individuals with disabilities, and her commitment to significant increases in funding for the service delivery sector, especially the dedicated professionals who have demonstrated extraordinary commitment to individuals with disabilities they have supported throughout the pandemic," Seereiter said.
New York State Senate Majority Leader Andrea Stewart-Cousins (D,IP,WF-Westchester) said: "The value of jobs for people with disabilities goes far beyond the impactful numbers laid out in the Rockefeller Institute report. Every job filled by a person with a disability is a human success story for our State, our communities and every fabric of life in New York. I want to congratulate NYSID, Jawonio and all the other nonprofits dedicated to improving the lives of people with disabilities, as well as the government and private entities that show their smarts by hiring this capable workforce.  We look forward to continuing the fight for policies that support the disabilities community now and long into the future."
New York State Senator Elijah Reichlin-Melnick (D-Rockland) said: "Employing people with disabilities is one of those rare actions that provides wins for everyone. I applaud Jawonio and NYSID for their commitment to helping facilitate jobs for people with disabilities and for making such a strong contribution to the region. The Rockefeller Institute report quantifies just how big that contribution is, and I'm happy to support this sector."
New York State Senator James Skoufis (D-Hudson Valley) said: "The Rockefeller report reinforces what I and many of my colleagues have seen in our own communities for years: that when New Yorkers with disabilities have the chance to succeed and to live a full, dignified life, our state is stronger for it. With nearly 11% of Hudson Valley residents living with some form of disability yet only a third of them employed, there's clearly much more work to be done. I am hopeful that the new statewide disability advocacy office I championed for many years will support Jawonio and other service providers here in the Hudson Valley as they grow these employment opportunities."
New York State Senator Shelley Mayer (D,WF-Westchester) said: "It's critical that New York State take all the steps necessary to ensure we support full employment for people with disabilities. The report prepared for the New York State Industries for the Disabled confirms what we already knew – when people with disabilities work, everyone benefits. Thank you to Jawonio, as well as many other disability service providers, for supporting our neighbors with disabilities. We must ensure that individuals have the ability to thrive in the workforce by streamlining the process to increase employment opportunities and continuing to make investments that pay dividends."
New York State Assembly Member Ken Zebrowski (D-Rockland) said: "The Preferred Source Program and our non-profits not only generate a sizable economic impact for our state, but provide important opportunities for people with disabilities. Here in Rockland County, I have seen first-hand the incredible work that Jawonio does at their centers and by helping individuals with disabilities learn new skills and find independence through employment. We must continue to support these programs, and I look forward to continuing to be an advocate for them in the Assembly."
New York Assembly Member, Chair of the Committee on People with Disabilities, Tom Abinanti, (D-Greenburgh/Mt. Pleasant) said: "As the Rockefeller Institute Report shows, providing services for people with disabilities is a major New York economic engine. Employing people with disabilities will make it an even bigger economic engine. People with disabilities are capable and willing to work and can fill many of the jobs that employers need done if employers would give them a chance. I applaud Jawonio and NYSID for their efforts to promote legislative action to improve employment prospects for people with disabilities."
New York State Assemblyman Mike Lawler (R,C,I,SAM-Pearl River) said: "Our I/DD community has faced immense challenges over the past two years with COVID and fought through it all. Now is the time to make critical investments in our I/DD community and the organizations that serve them to make up for a severe lack of funding during then-Governor Cuomo's administration. The report released by NYSID and the Rockefeller Institute makes clear the immense impact that these investments have. For every hour a member of the I/DD community works with NYSID, over $108 of value is generated, but perhaps more importantly, the non-monetary value of contributing to a workplace is something that has a profound impact on the lives of members of the I/DD community. Now, together, we can ensure that every member of this community has the funding needed to access a job, a safe place to live, and additional opportunities, fulfilling the American idea of opportunity for every single one of our residents."
About New York State Industries for the Disabled, Inc. (NYSID)
NYSID is a 501(c)(3) non-profit with the mission of "advancing employment and other opportunities for individuals with disabilities." Established in 1975, NYSID facilitates employment opportunities for nearly 5,000 New Yorkers with disabilities annually through New York's Preferred Source Program and in the private sector. NYSID's community rehabilitation member agencies and corporate partners are located throughout the state, providing jobs in the community and in production facilities. For more information, visit www.nysid.org.
About Jawonio
Jawonio is a 501(c)(3) charitable organization dedicated to advancing the independence, well-being and equality of people with special needs. Jawonio is the Indigenous word for "independence". Founded in 1947 and beginning with six families, Jawonio has grown to provide lifespan services throughout Rockland and Westchester counties to more than 3,500 children and adults with intellectual/developmental disabilities, mental health challenges and chronic medical needs. Jawonio is the 7th largest employer in Rockland County with a staff of more than 900 professionals and has been recognized on the local, state and national levels for  services innovation and person-centered care. For more information, visit www.jawonio.org.
About the New York State Alliance for Inclusion and Innovation
The NY Alliance is a statewide association representing nearly 150 not-for-profit provider agencies serving people with disabilities. The NY Alliance envisions a society where people with disabilities are contributing citizens with equal rights and the ability to live full, productive and meaningful lives. For more information, visit https://nyalliance.org/.