GOVERNOR HOCHUL ANNOUNCES APPOINTMENT TO THE NEW YORK STATE SUPREME COURT, APPELLATE DIVISION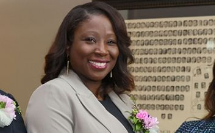 Governor Kathy Hochul today announced the appointment of the Honorable Marsha Michael to a vacancy on the New York State Supreme Court, Appellate Division, First Department.
"Our legal system relies on intelligent, discerning jurists to lead our courts and dispense justice" Governor Hochul said. "I'm proud to appoint the Honorable Justice Marsha D. Michael to the Appellate Division, First Department, and I'm confident she will serve New Yorkers with distinction."
Justice Marsha D. Michael currently serves as an Associate Justice on the Appellate Term of the Supreme Court for the 1st and 12th Judicial Districts. She was elected to the New York State Supreme Court, in the 12th Judicial District (Bronx County) in 2018.
Justice Michael began her judicial career in 2015, when she was elected to the bench as a New York City Civil Court Judge in Bronx County. She was assigned to New York City Criminal Court where she presided over domestic violence misdemeanor matters as well as conducted jury trials.
Before joining the bench, Justice Michael served as a Principal Law Clerk to the Honorable Deborah A. Dowling and Hon. Janice L. Bowman. Justice Michael began her legal career as an associate at a civil litigation firm in Bronx County, after earning her J.D. from Albany Law School in 2002.
Justice Michael continues to be a public servant of Bronx County where she has taught at Monroe College and administers a judicial internship and mentorship program in partnership with her judicial colleagues and a local Bronx High School. The interns serve for an entire school year as interns for judges sitting in civil, criminal, and family court. Justice Michael is also the chair of the Gender Fairness Committee of the Unified Courts, 12th Judicial District, a member of the Judicial Friends Organization, the National Association of Women Judges, NY Chapter, the Judicial Council of the National Bar Association, and a board member of the Supreme Court Justices Association of the City of New York, Inc.