GOVERNOR CUOMO UPDATES NEW YORKERS ON STATE'S PROGRESS DURING COVID-19 PANDEMIC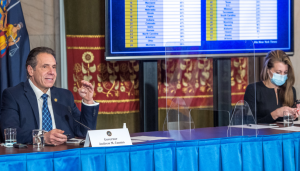 6,623 Patient Hospitalizations Statewide
1,270 Patients in the ICU; 875 Intubated
Statewide Positivity Rate is 3.53%
103 COVID-19 Deaths in New York State Yesterday
First New South African Variant Case Identified in New York City; Patient is Connecticut Resident
Governor Andrew M. Cuomo today updated New Yorkers on the state's progress during the ongoing COVID-19 pandemic. As part of that update, the Governor notified New Yorkers that a Connecticut resident who is a patient in a New York City hospital has tested positive for the South African variant. There is no evidence of any spread in New York State to date.
"New Yorkers haven't only gotten past the post-holiday surge—they've continued to drive down hospitalization and infection rates by acting smart and responsibly, and they should be commended for it," Governor Cuomo said. "Thanks to this hard work, we are now in a place where we have been able to begin opening the valve and start getting the economy going again, as long as we do it safely. If we're able to keep the momentum headed in a positive direction by practicing safe behaviors at an individual level, as well as continuing to vaccinate New Yorkers as quickly and fairly as possible, we'll be able to reach the light at the end of the tunnel faster than previously thought and finally get some normalcy back into our lives."
Today's data is summarized briefly below:
Test Results Reported – 180,504
Total Positive – 6,365
Percent Positive – 3.53%
7-Day Average Percent Positive – 3.74%
Patient Hospitalization – 6,623 (+30)
Net Change Patient Hospitalization Past Week – -1,093
Patients Newly Admitted – 600
Hospital Counties – 53
Number ICU – 1,270 (-15)
Number ICU with Intubation – 875 (-6)
Total Discharges – 138,542 (+492)
Deaths – 103
Total Deaths – 37,221
It is important to note that data, including test results and hospital rates, reported early in the week are often not completely reflective of the current situation due to lower discharges and testing volume over the weekend. Data trends over a period of time, such as using 7-day averages, are a preferred metric.
The regional hospital bed capacity and occupancy numbers, including the number of hospitalizations as a percent of the region's population, is as follows:
| | | | |
| --- | --- | --- | --- |
| Region | COVID Patients Currently in Hospital in Region | COVID Patients as Percent of Region Population | Percent of Hospital Beds Available Within 7 Days Under Surge Plan |
| Capital Region | 248 | 0.02% | 30% |
| Central New York | 129 | 0.02% | 31% |
| Finger Lakes | 325 | 0.03% | 40% |
| Long Island | 1,115 | 0.04% | 31% |
| Mid-Hudson | 688 | 0.03% | 43% |
| Mohawk Valley | 140 | 0.03% | 32% |
| New York City | 3,476 | 0.04% | 30% |
| North Country | 68 | 0.02% | 55% |
| Southern Tier | 154 | 0.02% | 46% |
| Western New York | 280 | 0.02% | 35% |
| Statewide | 6,623 | 0.03% | 34% |
The regional ICU bed capacity and occupancy numbers are as follows:
| | | | |
| --- | --- | --- | --- |
| Region | Total ICU Beds in Region | Total Occupied ICU Beds in Region | Percent of ICU Beds Available in Region (7-day Avg) |
| Capital Region | 238 | 176 | 20% |
| Central New York | 262 | 185 | 30% |
| Finger Lakes | 397 | 252 | 36% |
| Long Island | 862 | 654 | 21% |
| Mid-Hudson | 679 | 416 | 37% |
| Mohawk Valley | 127 | 92 | 27% |
| New York City | 2,594 | 2,050 | 20% |
| North Country | 58 | 32 | 42% |
| Southern Tier | 126 | 71 | 39% |
| Western New York | 543 | 319 | 39% |
| Statewide | 5,886 | 4,247 | 26% |
Each region's 7-day average percentage of positive test results reported over the last three days is as follows:
| | | | |
| --- | --- | --- | --- |
| REGION | FRIDAY | SATURDAY | SUNDAY |
| Capital Region | 2.56% | 2.50% | 2.34% |
| Central New York | 1.64% | 1.67% | 1.67% |
| Finger Lakes | 2.39% | 2.38% | 2.31% |
| Long Island | 4.86% | 4.77% | 4.62% |
| Mid-Hudson | 4.82% | 4.67% | 4.53% |
| Mohawk Valley | 2.20% | 2.21% | 2.23% |
| New York City | 4.63% | 4.53% | 4.47% |
| North Country | 3.86% | 3.96% | 3.98% |
| Southern Tier | 0.90% | 0.85% | 0.82% |
| Western New York | 3.50% | 3.62% | 3.25% |
| Statewide | 3.90% | 3.83% | 3.74% |
Each New York City borough's 7-day average percentage of positive test results reported over the last three days is as follows:
| | | | |
| --- | --- | --- | --- |
| BOROUGH | FRIDAY | SATURDAY | SUNDAY |
| Bronx | 6.69% | 6.22% | 6.11% |
| Brooklyn | 5.00% | 4.80% | 4.53% |
| Manhattan | 2.87% | 2.85% | 2.70% |
| Queens | 4.94% | 4.82% | 4.64% |
| Staten Island | 4.76% | 4.71% | 4.44% |
Of the 1,536,134 total individuals who tested positive for the virus, the geographic breakdown is as follows:
| | | |
| --- | --- | --- |
| County | Total Positive | New Positive |
| Albany | 20,033 | 51 |
| Allegany | 2,760 | 5 |
| Broome | 13,757 | 53 |
| Cattaraugus | 4,169 | 8 |
| Cayuga | 5,176 | 10 |
| Chautauqua | 7,058 | 14 |
| Chemung | 6,296 | 13 |
| Chenango | 2,327 | 8 |
| Clinton | 3,239 | 34 |
| Columbia | 3,234 | 11 |
| Cortland | 3,023 | 7 |
| Delaware | 1,371 | 6 |
| Dutchess | 20,943 | 106 |
| Erie | 61,999 | 199 |
| Essex | 1,242 | 7 |
| Franklin | 1,829 | 22 |
| Fulton | 3,057 | 25 |
| Genesee | 4,196 | 4 |
| Greene | 2,533 | 7 |
| Hamilton | 270 | 1 |
| Herkimer | 4,447 | 11 |
| Jefferson | 4,473 | 26 |
| Lewis | 1,941 | 12 |
| Livingston | 3,366 | 12 |
| Madison | 3,704 | 11 |
| Monroe | 50,697 | 147 |
| Montgomery | 2,988 | 14 |
| Nassau | 140,107 | 591 |
| Niagara | 14,756 | 20 |
| NYC | 661,563 | 3,455 |
| Oneida | 19,186 | 28 |
| Onondaga | 31,505 | 60 |
| Ontario | 5,515 | 21 |
| Orange | 34,729 | 141 |
| Orleans | 2,370 | 3 |
| Oswego | 5,786 | 12 |
| Otsego | 2,184 | 10 |
| Putnam | 7,911 | 33 |
| Rensselaer | 8,592 | 31 |
| Rockland | 36,777 | 105 |
| Saratoga | 11,379 | 30 |
| Schenectady | 10,472 | 21 |
| Schoharie | 1,121 | 8 |
| Schuyler | 844 | 2 |
| Seneca | 1,498 | 6 |
| St. Lawrence | 5,015 | 23 |
| Steuben | 5,355 | 12 |
| Suffolk | 154,623 | 525 |
| Sullivan | 4,497 | 15 |
| Tioga | 2,681 | 8 |
| Tompkins | 3,335 | 10 |
| Ulster | 9,498 | 34 |
| Warren | 2,710 | 6 |
| Washington | 2,167 | 7 |
| Wayne | 4,316 | 8 |
| Westchester | 101,816 | 305 |
| Wyoming | 2,700 | 11 |
| Yates | 998 | 0 |
Yesterday, 103 New Yorkers died due to COVID-19 in New York State, bringing the total to 37,221. A geographic breakdown is as follows, by county of residence:
Deaths by County of Residence
County
New Deaths
Albany
1
Bronx
12
Chemung
1
Chenango
1
Dutchess
2
Erie
4
Kings
23
Manhattan
5
Nassau
12
Oneida
1
Orange
4
Otsego
1
Queens
10
Richmond
3
Rockland
1
Schenectady
1
Suffolk
15
Westchester
6
###
Additional news available at www.governor.ny.gov
New York State | Executive Chamber |[email protected] | 518.474.8418