GOVERNOR CUOMO UPDATES NEW YORKERS ON STATE'S PROGRESS DURING COVID-19 PANDEMIC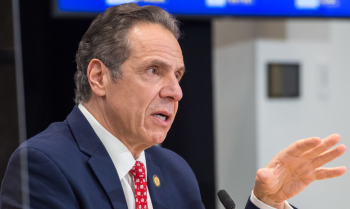 8,831 Patient Hospitalizations Statewide
1,544 Patients in the ICU; 1,006 Intubated
Statewide Positivity Rate is 6.79%
162 COVID-19 Deaths in New York State Yesterday
Governor Andrew M. Cuomo today updated New Yorkers on the state's progress during the ongoing COVID-19 pandemic.
"We're charging ahead and making progress in the footrace between administering vaccinations and reducing the infection rate, but to ultimately be successful in winning this war, we need two things – greater supply of the vaccine and the continued buy-in of New Yorkers practicing safe behaviors," Governor Cuomo said. "New York has already established one of the nation's most expansive vaccination operations and we are ready to administer more than 100,000 vaccinations a day, but we need more supply. With competent leadership now in Washington, I believe the supply will increase, but in the meantime, it's all the more important for every New Yorker to do their part in reducing the spread. We've seen good news lately in the form of declining positivity rates and hospitalizations, but we know that weekend numbers can be erratic, so we cannot become complacent."
It is important to note that data, including test results and hospital rates, reported early in the week are often not completely reflective of the current situation due to lower discharges and testing volume over the weekend. Data trends over a period of time, such as using 7-day averages, are a preferred metric.
Today's data is summarized briefly below:
Test Results Reported – 162,938
Total Positive – 11,064
Percent Positive – 6.79%
Patient Hospitalization – 8,831 (+101)
Patients Newly Admitted – 826
Hospital Counties – 57
Number ICU – 1,544 (+22)
Number ICU with Intubation – 1,006 (+1)
Total Discharges – 123,094 (+550)
Deaths – 162
Total Deaths – 34,407
The regional hospital bed capacity and occupancy numbers, including the number of hospitalizations as a percent of the region's population, is as follows:
| | | | |
| --- | --- | --- | --- |
| Region | COVID Patients Currently in Hospital in Region | COVID Patients as Percent of Region Population | Percent of Hospital Beds Available Within 7 Days Under Surge Plan |
| Capital Region | 483 | 0.04% | 24% |
| Central New York | 251 | 0.03% | 29% |
| Finger Lakes | 692 | 0.06% | 33% |
| Long Island | 1,593 | 0.06% | 29% |
| Mid-Hudson | 1,071 | 0.05% | 40% |
| Mohawk Valley | 256 | 0.05% | 25% |
| New York City | 3,730 | 0.04% | 31% |
| North Country | 100 | 0.02% | 51% |
| Southern Tier | 241 | 0.04% | 43% |
| Western New York | 414 | 0.03% | 35% |
| Statewide | 8,831 | 0.05% | 32% |
The regional ICU bed capacity and occupancy numbers are as follows:
| | | | |
| --- | --- | --- | --- |
| Region | Total ICU Beds in Region | Total Occupied ICU Beds in Region | Percent of ICU Beds Available in Region (7-day Avg |
| Capital Region | 254 | 190 | 20% |
| Central New York | 262 | 189 | 28% |
| Finger Lakes | 397 | 306 | 23% |
| Long Island | 859 | 674 | 21% |
| Mid-Hudson | 689 | 418 | 37% |
| Mohawk Valley | 133 | 98 | 24% |
| New York City | 2,558 | 1,971 | 22% |
| North Country | 57 | 34 | 36% |
| Southern Tier | 125 | 80 | 35% |
| Western New York | 544 | 314 | 39% |
| Statewide | 5,878 | 4,274 | 26% |
Each region's 7-day average percentage of positive test results reported over the last three days is as follows:
| | | | |
| --- | --- | --- | --- |
| REGION | SATURDAY | SUNDAY | MONDAY |
| Capital Region | 6.74% | 6.43% | 6.28% |
| Central New York | 5.34% | 4.84% | 4.58% |
| Finger Lakes | 5.52% | 5.24% | 5.01% |
| Long Island | 6.99% | 6.92% | 6.90% |
| Mid-Hudson | 6.85% | 6.77% | 6.84% |
| Mohawk Valley | 6.70% | 6.61% | 6.42% |
| New York City | 5.68% | 5.57% | 5.60% |
| North Country | 6.55% | 6.54% | 6.36% |
| Southern Tier | 3.23% | 3.10% | 2.95% |
| Western New York | 5.89% | 5.70% | 5.47% |
| Statewide | 5.99% | 5.85% | 5.81% |
Each New York City borough's 7-day average percentage of positive test results reported over the last three days is as follows:
| | | | |
| --- | --- | --- | --- |
| BOROUGH | SATURDAY | SUNDAY | MONDAY |
| Bronx | 7.50% | 7.26% | 6.86% |
| Brooklyn | 5.82% | 5.60% | 5.40% |
| Manhattan | 3.69% | 3.58% | 3.47% |
| Queens | 6.49% | 6.23% | 5.92% |
| Staten Island | 6.15% | 5.96% | 5.79% |
Of the 1,350,054 total individuals who tested positive for the virus, the geographic breakdown is as follows:
| | | |
| --- | --- | --- |
| County | Total Positive | New Positive |
| Albany | 17,798 | 178 |
| Allegany | 2,496 | 16 |
| Broome | 12,104 | 96 |
| Cattaraugus | 3,642 | 19 |
| Cayuga | 4,749 | 39 |
| Chautauqua | 6,096 | 43 |
| Chemung | 5,889 | 23 |
| Chenango | 1,959 | 16 |
| Clinton | 2,505 | 47 |
| Columbia | 2,787 | 25 |
| Cortland | 2,770 | 8 |
| Delaware | 1,159 | 25 |
| Dutchess | 18,235 | 231 |
| Erie | 55,184 | 311 |
| Essex | 1,056 | 10 |
| Franklin | 1,381 | 22 |
| Fulton | 2,391 | 36 |
| Genesee | 3,894 | 19 |
| Greene | 2,233 | 13 |
| Hamilton | 171 | 5 |
| Herkimer | 3,983 | 28 |
| Jefferson | 3,674 | 56 |
| Lewis | 1,677 | 22 |
| Livingston | 2,911 | 17 |
| Madison | 3,354 | 19 |
| Monroe | 46,476 | 211 |
| Montgomery | 2,496 | 33 |
| Nassau | 123,142 | 942 |
| Niagara | 13,056 | 123 |
| NYC | 571,502 | 5,081 |
| Oneida | 17,856 | 114 |
| Onondaga | 29,264 | 117 |
| Ontario | 4,999 | 30 |
| Orange | 30,909 | 364 |
| Orleans | 2,062 | 20 |
| Oswego | 5,218 | 17 |
| Otsego | 1,901 | 10 |
| Putnam | 7,071 | 67 |
| Rensselaer | 7,574 | 72 |
| Rockland | 33,532 | 205 |
| Saratoga | 10,109 | 89 |
| Schenectady | 9,373 | 74 |
| Schoharie | 990 | 9 |
| Schuyler | 767 | 7 |
| Seneca | 1,338 | 7 |
| St. Lawrence | 4,113 | 48 |
| Steuben | 4,835 | 33 |
| Suffolk | 137,728 | 1,135 |
| Sullivan | 4,068 | 30 |
| Tioga | 2,380 | 16 |
| Tompkins | 2,864 | 19 |
| Ulster | 8,388 | 87 |
| Warren | 2,321 | 51 |
| Washington | 1,735 | 32 |
| Wayne | 3,961 | 31 |
| Westchester | 90,665 | 636 |
| Wyoming | 2,364 | 21 |
| Yates | 899 | 9 |
Yesterday, 162 New Yorkers died due to COVID-19 in New York State, bringing the total to 34,407. A geographic breakdown is as follows, by county of residence:
Deaths by County of Residence
County
New Deaths
Albany
5
Bronx
8
Broome
2
Cattaraugus
1
Cayuga
1
Chautauqua
4
Chemung
1
Chenango
2
Clinton
1
Dutchess
2
Erie
5
Genesee
1
Greene
2
Herkimer
2
Jefferson
3
Kings
17
Livingston
1
Manhattan
5
Monroe
9
Nassau
10
Niagara
2
Oneida
3
Onondaga
3
Orange
1
Orleans
1
Oswego
2
Otsego
1
Putnam
1
Queens
19
Rensselaer
1
Richmond
3
Rockland
3
Saratoga
7
Schenectady
1
Schoharie
1
Seneca
1
Steuben
1
Suffolk
15
Tompkins
3
Ulster
1
Washington
1
Wayne
1
Westchester
7
Wyoming
1
###
Additional news available at www.governor.ny.gov
New York State | Executive Chamber |[email protected] | 518.474.8418