GOVERNOR CUOMO UPDATES NEW YORKERS ON STATE'S PROGRESS DURING COVID-19 PANDEMIC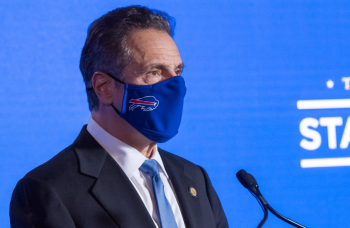 8,926 Patient Hospitalizations Statewide
1,492 Patients in the ICU; 909 Intubated
Statewide Positivity Rate is 7.73%
164 COVID-19 Deaths in New York State Yesterday
Governor Andrew M. Cuomo today updated New Yorkers on the state's progress during the ongoing COVID-19 pandemic.
"New York is continuing to fight COVID-19 across the state by increasing our testing capacity, ensuring the hospitals have enough space, and vaccinating New Yorkers as quickly as possible," Governor Cuomo said. "The numbers over the past two weeks suggest you could see a flattening after a spike from Thanksgiving, Christmas and the New Year. We said we would hope and aspire for a flattening in late January, and you could argue that you start to see a flattening now. Positivity in almost every region is down from the high during this holiday spike."
A post-Thanksgiving increase that grew through Christmas and the New Year and starting to flatten.
Today's data is summarized briefly below:
Total Vaccine Doses Administered – 645,037
Test Results Reported – 196,671
Total Positive – 15,214
Percent Positive – 7.73%
Patient Hospitalization – 8,926 (+281)
Patients Newly Admitted – 918
Hospital Counties – 56
Number ICU – 1,492 (+66)
Number ICU with Intubation – 909 (+18)
Total Discharges – 111,141 (+541)
Deaths – 164
Total Deaths – 32,007
The regional hospital bed capacity and occupancy numbers, including the number of hospitalizations as a percent of the region's population, is as follows:
| | | | |
| --- | --- | --- | --- |
| Region | COVID Patients Currently in Hospital in Region | COVID Patients as Percent of Region Population | Percent of Hospital Beds Available in Region |
| Capital Region | 529 | 0.05% | 25% |
| Central New York | 343 | 0.04% | 23% |
| Finger Lakes | 894 | 0.07% | 31% |
| Long Island | 1612 | 0.06% | 29% |
| Mid-Hudson | 1053 | 0.05% | 39% |
| Mohawk Valley | 329 | 0.07% | 25% |
| New York City | 3290 | 0.04% | 33% |
| North Country | 117 | 0.03% | 51% |
| Southern Tier | 241 | 0.04% | 41% |
| Western New York | 518 | 0.04% | 31% |
| Statewide | 8926 | 0.05% | 32% |
The regional ICU bed capacity and occupancy numbers are as follows:
| | | | |
| --- | --- | --- | --- |
| Region | Total ICU Beds in Region | Total Occupied ICU Beds in Region | Percent of ICU Beds Available in Region (7-Day Average) |
| Capital Region | 264 | 211 | 19% |
| Central New York | 266 | 200 | 28% |
| Finger Lakes | 397 | 298 | 24% |
| Long Island | 851 | 615 | 19% |
| Mid-Hudson | 693 | 412 | 40% |
| Mohawk Valley | 131 | 108 | 18% |
| New York City | 2457 | 1852 | 24% |
| North Country | 61 | 35 | 35% |
| Southern Tier | 127 | 85 | 35% |
| Western New York | 543 | 339 | 36% |
| NYS TOTAL | 5790 | 4155 | 27% |
Each region's 7-day average percentage of positive test results reported over the last three days is as follows:
| | | | |
| --- | --- | --- | --- |
| REGION | SATURDAY | SUNDAY | MONDAY |
| Capital Region | 9.25% | 9.11% | 9.01% |
| Central New York | 7.78% | 7.27% | 7.20% |
| Finger Lakes | 9.55% | 9.21% | 9.01% |
| Long Island | 9.60% | 9.19% | 9.07% |
| Mid-Hudson | 7.90% | 7.83% | 7.86% |
| Mohawk Valley | 10.02% | 9.91% | 9.51% |
| New York City | 6.05% | 5.95% | 5.96% |
| North Country | 8.09% | 7.82% | 7.62% |
| Southern Tier | 4.45% | 4.57% | 4.67% |
| Western New York | 8.05% | 7.83% | 7.67% |
| Statewide | 7.43% | 7.25% | 7.21% |
Each New York City borough's 7-day average percentage of positive test results reported over the last three days is as follows:
| | | | |
| --- | --- | --- | --- |
| BOROUGH | SATURDAY | SUNDAY | MONDAY |
| Bronx | 7.44% | 7.12% | 7.44% |
| Brooklyn | 6.41% | 6.04% | 5.99% |
| Manhattan | 3.96% | 3.71% | 3.58% |
| Queens | 7.18% | 6.85% | 6.75% |
| Staten Island | 7.23% | 6.79% | 6.68% |
Of the 1,155,370 total individuals who tested positive for the virus, the geographic breakdown is as follows:
| | | |
| --- | --- | --- |
| County | Total Positive | New Positive |
| Albany | 14,763 | 352 |
| Allegany | 2,226 | 31 |
| Broome | 10,095 | 136 |
| Cattaraugus | 3,111 | 39 |
| Cayuga | 3,964 | 62 |
| Chautauqua | 4,926 | 119 |
| Chemung | 5,258 | 66 |
| Chenango | 1,558 | 29 |
| Clinton | 1,793 | 74 |
| Columbia | 2,141 | 28 |
| Cortland | 2,477 | 22 |
| Delaware | 926 | 25 |
| Dutchess | 14,997 | 240 |
| Erie | 48,454 | 550 |
| Essex | 868 | 15 |
| Franklin | 972 | 26 |
| Fulton | 1,804 | 42 |
| Genesee | 3,380 | 44 |
| Greene | 1,835 | 53 |
| Hamilton | 140 | 7 |
| Herkimer | 3,182 | 81 |
| Jefferson | 2,652 | 80 |
| Lewis | 1,256 | 31 |
| Livingston | 2,432 | 47 |
| Madison | 2,885 | 36 |
| Monroe | 41,157 | 464 |
| Montgomery | 1,952 | 29 |
| Nassau | 105,497 | 1,419 |
| Niagara | 10,888 | 203 |
| NYC | 489,451 | 5,994 |
| Oneida | 15,310 | 188 |
| Onondaga | 25,626 | 260 |
| Ontario | 4,336 | 81 |
| Orange | 26,787 | 299 |
| Orleans | 1,737 | 21 |
| Oswego | 4,422 | 67 |
| Otsego | 1,483 | 54 |
| Putnam | 5,930 | 86 |
| Rensselaer | 6,040 | 180 |
| Rockland | 30,273 | 258 |
| Saratoga | 8,124 | 164 |
| Schenectady | 7,759 | 140 |
| Schoharie | 780 | 24 |
| Schuyler | 657 | 7 |
| Seneca | 1,071 | 22 |
| St. Lawrence | 3,093 | 53 |
| Steuben | 4,267 | 61 |
| Suffolk | 117,156 | 1,667 |
| Sullivan | 3,570 | 51 |
| Tioga | 2,044 | 23 |
| Tompkins | 2,424 | 10 |
| Ulster | 7,038 | 111 |
| Warren | 1,764 | 47 |
| Washington | 1,272 | 43 |
| Wayne | 3,352 | 42 |
| Westchester | 79,406 | 872 |
| Wyoming | 1,887 | 26 |
| Yates | 722 | 13 |
Yesterday, 164 New Yorkers died due to COVID-19 in New York State, bringing the total to 32,007. A geographic breakdown is as follows, by county of residence:
Deaths by County of Residence
County
New Deaths
Albany
3
Bronx
9
Broome
4
Cayuga
4
Chautauqua
2
Chemung
2
Columbia
1
Cortland
2
Dutchess
1
Erie
12
Genesee
1
Greene
6
Herkimer
1
Kings
10
Livingston
1
Manhattan
7
Monroe
14
Montgomery
1
Nassau
7
Niagara
3
Oneida
5
Onondaga
4
Ontario
1
Orange
2
Oswego
1
Queens
15
Richmond
3
Rockland
1
Saratoga
3
St. Lawrence
2
Steuben
1
Suffolk
20
Ulster
3
Wayne
1
Westchester
8
Wyoming
2
Yates
1
###
Additional news available at www.governor.ny.gov
New York State | Executive Chamber |[email protected] | 518.474.8418