GOVERNOR CUOMO UPDATES NEW YORKERS ON STATE'S PROGRESS DURING COVID-19 PANDEMIC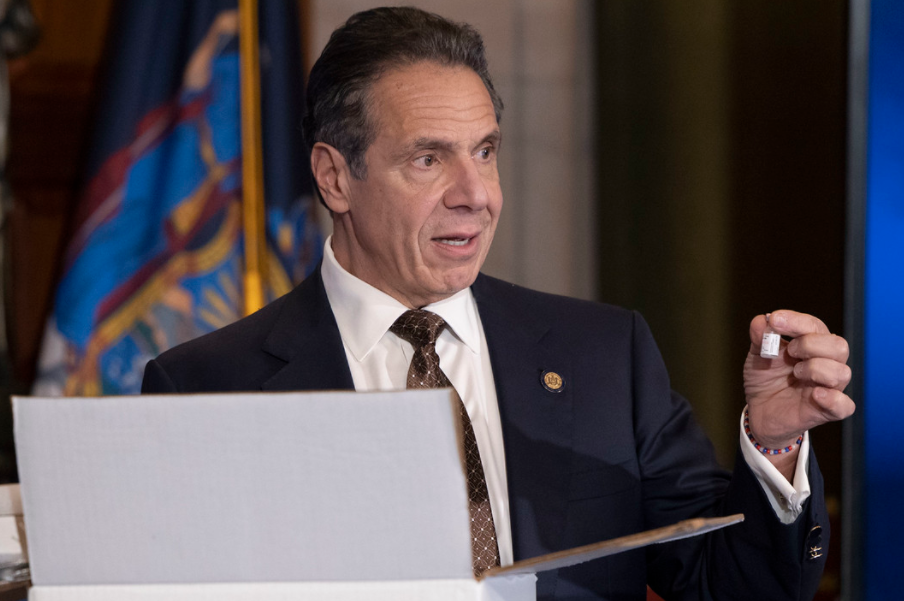 Governor to Sign Executive Order Expanding Eligibility for New York's COVID Rent Relief Program and Reopening Application Window
Positive Testing Rate in All Focus Zone Areas is 5.91 Percent; New York State Positivity Outside All Focus Zone Areas is 4.49 Percent
Statewide Positivity Rate is 4.84 Percent
61 COVID-19 Deaths in New York State Yesterday
State to Partner with Prescryptive Health to Launch 150 New Rapid Testing Sites Statewide
Governor Andrew M. Cuomo today updated New Yorkers on the state's progress during the ongoing COVID-19 pandemic.
"It's all about hospitalization rate and hospital capacity. In the broad scope of things, we're dealing with increases in hospitalizations, but we're doing dramatically better than essentially every other state in the country. The total number of hospital beds in the state is 53,000 – currently 35,000 beds are occupied, and about 4,000 of those with COVID patients. At our height, we had about 19,000 people hospitalized with COVID, to put this recent increase in perspective," Governor Cuomo said. "The next chapter is going to be vaccine distribution and vaccine acceptance. The vaccine is the weapon that is going to win the COVID war, and that is the light at the end of the tunnel. It's not a short tunnel, but we know the way through this. We just have to get there, and we have to get there with as little as loss of life as possible."
The Governor also announced he will be signing an executive order expanding eligibility for New York State's COVID Rent Relief Program and reopening its application window. The Program, which was created by the state legislature when it passed the Emergency Rent Relief Act of 2020, appropriated up to $100 million from the federal CARES Act to provide subsidies for tenants who lost income due to the pandemic. Based on the legislature's parameters, as much as $40 million is expected to be paid to eligible applicants approximately 15,000 New York households. This executive order will expand the program's eligibility so more rent relief can be provided to New Yorkers. Additional details will be available in the coming days.
Additionally, New York State is partnering with Prescryptive Health to provide expanded COVID-19 testing capacity across New York State. The partnership will help expand testing capacity in areas where testing access is limited and will include 150 new rapid testing locations statewide opening in the coming weeks where testing will be offered. Prescryptive's digital health platform will manage deployment of rapid test kits provided by New York State, and provide the technology to manage inventory, schedule appointments and report results in a timely manner. Residents can find participating sites, schedule a test, receive results and follow-up with licensed clinicians directly from their mobile device. All testing sites will be searchable on the state's COVID test site website (https://coronavirus.health.ny.gov/find-test-site-near-you) and appointments for these sites will be also available at www.prescryptive.com.
Prescryptive Health CEO Chris Blackley said, "Prescryptive Health is  proud to partner with the State of New York and community pharmacies to provide rapid COVID-19 testing-particularly to those where testing access is limited. Our technology allows us to deliver testing at scale, with the safety, security, and timeliness people need."
The Governor noted that the positive testing rate in all focus areas under the state's Micro-Cluster strategy is 5.91 percent, and outside the focus zone areas is 4.49 percent. Within the focus areas, 50,800 test results were reported yesterday, yielding 3,003 positives. In the remainder of the state, not counting these focus areas, 152,640 test results were reported, yielding 6,852 positives. Full results for tests reported yesterday, the day prior, the current 7-day rolling average, and last two weeks is below:
STATEWIDE
11/8- 11/14 % Positive
11/15- 11/21 % Positive
11/22- 11/28 % Positive
Current 7-day rolling average
Day Prior (12/01) % Positive
Yesterday (12/02) % Positive
All focus area statewide % positive
4.81%
4.51%
5.14%
5.91%
5.88%
5.91%
Statewide % positive with all focus areas included
2.86%
2.89%
3.52%
4.41%
4.63%
4.84%
Statewide % positive without all focus areas included
2.47%
2.44%
3.02%
3.91%
4.21%
4.49%
Micro-cluster zone 7-day average positivity rates for today, yesterday, the day before, last week, and the week prior is below:
FOCUS ZONE
11/8- 11/14 % Positive
11/15- 11/21 % Positive
11/22- 11/28 % Positive
Day Prior 7-day Rolling Average
Yesterday 7-day Rolling Average
Current 7-day Rolling average
Erie orange-zone focus area % positive
7.22%
7.30%
7.20%
7.77%
7.78%
7.67%
Erie Yellow-zone focus area % positive
5.34%
7.36%
6.83%
7.73%
8.27%
8.18%
Niagara Yellow -zone focus area % positive
5.10%
4.44%
7.35%
7.80%
8.07%
8.51%
Monroe Orange-zone focus area % positive
4.41%
4.17%
6.59%
7.32%
6.94%
7.20%
Monroe Yellow-zone focus area % positive
5.95%
3.58%
5.62%
6.81%
6.42%
6.48%
Onondaga Orange-zone focus area % positive
6.26%
5.34%
6.13%
5.91%
5.81%
5.66%
Onondaga Yellow-zone focus area % positive
6.03%
4.50%
5.09%
5.17%
5.50%
5.74%
Queens Kew Garden Hills/Forest Hills/Astoria yellow-zone focus area % positive
3.40%
3.40%
3.61%
3.98%
4.23%
4.48%
Bronx East Yellow-zone focus area % positive
3.81%
3.52%
4.47%
5.00%
5.11%
5.25%
Bronx West Yellow -zone focus area % positive
3.80%
4.70%
4.64%
5.04%
5.06%
5.34%
Brooklyn Yellow-zone focus area % positive
3.92%
3.70%
5.64%
6.13%
6.86%
7.62%
Rockland Yellow-zone focus area % positive
3.55%
3.39%
3.94%
4.52%
4.83%
5.05%
Chemung Orange-zone focus area % positive
4.59%
4.71%
6.46%
7.28%
6.72%
5.97%
Staten Island Orange-zone focus area % positive
5.24%
4.96%
4.75%
5.66%
6.10%
6.69%
Staten Island Yellow-zone focus area % positive
3.75%
3.61%
4.08%
4.55%
4.72%
4.88%
Tioga Yellow-zone focus area % positive
10.81%
5.60%
3.10%
5.44%
6.15%
6.14%
Orange Middletown – Yellow-zone focus area % positive
3.81%
5.41%
3.81%
5.28%
6.03%
6.30%
Orange Newburgh – Yellow-zone focus area % positive
8.07%
7.89%
8.57%
7.30%
7.49%
7.33%
Manhattan-Washington Heights-Yellow-zone focus area % positive
3.23%
3.39%
3.40%
3.84%
3.91%
4.07%
Nassau-Great Neck-Yellow-zone focus area % positive
3.69%
3.69%
3.93%
4.39%
4.37%
4.47%
Nassau Massapequa Park -Yellow-zone focus area % positive
4.64%
4.15%
5.12%
6.14%
5.91%
6.61%
Suffolk-Hampton Bays-Yellow-zone focus area % positive
9.26%
5.69%
7.00%
6.76%
6.24%
5.73%
Suffolk-Riverhead-Yellow-zone focus area % positive
4.80%
4.85%
3.49%
2.95%
3.44%
3.97%
Westchester Peekskill – Yellow-zone focus area % positive
10.36%
7.15%
7.23%
9.55%
9.57%
10.10%
Westchester Ossining – Yellow-zone focus area % positive
9.88%
10.22%
9.96%
10.03%
9.87%
9.77%
Westchester Tarrytown/Sleepy Hollow – Yellow-zone focus area % positive
8.47%
8.27%
7.05%
5.55%
4.72%
4.56%
Westchester Yonkers – Yellow-zone focus area % positive
4.48%
4.11%
4.84%
4.75%
5.05%
4.69%
Westchester New Rochelle – Yellow-zone focus area % positive
6.46%
5.68%
5.44%
6.51%
6.33%
5.77%
Westchester Port Chester Orange-zone focus area % positive
9.34%
7.59%
7.21%
8.54%
8.59%
8.58%
Today's data is summarized briefly below:
Patient Hospitalization- 4,063 (+139)
Patients Newly Admitted- 664
Hospital Counties- 55
Number ICU- 783 (+41)
Number ICU with Intubation- 377 (+4)
Total Discharges- 86,638 (+437)
Deaths- 61
Total Deaths- 26,955
Each region's percentage of positive test results reported over the last three days is as follows:
| | | | | |
| --- | --- | --- | --- | --- |
| REGION | MONDAY | TUESDAY | WEDNESDAY | CURRENT 7-DAY AVERAGE |
| Capital Region | 4.7% | 4.7% | 3.5% | 3.90% |
| Central New York | 5.5% | 4.8% | 5.6% | 5.46% |
| Finger Lakes | 6.4% | 5.0% | 6.8% | 6.15% |
| Long Island | 4.7% | 5.5% | 5.6% | 4.53% |
| Mid-Hudson | 5.3% | 5.8% | 5.6% | 5.17% |
| Mohawk Valley | 5.6% | 5.8% | 5.6% | 5.01% |
| New York City | 4.1% | 4.3% | 4.1% | 3.62% |
| North Country | 4.6% | 5.8% | 4.3% | 3.66% |
| Southern Tier | 4.9% | 1.2% | 3.3% | 2.59% |
| Western New York | 9.0% | 6.9% | 6.1% | 7.41% |
Each New York City borough's percentage of positive test results reported over the last three days is as follows:
| | | | | |
| --- | --- | --- | --- | --- |
| BOROUGH | MONDAY | TUESDAY | WEDNESDAY | CURRENT 7-DAY AVERAGE |
| Bronx | 4.7% | 4.8% | 4.9% | 4.47% |
| Brooklyn | 3.9% | 4.1% | 4.3% | 3.48% |
| Manhattan | 2.9% | 2.4% | 2.6% | 2.43% |
| Queens | 4.0% | 5.2% | 4.3% | 3.92% |
| Staten Island | 6.9% | 6.3% | 5.7% | 5.46% |
Of the 674,093 total individuals who tested positive for the virus, the geographic breakdown is as follows:
| | | |
| --- | --- | --- |
| County | Total Positive | New Positive |
| Albany | 6,258 | 120 |
| Allegany | 1,095 | 26 |
| Broome | 5,657 | 106 |
| Cattaraugus | 1,252 | 53 |
| Cayuga | 983 | 53 |
| Chautauqua | 1,692 | 61 |
| Chemung | 3,212 | 72 |
| Chenango | 665 | 13 |
| Clinton | 495 | 7 |
| Columbia | 1,061 | 17 |
| Cortland | 1,116 | 25 |
| Delaware | 393 | 8 |
| Dutchess | 7,635 | 123 |
| Erie | 27,110 | 592 |
| Essex | 302 | 6 |
| Franklin | 283 | 7 |
| Fulton | 544 | 17 |
| Genesee | 1,158 | 44 |
| Greene | 734 | 14 |
| Hamilton | 56 | 7 |
| Herkimer | 789 | 34 |
| Jefferson | 653 | 42 |
| Lewis | 430 | 26 |
| Livingston | 789 | 25 |
| Madison | 1,043 | 51 |
| Monroe | 17,127 | 539 |
| Montgomery | 534 | 12 |
| Nassau | 62,745 | 757 |
| Niagara | 4,296 | 154 |
| NYC | 321,053 | 3,307 |
| Oneida | 5,477 | 211 |
| Onondaga | 11,657 | 376 |
| Ontario | 1,447 | 57 |
| Orange | 17,496 | 213 |
| Orleans | 652 | 7 |
| Oswego | 1,799 | 57 |
| Otsego | 674 | 14 |
| Putnam | 3,038 | 65 |
| Rensselaer | 1,891 | 54 |
| Rockland | 22,221 | 173 |
| Saratoga | 2,488 | 75 |
| Schenectady | 2,699 | 84 |
| Schoharie | 217 | 5 |
| Schuyler | 326 | 3 |
| Seneca | 347 | 24 |
| St. Lawrence | 981 | 68 |
| Steuben | 1,898 | 33 |
| Suffolk | 63,758 | 1,111 |
| Sullivan | 2,238 | 18 |
| Tioga | 1,193 | 22 |
| Tompkins | 1,209 | 55 |
| Ulster | 3,606 | 107 |
| Warren | 614 | 11 |
| Washington | 464 | 3 |
| Wayne | 1,243 | 37 |
| Westchester | 52,418 | 628 |
| Wyoming | 605 | 21 |
| Yates | 277 | 5 |
Yesterday, 61 New Yorkers died due to COVID-19 in New York State, bringing the total to 26,955. A geographic breakdown is as follows, by county of residence:
Deaths by County of Residence
County
New Deaths
Albany
3
Allegany
1
Broome
3
Cattaraugus
1
Cayuga
1
Chemung
2
Erie
10
Genesee
2
Kings
3
Livingston
1
Manhattan
1
Monroe
2
Montgomery
1
Nassau
2
Niagara
1
Oneida
2
Onondaga
4
Orange
2
Orleans
1
Queens
3
Richmond
4
Rockland
1
Suffolk
3
Wayne
2
Westchester
5
###
Additional news available at www.governor.ny.gov
New York State | Executive Chamber |[email protected] | 518.474.8418