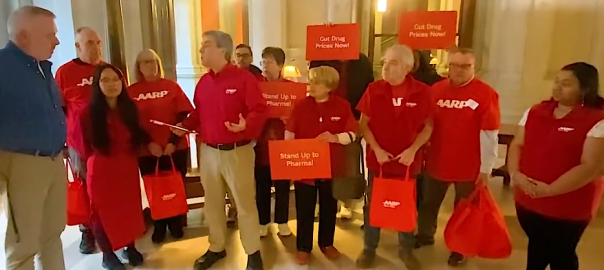 Fight Skyrocketing Rx Prices by Signing Transparency Bill, 42 Groups Urge Governor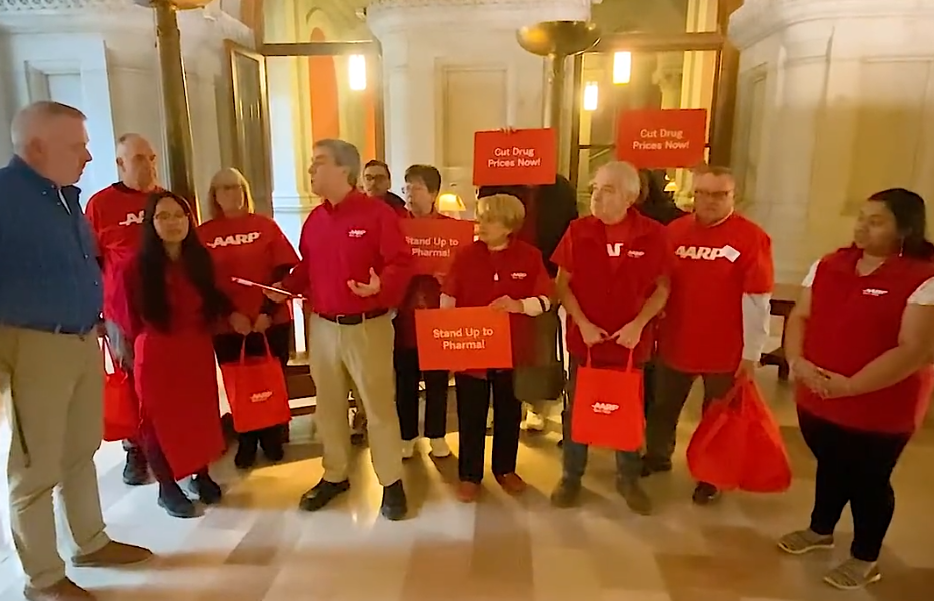 Transparency Laws in Other States Have Resulted in Fewer, Lower Rx Price Hikes; AARP NY Also Delivers 3,200+ Member Letters to Governor
ALBANY, N.Y. – Forty-two organizations including advocates for the aging, communities of color, consumers, healthcare, labor and more are urging Governor Kathy Hochul to sign into law a bill that would fight skyrocketing prescription drug prices by requiring drug makers to disclose and justify significant price increases.
Similar price transparency laws in other states have led to fewer and lower price hikes.
The groups sent a letter (reprinted in full below) to the Governor, and AARP New York delivered over 3,200 members' letters to her office today urging her to sign the bill.
Governor Hochul proposed even farther-reaching prescription drug transparency provisions as part of her executive budget this year.
The pharmaceutical industry has opposed similar legislation across the country and is now opposing the New York bill (S599A/A1707A, sponsored by Senator Julia Salazar and former Assembly Member Dan Rosenthal) – which passed the State Assembly unanimously and by a bi-partisan 52-10 vote in the State Senate.
List prices for the most popular Medicare Part D drugs have more than tripled since entering the market in recent years, as an AARP report shows. Cost is the primary reason for American voters 50 and older deciding not to fill a prescription, according to a recent AARP national survey.
"We pay three times as much for many of the same prescription drugs as people in other countries," said AARP New York State Director Beth Finkel. "Skyrocketing drug prices drive up New Yorkers' out-of-pocket costs, insurance premiums, and the bill for taxpayer-funded programs like Medicaid and the Elderly Pharmaceutical Insurance Program that buy prescription drugs in huge quantities.
"This is the Governor's chance to take another important step in attacking this problem and build on her strong record of addressing the high cost of prescription drugs. Transparency legislation has helped moderate price increases in other states. We strongly urge Governor Hochul – who proposed strong transparency provisions herself that were unfortunately not included in the final budget negotiated with state legislators – to sign this bill to give New Yorkers the same benefits."
California, Texas, New Jersey, Connecticut and Vermont are among 19 states that have already enacted transparency laws. Vermont reported an almost 80% decline in the number of price increases of 15% or more for its taxpayer-funded Medicaid program between 2016 and 2020. Oregon's transparency law resulted in 70% fewer reports of price increases over its threshold of 10% or higher for drugs priced at $100 or more in the first year, from 2019 to 2020.
"Latinos of all ages rely on life-saving prescriptions to carry on their daily lives," said Frankie Miranda, President and CEO of Hispanic Federation. "However, prescription prices will often increase without notice, leading many to choose between buying their medication or other daily essentials. That shouldn't be the case. S.599-A/A.1707-A would change this by ensuring that everyone knows exactly when costs will change and by how much so people can better prepare financially. I thank the AARP for championing this bill, and urge the Governor to sign this bill immediately."
Wayne Ho, President and CEO of the Chinese-American Planning Council (CPC), said: "CPC works with Asian American and immigrant New Yorkers to help them access high quality, culturally responsive healthcare, and nearly half of our community members struggle to afford the healthcare and medication they need. As we fight for universal healthcare and a more affordable, accessible healthcare system, S599-A/A1707-A will help New Yorkers and the social services agencies that support them plan for consistent access to lifesaving medication. We urge the Governor to sign this bill into law."
"Inflation and the high cost of everything continues to hurt working class seniors and families," said Eric Alexander, Director, Vision Long Island, Co-Chair, LI Lobby Coalition. "Strategies to lower the price of daily needs like prescription drugs go a long way towards helping people pay for their life."
"The Center for Independence of the Disabled, New York (CIDNY) advocates for this legislation on behalf of all New Yorkers, especially, people with disabilities," said Sharon McLennon Wier, Ph.D., MSEd., CRC, LMHC, Executive Director for CIDNY. "We recognize that people with disabilities at times have to decide to either feed themselves and their families when faced with the cost of prescription drugs. Limited access to gainful employment, underemployment, and gaps in government programs and private insurance coverage contribute to an unequal playing field when it comes for maintaining quality healthcare for the disabled. We must do better in consideration of our experiences with COVID-19, which magnified the disparities for people with disabilities and people of color in obtaining affordable and consistent healthcare."
"According to a 2023 national study published by JAMA Network, 1 in 5 adults over age 65 either skipped, delayed, took less medication than was prescribed, or took someone else's medication last year because of concerns about cost," said Karen L. Nicolson, CEO of the Center For Elder Law & Justice. "With prescription costs and inflation both on the rise, cost-related medication nonadherence is only projected to get worse for older adults. This bill would help providers and consumers both brace for drug increases in advance and problem-solve affordability before facing shock at the pharmacy counter. Transparency and public justification for a large increase in cost should be the bare minimum when lives are at stake."
Follow us on X: @AARPNY and Facebook: AARP New York
About AARP
AARP is the nation's largest nonprofit, nonpartisan organization dedicated to empowering Americans 50 and older to choose how they live as they age. With a nationwide presence, AARP strengthens communities and advocates for what matters most to the more than 100 million Americans 50-plus and their families: health security, financial stability and personal fulfillment. AARP also works for individuals in the marketplace by sparking new solutions and allowing carefully chosen, high-quality products and services to carry the AARP name. As a trusted source for news and information, AARP produces the nation's largest circulation publications, AARP The Magazine and AARP Bulletin. To learn more, visit www.aarp.org/about-aarp/, www.aarp.org/españo or follow @AARP, @AARPenEspañol and @AARPadvocates on social media.
###
November 7, 2023
Honorable Kathy Hochul
Governor
State of New York
State Capitol
Albany, New York 12224
Dear Governor Hochul,
Thank you for your leadership in standing up for millions of New Yorkers and working to make prescription drugs more accessible and affordable, including your 2023-24 executive budget proposals to increase prescription drug price transparency in our state.
Our organizations respectively request that you sign into law S.599-A (Salazar) same as A.1707-A (D. Rosenthal) to increase transparency around prescription drug prices.
This legislation is consistent with your proposals for transparency, and would empower the Department of Financial Services in its work to address the high cost of prescription drugs.
List prices on more than 1,200 prescription drugs rose by an astounding 31.6% on average – far higher than the general rate of inflation – between July 2021 and July 2022, according to a report from the U.S. Department of Health and Human Services (HHS).[1] A 2021 AARP national survey of registered voters 50 and older found cost is the primary reason for deciding not to fill a prescription.[2] Prescription drugs are a lifeline for millions of older adults across New York State.
Prescription drug price transparency laws hold pharmaceutical companies accountable by forcing them to disclose their price increases. Several states with price transparency laws have reported fewer and lower drug price increases. Vermont, the first state to enact a transparency law, reported an almost 80% decline in the number of drugs with price increases of at least 15% in its Medicaid program between 2016 and 2020.[3] Drug transparency laws have also provided valuable information for legislators to develop future actions to enhance access to affordable prescription drugs.
One of the leading causes of the rise in healthcare premium costs is the increase in prescription drug prices. A recent analysis shows 82.4 cents of every insurance premium dollar in the commercial market (employer-provided coverage and individual market) went toward prescription drugs and medical services from 2018-2020 – up from 81.6 cents from the prior analysis released in 2020.[4]
For these reasons, our organizations urge you to sign S.599-A same as A.1707-A into law to bring more transparency around prescription drugs prices in New York.
Sincerely,
AARP New York
Acacia Network
Brain Injury Association of New York State
CaringKind
Center For Elder Law and Justice
Center for Independence of the Disabled, NY
Chinese-American Planning Council, Inc.
Citizen Action of New York
Community Service Society of New York
Consumer Reports
District Council 37
Empire Justice Center
Entertainment Community Fund
Family Service League
Glen Cove Age Friendly
Hamilton-Madison House
Health Care For All New York Coalition (HCFANY)
Hispanic Federation
Lifespan of Greater Rochester
LiveOn NY
Long Island Center for Independent Living, Inc.
Long Island Lobby Coalition
Long Island Progressive Coalition
Medicare Rights Center
NAACP
New York Oncology Hematology
New York State Association of Rural Health
New York State Public Health Association
New York Urban League
Northwest Bronx Community and Clergy Coalition (NWBCCC)
NYPIRG
Physicians for a National Health Program – New York Metro Chapter
Public Health Association
R.A.I.N. Total Care, Inc.
Retired Public Employee Association (RPEA)
SAGE
Schuyler Center for Analysis and Advocacy (SCAANY)
Share The Care
South Asian Council for Social Services (SACSS)
Spanish Speaking Elderly Council – (RAICES)
Vision Long Island
Young Invincibles
[1] Arielle Bosworth, et al. "Price Increases for Prescription Drugs, 2016-2022" (2022). Available at https://aspe.hhs.gov/sites/default/files/documents/d850985c20de42de984942c2d8e24341/price-tracking-brief.pdf
[2] AARP Research, "Consumer Views on Prescription Drugs Survey" (2021). Available at https://www.aarp.org/content/dam/aarp/research/surveys_statistics/health/2021/drug-prices-older-americans-concerns.doi.10.26419-2Fres.00476.001.pdf
[3] Center for Elder Law & Justice, "THE PRESCRIPTION DRUG PRICE AND SUPPLY CHAIN TRANSPARENCY ACT OF 2023  – LETTER OF SUPPORT" (2023). Available at https://www.elderjusticeny.org/policy-statements/prescription-drug-price-and-supply-chain-transparency-act-2023-letter-of-support
[4] AHIP, "Where Does Your Health Care Dollar Go?" (2022). Available at https://www.ahip.org/documents/202208-AHIP_HealthCareDollar-v02.pdf