Federation Kicks Off Annual Advocacy Week by Honoring Agriculture Committee Chairs Lupardo and Hinchey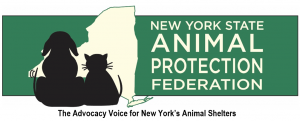 Animal shelter leaders and professionals from across New York gathered on Zoom this morning to kick off the New York State Animal Protection Federation's Virtual Advocacy Week running from Tuesday, March 1 through Tuesday, March 8th.
The chairs of the respective Agriculture Committees in the state legislature, Assemblymember Donna Lupardo and State Senator Michelle Hinchey received the Federation's Companion Animal Champion Award for advancing funding and legislation that protect homeless companion animals and for supporting New York's animal shelters.
Assemblywoman Lupardo said: "I was honored to receive the NY Animal Protection Federation's Companion Animal Champion Award today.  I will continue to support funding for animal shelter improvements, along with raising the standard of care for shelters and rescues across NYS.  My life has been enriched by the rescue animals we have adopted and I will continue to be a strong advocate on their behalf."
State Senator Michelle Hinchey said: "I am humbled and honored to receive the Companion Animal Champion Award from the New York State Animal Protection Federation, and I thank members for recognizing in me something that I believe we all share — a deep love and respect for our companion animals. I've been proud to advocate alongside allies in strong support of the Companion Animal Capital Fund, which helps our local shelter facilities provide homeless animals with safe and secure places to live as they await their forever home. I thank the Federation for their partnership and look forward to our continued efforts to bring greater support and dignity to companion animals across New York State."
Libby Post, Executive Director, of the New York State Animal Protection Federation said: "These two women set the standard for supporting the needs and welfare of homeless companion animals in New York State. Their commitment to the Companion Animal Capital Fund and legislation that improves the care these animals receive is a game changer for animal welfare in our state. The Federation thanks Assemblymember Lupardo and Senator Hinchey for standing with us and the animal shelters we represent."
The Federation's members will be advocating for the following initiatives and bills during this week:
Increasing the Companion Animal Capital Fund to $10 million. With the completion of the FY2021-22 RFP process, the state will have invested $25 million in shelter capital projects across the state. The Governor included the Fund at its present amount of $5 million in her executive budget. The Federation is asking the legislature to continue its legacy allocation of $5 million to bring the total to $10 million.
Passing the End the Puppy Mill Pipeline Act (A4283-Rosenthal/S1130-Gianaris) which would ban the sale of puppies, kittens and rabbits in pet stores. According to the American Pet Products Association, consumers spend over $100 billion on their companion animals. 2% of those sales are from live animals and less than 2% come from the sale of puppies, kittens and rabbits. The bill would allow shelters and rescues to hold adoption events at pet stores which can then rebrand themselves as humane businesses.
Passing the Companion Animal Care Standards Act for Shelters and Rescues (A6246-Paulin/S6870-Addabbo) which would elevate the level of care homeless companion animals receive at shelters and rescues. The bill will also classify rescues as animal shelters under the law and these entities will be regulated. New York State is only one of nine states that do not regulate rescues.
Opposing the Shelter Animal Rescue Act (A7155-Weprin/S7911-Addabbo) which allows unregulated entities, rescues, to dictate to shelters, regulated entities, how to treat their animals. Predicated on the notion that shelters euthanize the majority of animals that walk through their doors, the bill is a proposal in search of a problem that no longer exists. Statewide, live placement rates are between 90 and 95%. The Animal Care Centers of NYC which is constantly demonized on this issue has a live placement rate of 94%. It would compel shelters to publicly list the animals slated to be euthanized giving license to some to just further demonize shelters. Shelters are overseen by the Department of Agriculture and Markets. The vast majority of them are inspected, employ shelter professionals who are trained in animal welfare and held to the standards presently on the books. Rescues are not. There are no laws or professional standards that say rescues must provide medical care, detail how the animals in their care should be housed, whether the animals are guaranteed sustenance or whether the rescue is held responsible for its actions.