Energy Revolution is in the Air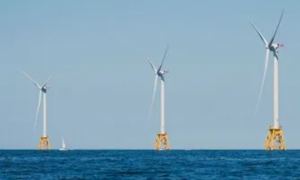 When one thinks of places that have changed the course of industry, Wellsville New York is not generally cited as among them. However, it is precisely in this hamlet of 4,600 people, situated 85 miles from Buffalo, that one of the greatest revolutions in energy development and commerce is occurring.
You see, Wellsville is home to the Ljungstrom/Arvos Custom Manufacturing Solutions. For much of its history Ljungstrom made heating elements for fossil-fired generating plants.  But when the burgeoning offshore wind industry came calling, the welding and fabrication skills honed by Ljungstrom's workers ideally positioned the company to easily expand into the manufacture of "advanced steel components" – the ladders, scaffolding, anode cages, and helipads – affixed to the massive foundations that will anchor the wind turbines to the seabed of the U.S.'s first utility scale windfarms. Ljungstrom secured a $200 million contract with the sponsors of the 880-MW Sunrise Wind Project, energy companies Orsted and Eversource, and with many more offshore wind projects on the horizon, New York companies like Ljungstrom see a growth opportunity.
This development did not come about by happenstance. New York State has made a serious bid as the epicenter of the offshore wind industry in the U.S. As part of a comprehensive response to the threat of climate change, New York lawmakers codified the state's nation-leading goal of 9,000 megawatts of offshore wind development by 2035, creating enough new clean energy to power roughly 6 million households, according the New York Energy Research and Development Authority. The state is nearly half-way to this target, having already procured 4,300 MW, with another 2,000 MW in the offing later this year.
But New York State cannot go it alone.  The best waters in the U.S. for offshore wind development lie several miles off the Atlantic coast, in areas controlled by the federal Bureau of Ocean Energy Management. This agency, whose own mission tilted dramatically after the tragic Deepwater Horizon oil spill to place greater emphasis on renewables, has spent several years studying the opportunity to site offshore wind projects within the New York Bight, a large triangular-shaped area off New York's southern coastline. Much effort has gone into drawing the boundaries of the proposed lease areas in a way that optimizes this world class wind resource, while accommodating and preserving other uses within this area, both human and wildlife.
That process, begun under the Trump Administration, is now in its final stages.  With the issuance of the Final Sale Notice, several of the world's leading energy companies, including several legacy oil and gas majors, will vie for the lease rights for 6 new areas, each capable of supporting 1,000 MW or more of offshore wind generation. Just how attractive these areas are will be borne out in the auction, expected to fetch record bids. A study by the American Clean Power Association conservatively estimates that the lease sale, set for February 23, will net over $1.1 billion.
But the significance of the New York Bight auction extends well beyond its value as a revenue source to fund public services.
First, as noted, the auction will enable New York State to continue its steady march towards 9,000 MW and beyond. Providing a steady, stable and predictable procurement process is key to attracting investment capital and the orderly development of the offshore wind industry.  A recent analysis conducted for the University of Delaware's Special Initiative for Offshore Wind, pegs the total economic prize associated for equipment to meet the states' combined 2030 goal of 30,000 MW at $109 billion. This number is also likely to be conservative as it does not capture ancillary investments in manufacturing facilities, vessels, grid upgrades and the like.
Second, the additional pipeline of projects coming out of the New York Bight will firmly secure New York's leadership in this new U.S.-based heavy industry.  Given logistical issues associated with moving massive equipment over long distances, it is advantageous to locate sites for manufacturing, ports and harbors for construction and operations and maintenance, and the workers to staff these functions, in close proximity to the project area.
Third, as the impacts of climate change are becoming more manifest every day, accelerated development of renewable energy – and in particular offshore wind – is our last best hope to avert a climate crisis. Development of offshore wind in the New York Bight is crucial to meeting New York's
Last but not least, the New York Bight lease auction represents an inflection point in worker and community engagement. As a condition of federal permit approval, leaseholders are expected to use every reasonable effort to enter in Project Labor Agreements with organized labor outlining the deployment of skilled tradesmen and women in the construction of the project. Additionally, project developer will be required to engage "early and often" with local communities, including historically disadvantaged neighborhoods, in close proximity to the project to address stakeholder concerns and to maximize the benefits that will be realized locally.
Offshore wind represents a true paradigm shift in the way we generate energy to meet modern society's needs for carbon-free electricity for an ever-expanding array of uses. And New York is once again leading the way.
Fred Zalcman, Director of NY Offshore Wind Alliance