EMERGENCY AT MONTEFIORE: BRONX NURSES DECRY DANGEROUS UNDERSTAFFING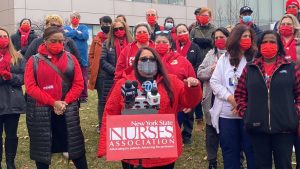 More than 650 vacant nursing positions at three Bronx hospitals fueling patient care crisis
Patients waiting for days for care, being treated on stretchers and chairs in hallways, say nurses
New York City — Nurses at Montefiore in the Bronx are speaking out about chronic understaffing and a surge in patients creating potentially dangerous conditions. Montefiore Bronx emergency departments and hospital floors are overwhelmed, with some patients waiting for days to be treated. Patients are being treated in hallways, on chairs, standing up, and in bathrooms because there are not enough nurses on the floors to admit patients.
Nurses are sounding the alarm about the hospital's failure to address staffing shortages, especially as public health officials expect another surge of COVID-19 patients from the new Omicron variant.
WHO: Nurses of the New York State Nurses Association, community advocates and elected officials, including Assembly Member Amanda Septimo, City Council Member Eric Dinowitz, City Council Member Althea Stevens, Community Board 7, and Northwest Bronx Community Clergy Coalition.
WHAT: Speak Out for Patient Safety at Montefiore
WHEN: Thursday, Dec. 9, 11:30 AM – 1:30 PM, Press Conference to begin at 12:00 PM
WHERE: Montefiore Moses, 111 E. 210th St, Bronx, NY 10467
Nurses from Montefiore Moses, Montefiore Weiler, and Montefiore Children's Hospital will testify to extreme understaffing conditions throughout these Bronx hospitals. There are 393 posted and vacant positions, and 261 more vacant positions that are not being recruited for at all. In the three hospitals' Emergency Departments alone, there are 81 vacancies.
In the adult emergency room, nurses often care for 15, 20 or even more patients, when a safe number would be 5 or 6. The Montefiore Children's Hospital pediatric emergency room is 19 RNs short, and sometimes there is only one RN at 7:00 AM, staffing the entire ED.
Understaffing on the medical-surgical floors is creating a backlog in patients waiting downstairs in the ED for a bed and to begin appropriate treatment. Patients are waiting at times for days on stretchers in the hallways of the emergency room because there are not enough nurses to give them the care they need. Some of these patients are critical and should be monitored in an ICU.
A surge of behavioral and mental health patients is making overcrowding even more dangerous. Without the space and specialized training to deal with unstable patients, violent incidents have increased, and patient health is threatened.
Nurses claim their attempts to work collaboratively on a hiring and retention plan with Montefiore management have been largely ignored. Instead, Montefiore is mandating overtime, with one nurse recently working 24 hours straight — a likely violation of labor law.
"Whether you find yourself as a patient in the Bronx or Manhattan, you deserve safe, quality care," said NYSNA President Nancy Hagans, RN, BSN, CCRN. "The staffing crisis did not start yesterday, or even during the pandemic. But the ongoing pandemic, along with the shortsightedness of healthcare systems like Montefiore, has exacerbated the problem and led to this crisis we see today. Nurses are asking Montefiore to do more for nurses and patients."
###
 The New York State Nurses Association (NYSNA) represents more than 42,000 members in New York State. We are New York's largest union and professional association for registered nurses. For more information, visit nysna.org.