Don't Check Out on the Hotel Industry: Approve the Tax Adjustment for Upstate Casinos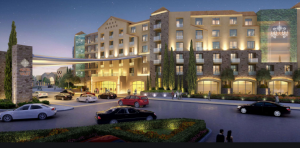 In order to recover from the devastating effects of this pandemic, we need to provide as many good–paying union jobs as possible. Because my co-workers and I are represented by the Hotel Trades Council, we receive family-sustaining wages and quality healthcare from del Lago Resort & Casino.
Del Lago Resort & Casino has been a dedicated union employer in the Finger Lakes region for the past five years. In that time, del Lago has contributed $270M to the Finger Lakes Region and they have helped raise wages in the accommodation and food services sector by 127% in Seneca County, providing essential income for myself and my coworkers.
However, the impact of the COVID-19 pandemic has upended their business model. The business was closed for months. After reopening, our Union and del Lago worked with New York State to implement guidelines that would help keep our team and customers safe. The State guidelines included enhanced cleaning procedures, limitations on occupancy, the hours of operation, and the consumption of food and beverage, and the closing of multiple venues. Even while del Lago was operating under limited hours and occupancy, they continued to pay COBRA benefits for laid off HTC members, like myself.
At the same time, Native American casinos, operating in the same region, and in opposition to State and CDC guidance, have been able to operate without the same restrictions as Upstate commercial casinos.
There have been further changes in the Upstate gaming market that have altered the competitive landscape. In 2017, a Native American casino operator ceased payments to the State, allowing them to exceed industry spending norms on marketing – placing del Lago at a significant competitive disadvantage.
Del Lago's business and its workforce have been through a lot, but we are still hopeful that the business can thrive with a slot tax adjustment that reflects the current realities of the market. I urge State leaders not to "check out" on the Upstate commercial casinos or their workforce.
Unfortunately, organizations with a vested interest are paying thousands of dollars for advertisements that spread misinformation about the impact of a tax adjustment. A recent paid opinion piece, funded by special interest groups and written by an unscrupulous "professor" from Texas, suggests that the State would lose hundreds of millions of dollars by enacting legislation to adjust commercial casino taxes. The "professor's" narrative either purposely or accidently misuses data to come to false conclusions.
The total benefit to all four Upstate casinos is approximately $60 million, which will help commercial casinos, like del Lago, get back on their feet and allow them to continue being good employers and economic drivers for the local community. This tax adjustment will save union jobs, help the business thrive, and spur economic growth in the Finger Lakes, ultimately leading to more benefit to the State, not less. As our Union and the industry look to recover from the impact of COVID-19, we must ensure that we are increasing well-paying jobs in the hospitality and gaming industries, not losing them. I trust that del Lago is committed to finding solutions that would protect existing union jobs and create new union jobs in the future.
Lawmakers must implement a tax adjustment and level the playing field for Upstate commercial casinos so that communities do not lose key revenue and job generators like del Lago Resort & Casino.
Jason Donnelly is a Dealer at del Lago Resort & Casino and a member of the Hotel Trades Council.