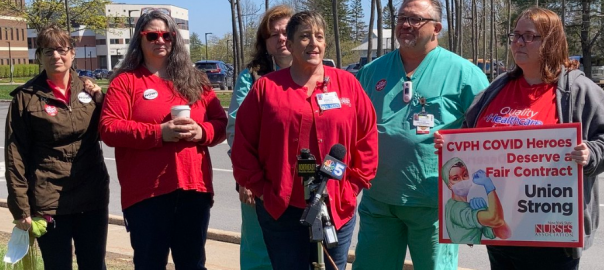 CVPH NURSES AND HEALTHCARE PROFESSIONALS VOTE OVERWHELMINGLY TO AUTHORIZE A STRIKE
MORE THAN 90% OF CVPH-NYSNA MEMBERS VOTE "YES" FOR STRIKE AUTHORIZATION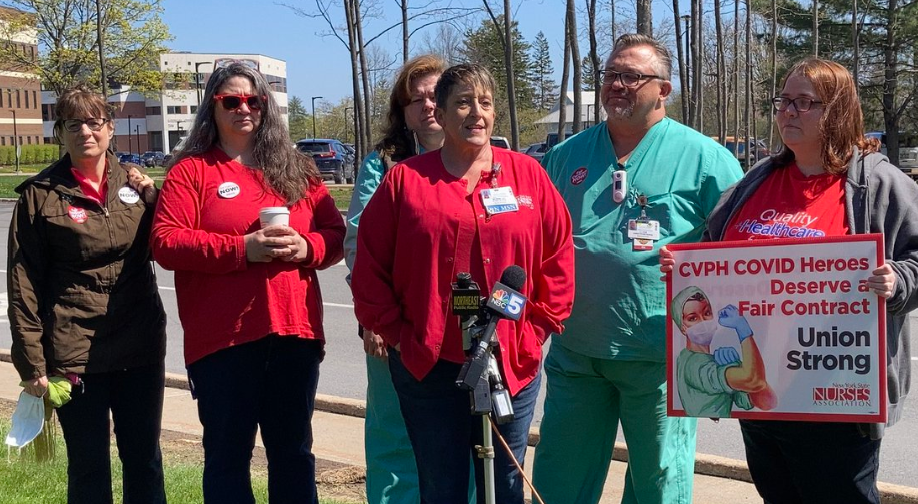 Plattsburgh, N.Y.– After two years of deteriorating patient care conditions and difficult contract negotiations, NYSNA healthcare professionals at CVPH voted this week to authorize a strike, if one becomes necessary.
NYSNA members say they will strike only as a last resort if the University of Vermont Health Network, CVPH's parent company, refuses to use its $1.1 billion in cash reserves to directly improve patient care. The vote will authorize the bargaining team to call for a strike.
"From draining healthcare resources to cutting essential services, to their failure to bargain in good faith, our employer is risking the health of our community," said Cynthia Trudo, RN, a nurse at CVPH. "We are fighting for a fair contract that ensures our patients get safe, quality care—with the essential services and staff needed for the long-term care of our community."
There are delays in the provision of food, diagnostic tests and medications. In the ER, it is common for 15-20 admitted patients to wait up to 72 hours for beds upstairs. Patients often remain on stretchers in the hallways. Emergency Room nurses go without a break to try and accommodate the workload and keep patients safe, at times caring for eight or more patients at a time, when three or four is the safe standard.
In addition to caring for patients at the bedside, nurses are answering phones, doing clerical work, fixing and searching for needed equipment and supplies, bathing and feeding patients, doing janitorial work, and sitting with patients to keep them safe from falls and other injuries – all of which make it beyond challenging to provide quality care to patients.
NYSNA members are demanding that their employer stop draining healthcare resources from CVPH and create a real plan to recruit and retain more staff for a long-term sustainable workforce, not to backfill with temporary traveling nurses.
"None of us want to strike. We're at the point where only desperate measures will get them to listen to us. We are asking them to come in good faith to the table and invest in direct patient care and safe staffing," Trudo said.
WHO: Nurses and healthcare professionals of the New York State Nurses Association
WHAT: Announcement of strike authorization vote results
WHERE: CVPH, Cornelia Street entrance near Draper Ave, Plattsburgh, NY 12901
WHEN: Thursday, May 5 at 11:00 a.m.
INTERVIEWS: NYSNA members will be available to talk with media about the strike vote and next steps
###
The New York State Nurses Association (NYSNA) represents more than 42,000 members in New York State. We are New York's largest union and professional association for registered nurses. For more information, go to www.nysna.org