CSEA and NYS DOT recognize Work Zone Awareness Week, April 26-30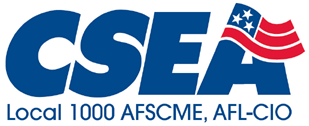 ALBANY — CSEA represents thousands of municipal highway department, department of public works and department of transportation workers throughout New York State and our communities. Every year, CSEA joins organizations throughout the country, including the New York State DOT, in promoting worker safety by recognizing national Work Zone Awareness Week, April 26-30.
Work Zone Awareness Week is a national recognition event designed to encourage safe driving through highway work zones around the start of the Spring road construction season. Through CSEA's "Don't Zone Out" initiative, our union has highlighted the dangers of distracted driving over the years, which has increased over the past decade with increased usage of mobile devices.
"Highway and transportation workers put their lives on the line every day they work on our roads, bridges and highways, to make sure they're safe for the motoring public," said CSEA President Mary E. Sullivan. "Until you've stood in their boots, you don't know what it feels like to have trucks and cars rushing by you at high speeds. As a union we've lost too many members who were killed in work zones, and we will continue doing everything we can to prevent future tragedies."
State Department of Transportation Commissioner Marie Therese Dominguez said, "Our highway maintenance workers perform critical work each day to keep our transportation network safe and operational and it's imperative that motorists know the hazards they face each and every day they are on the job. National Work Zone Awareness Week is an important way to bring heightened awareness to this issue and I thank our partners at the CSEA and in law enforcement for their continued efforts to protect our workers and enforce safety in our work zones."
Tragically, CSEA has lost more than 57 members in work zone fatalities since 1983.
CSEA continues to support legislation that will improve the safety of workers in highway work zones, including increased penalties for assaulting or menacing a highway worker or intruding into an active work zone. The union is also advocating for a work zone speed camera program that will prevent more injuries before they can happen. Work zone speed cameras have a proven record of success in states where they have been implemented. For example, Maryland saw an 80% reduction in speeding violations and a 50% drop in fatalities after implementing speed cameras. To take action, visit: https://tinyurl.com/help-protect-highway-workers
CSEA and the New York State Department of Transportation urge the traveling public to slow down around designated work zones, and to adhere to New York's Move Over law. Together, we all have a role to play in saving lives and making work zones safer.