COVID ONE YEAR LATER: HONOR THE FALLEN, CARE FOR NEW YORK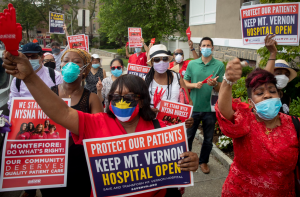 SAFE STAFFING WITH ENOUGH NURSES MUST BE TOP 2021 NYS PRIORITY
NURSES SAY: "WE COULD HAVE SAVED MORE:" Over 40,000 NY COVID DEATHS AND COUNTING
HOSPITALS AND STATE MUST TAKE ACTION NOW BY PASSING A SAFE STAFFING LAW!
New York, New York – Nurses are gathering to honor their fallen colleagues and patients and to call for life-saving investment in healthcare. The nurses, members of the New York State Nurses Association (NYSNA), bore witness to thousands of hospitalized patients infected with COVID-19, and they know NY patients deserved so much more. Many patients died because there were not enough bedside nurses on the frontlines to provide life-saving care.
The nurses are calling on the Hospital Industry to do more. No more fake promises, loopholes, and cut corners when it comes to patient care while emerging from the COVID-19 pandemic. Nurses- the most trusted profession in the US- have a safe staffing cure to this pandemic, and it's time the Hospital Industry listens and the legislature acts.
WHO: Nurses of the New York State Nurses Association, public health experts and community advocates
WHAT: Demand the NY Hospital Industry provide resources for safe staffing ratios in hospitals; codify these standards into law.
WHERE: Greeley Square (Broadway at W. 33rd Street, NYC)
WHEN: 12 noon – Thursday, April 1
"Nurses have been on the frontlines battling COVID for a year, often lacking the resources they need to properly care for their patients and protect themselves. Many of them have been infected, some suffer from ongoing complications, and others were ultimately taken from us. While we are proud to have helped save more than 150,000 New Yorkers, the reality is that many more could have been saved if we had established safe staffing standards in hospitals and nursing homes before the pandemic hit. The time is now to pass laws that ensure safe patient care. This is how to truly honor the lives of those we have lost. The pandemic is not over and the time is now to pass laws that ensure safe patient care. This is how to truly honor the lives of those we have lost." NYSNA Executive Director Pat Kane, RN
"We cannot ensure safe, quality care without the staffing ratios for nurses reviewed by professionals in the nursing field and set out in peer-reviewed studies. Here in NYC at our public hospitals, virtually none of our units, including critical care, are staffed even at close to appropriate ratios. That short staffing can be measured in lost lives. Now is the time to make safe staffing the law in New York so that all hospitals in the state are ensured life-saving levels." NYSNA Board Member Judith Cutchin, RN, President, NYSNA's NYCHH/Mayoral Executive Council
"I am an ICU nurse and have been caring for patients with COVID since the first surge. We are called super heroes for our work during this pandemic, but we don't feel like super heroes when we don't have enough nurses to safely care for our patients. We don't have superpowers that allow us to be in two places at once. When two patients need us at the same time we do our best to provide quality care to both. We should never have been in this situation to begin with, though. New York State needs a law that ensures patients will be cared for safely and now is the time to pass a safe staffing law." Katie Paccione, RN, New York Presbyterian-Columbia University Medical Center
"New York remains in crisis mode as COVID patients continue to crowd our hospitals. Dedicated caregivers saved more than 150,000 from death. How many more would have survived if those in power listened to us? What will happen in the next viral surge?
"Front line nurses know what's needed: transparency, accountability and a guaranteed number of nurses for all of our patients, not meaningless flowery language. Legislators must pass a Law mandating scientifically proven nurse ratios in hospitals and nursing homes that guarantees life-saving care for all New Yorkers." NYSNA President Judy Sheridan-Gonzalez, RN
###
The New York State Nurses Association (NYSNA) represents more than 42,000 members in New York State. We are New York's largest union and professional association for registered nurses. For more information, please visit nysna.org.