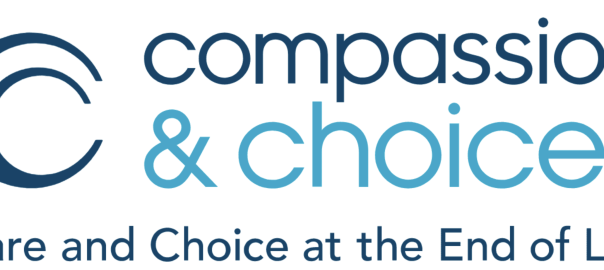 Compassion & Choices Brings Campaign to Pass the Medical Aid in Dying Act in 2023 to the North Country; Several Community Events & Lake Placid News Conference (Wednesday, 11/16)

News Conference to Highlight North Country Residents' Suffering Caused by Legislature's Failure to Pass the Bill
Community Conversations at Saranac Lake Presbyterian Church (11/16),
Canton Unitarian Church (11/17), Plattsburgh Methodist Church (11/18)
Compassion & Choices' Senior New York Campaign Director Corinne Carey today announced the beginning of a two-month, statewide, grassroots campaign to pass the Medical Aid in Dying Act in 2023. The statewide tour will begin in the North Country, from Wednesday, November 16 through Friday, November 18.
Medical aid in dying allows a terminally ill, mentally capable adult with six months or less to live to request a prescription from their doctor for medication they can take when their suffering becomes too great to bear and die peacefully. Ten states, including New York's neighbors New Jersey and Vermont, aswell as Washington, D.C., authorize medical aid in dying. A recent Marist poll shows strong support for medical aid in dying among New York state voters, 59-36 percent, including majority support across the geographic, political and racial spectrum.
Earlier this week, The Adirondack Daily Enterprise published a column from Raymond Stark of Tupper Lake. An 86-year-old veteran in hospice, Mr. Stark wrote, "Now I'm 86 and I'm dying. I strongly believe I should have the ability to decide what the end of my life looks like. It's not for someone else to tell me I have to stay in this bed waiting around for the next heart attack. I want to go quickly and painlessly." If Mr. Stark lived in Vermont, he would be eligible for medical aid in dying.
Carey said: "Lawmakers have a chance to do the right thing in 2023: stop suffering and give terminally ill adults in New York this compassionate option. This statewide tour will ensure that newly elected and returning lawmakers hear from their constituents in their home districts about this important issue. Our campaign will be making stops from the North Country to Long Island, from downtown Buffalo to downtown Brooklyn, and many places in between. We want to make it impossible for lawmakers to continue to turn their backs on suffering far too many New Yorkers face in their final days."
The public schedule for the North Country tour includes (for more detailed information, click here):
News Conference:  Wednesday, November 16
WHAT:

News Conference Demanding Legislature Pass Medical Aid in Dying Act in 2023

WHEN:

 Wednesday, November 16, 1 pm

WHERE:

 North Elba Town Hall
                   2693 Main Street
Lake Placid, NY 12945

WHO:

Dr. Jay Fetterman

, Saranac Lake, NY, Medical Director, Tri-Lakes division, High Peaks Hospice

Nancy Murphy

, Vermontville, NY, who will discuss her sister's peaceful death in Vermont, thanks to their medical aid in dying law

Silas Kramer

, Canton, NY, who witnessed the suffering of a close friend who did not have the option of medical aid in dying

Corinne Carey

, Compassion & Choices
Three Community Conversations: 
"Legalizing Medical Aid in Dying in New York: A Community Conversation"
Compassion & Choices Senior New York Campaign Director Corinne Carey will lead a series of presentations and discussions across the North Country about medical aid in dying as an end-of-life care option for terminally ill adults and the progress the nonprofit advocacy group is making to pass the Medical Aid in Dying Act in the New York State Legislature. Grassroots supporters and those wishing to learn more about the issue are encouraged to attend.
Saranac Lake:

Wednesday, November 16, 4-6 pmFirst Presbyterian Church of Saranac Lake, 57 Church Street, Saranac Lake

Canton:

 Thursday, November 17, 7-8:30 pmCanton Unitarian Universalist Church, 3-½ Main Street, Canton

Plattsburgh:

Friday, November 18, 12 noon – 2 pmPlattsburgh United Methodist Church, 127 Beekman Street, Plattsburgh
More information on medical aid in dying and the New York campaign can be found on Compassion & Choices' website, Facebook or Twitter.
If you would like to speak with any of the participants before or after the event, and/or have any questions, please contact Steven Greenberg, [email protected], 518-469-9858.

Compassion & Choices is the nation's oldest, largest and most active nonprofit organization committed to expanding and improving healthcare options at the end of life. Compassion & Choices New York is leading the campaign to give mentally capable, terminally ill New Yorkers the same legal option to request medical aid in dying that people currently have in 10 other states – including New York neighbors Vermont and New Jersey – as well as Washington, D.C. For more information, visit: CompassionAndChoices.org/NewYork.