BROOKLYN CHAMBER OF COMMERCE HIGHLIGHTS THE 'BEST OF BROOKLYN' AT 2023 REAL ESTATE SHOWCASE

Event brought together top real estate and development professionals to celebrate the immense growth in Brooklyn over the last three years
Brooklyn, NY –  On November 1st, the Brooklyn Chamber of Commerce hosted the 'Best of Brooklyn' Real Estate Showcase at Industry City's exquisite event space, Five Two A, overlooking New York Harbor and the Statue of Liberty. This landmark event honored the incredible progress and development made across Brooklyn by real estate and development professionals and organizations during the pandemic.
The Showcase was attended by more than 200 people, including Mayor Eric Adams' Chief Advisor Ingrid Lewis-Martin, who made remarks on behalf of Mayor Adams. Kathryn Wylde, President and CEO of the Partnership for New York City, delivered the keynote address and focused on how Brooklyn has become the leading engine for growth in New York City, citing how Brooklyn:
Has accounted for 53% of New York City's job growth since 2016.
Was responsible for 32% of new housing production in 2022.
Has more than 375,000 square feet of office space in the pipeline or under construction in Downtown Brooklyn.
Is home to the largest recycling facility in North America, thanks to the $110 million Sunset Park Materials Recovery Facility.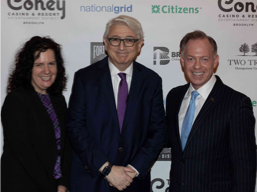 L-R: Dina Rabiner, Brooklyn Chamber of Commerce Vice President, Economic Development & Strategic Partnerships;  Kenneth Fisher, Co-Chair, Brooklyn Chamber of Commerce's Real Estate and Development Committee; Randy Peers, Brooklyn Chamber of Commerce CEO and President
Over 30 development projects from across Brooklyn were recognized at the Real Estate showcase event, which made its return after a hiatus from 2019. These submissions came from a variety of categories from education to residential to public space. They included the incredible work of the School Construction Authority which submitted eight completed projects across Brooklyn despite the many challenges posed by the pandemic, including: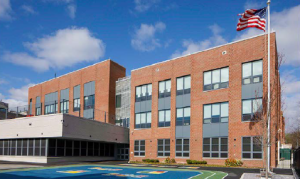 P.S. 32, Samuel Mills Sprole in Carroll Gardens (see photo above from School Construction Authority)
P.S. 254, Dag Hammarskjold in Sheepshead Bay
P.S. 127, The McKinley Park School in Dyker Heights
P.S. 97, The Highlawn School in Gravesend
Several submissions also highlighted the tremendous residential growth Downtown Brooklyn in the three years since the beginning of the pandemic, including:
One Boerum Pl, developed by Avery Fisher Investments
The Guild, developed by Lonicera Partners
The Willoughby, developed by RXR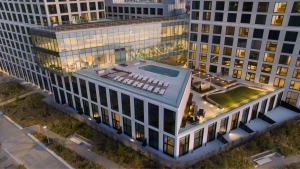 New MWBE developments were also featured as part of the showcase, including:
Eagle + West, developed by Park Tower Group and Brookfield Properties (photo above from Brookfield Properties)
Flatbush Caton Market, developed by Urbane and BRP Companies
"Our borough is in the midst of a real estate renaissance, and this event was an opportunity to come together and recognize the remarkable achievements and progress we've made in the past few years," said Brooklyn Chamber of Commerce CEO and President Randy Peers. "Showcasing the outstanding new ventures completed by some of the globe's foremost designers, architects, and developers, it truly was an outstanding evening for both Brooklyn and the real estate community."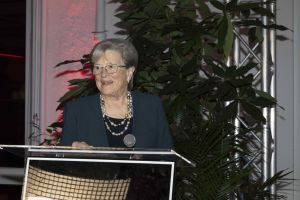 Kathryn Wylde, President and CEO of Partnership for New York City
"With leadership from the Chamber of Commerce, during the past decade there have been more business startups, more housing units, and more jobs created in Brooklyn than any other borough," stated Kathryn Wylde, President & CEO, Partnership for New York City.
The event was organized by the Brooklyn Chamber's Real Estate and Development Committee, co-chaired by Kenneth Fisher of Cozen O'Connor and Bonnie Campbell of Two Trees. The Brooklyn Chamber intends to return this to an annual event; next year, there will be plenty of new projects to showcase, including The Refinery at Domino.
The Best of Brooklyn Real Estate Showcase was made possible thanks to a wide array of sponsors; they included platinum sponsor The Coney, a proposal to bring a year-round entertainment district to the iconic Coney Island which includes a casino, world class hotel, indoor entertainment venue and additional retail. Additional sponsors include 25 Kent, Altice USA, Citizens Bank, Cozen O'Connor, Eladia's Kids, Empire State Bank, Fort Hamilton Distillery, Industry City, JPMorgan Chase & Co., National Grid, REBNY, TD Bank and Two Trees Management.
###
ABOUT THE BROOKLYN CHAMBER OF COMMERCE  
The Brooklyn Chamber of Commerce is among the largest and most influential business advocacy organizations in New York, having spent the last hundred years developing and promoting policies that drive economic development and advance its members' interests. The Chamber is the voice of Brooklyn's business community, offering the resources, programs, tools and direct support businesses need to continue creating jobs and opportunities in their communities.