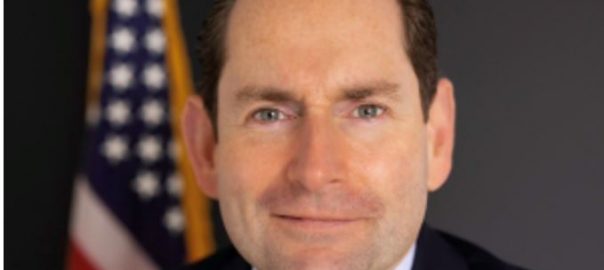 Bipartisan Infrastructure Bill Welcome News for New York's Economic Recovery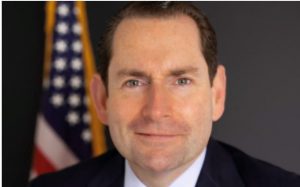 The Bipartisan Infrastructure Bill, signed earlier this week by President Biden, is welcome news not just for New York's construction industry, but for our State's economic recovery.
Every community in our State faces infrastructure challenges—potholes, deficient bridges, an aging transit and subway system, old, failing pipes and beyond.  These communities will see real and tangible improvements to a broad range of infrastructure that will improve our competitiveness and enhance resiliency.  It represents the most significant investment in our economy and our future in at least half a century.  Most importantly, this bill will create many thousands of jobs, putting New Yorkers to work to rebuild not only our infrastructure, but also our economy that still bears the strains of the COVID-19 pandemic.
We thank Senate Majority Leader Chuck Schumer for his leadership in moving this bill through the Senate with broad, bipartisan support.  We also thank House Democratic Caucus Chair, Congressman Hakeem Jeffries, and all the members of the New York House delegation who supported it, particularly our New York Transportation and Infrastructure Committee Members, Congressman Sean Patrick Maloney, Congressman Antonio Delgado, Congressman John Katko and Congresswoman Nicole Malliotakis, as well as Ways & Means Committee Members Congressman Brian Higgins, Congressman Tom Suozzi and Congressman Tom Reed.
Special thanks are due to the Republican members of the New York Delegation who supported this bill:  Congressman John Katko, Congressman Tom Reed, Congresswoman Nicole Malliotakis and Congressman Andrew Garbarino.  I applaud them for being leaders, not followers.  They showed the courage to cross party lines to do what was right for New York and America—a trait that is proving to be all too rare these days.
The most remarkable thing is that their votes were remarkable.  These members, and their Republican colleagues from around the country who joined them in voting for good, job-creating legislation, have faced outrageous, blistering attacks—even threats to strip them from their congressional committees and, appallingly, of physical harm.  These shameful, hysterical displays are based not on substantive objections to the bill, but rather the absurd notion that our Members of Congress are sent to Washington to engage in perpetual combat with the other party—not actually get things done for America or the communities they represent.  That's just wrong.
Let's be clear here:  this bill is truly bipartisan.  It was the result of work by a group of Republican and Democratic Senators—it did not come from the White House or President.  It won the support of 19 Republicans in the Senate, including Senate Republican Leader Mitch McConnell.  Frankly, it's the kind of bill President Trump, who had talked up infrastructure proposals even bigger than this one, would have signed with fanfare had he been able to get it done.  Indeed, one of the provisions AGC strongly supported in this bill was making permanent the Trump Administration's streamlining of federal environmental review and permitting processes.
Under the Federal Highway Program alone, this legislation will mean an historic funding increase for New York of $4.6 billion—or more than 52%.  This will drive the reconstruction of roads and bridges across the Empire State.
This landmark legislation does far more than just that, though.  It provides New York with: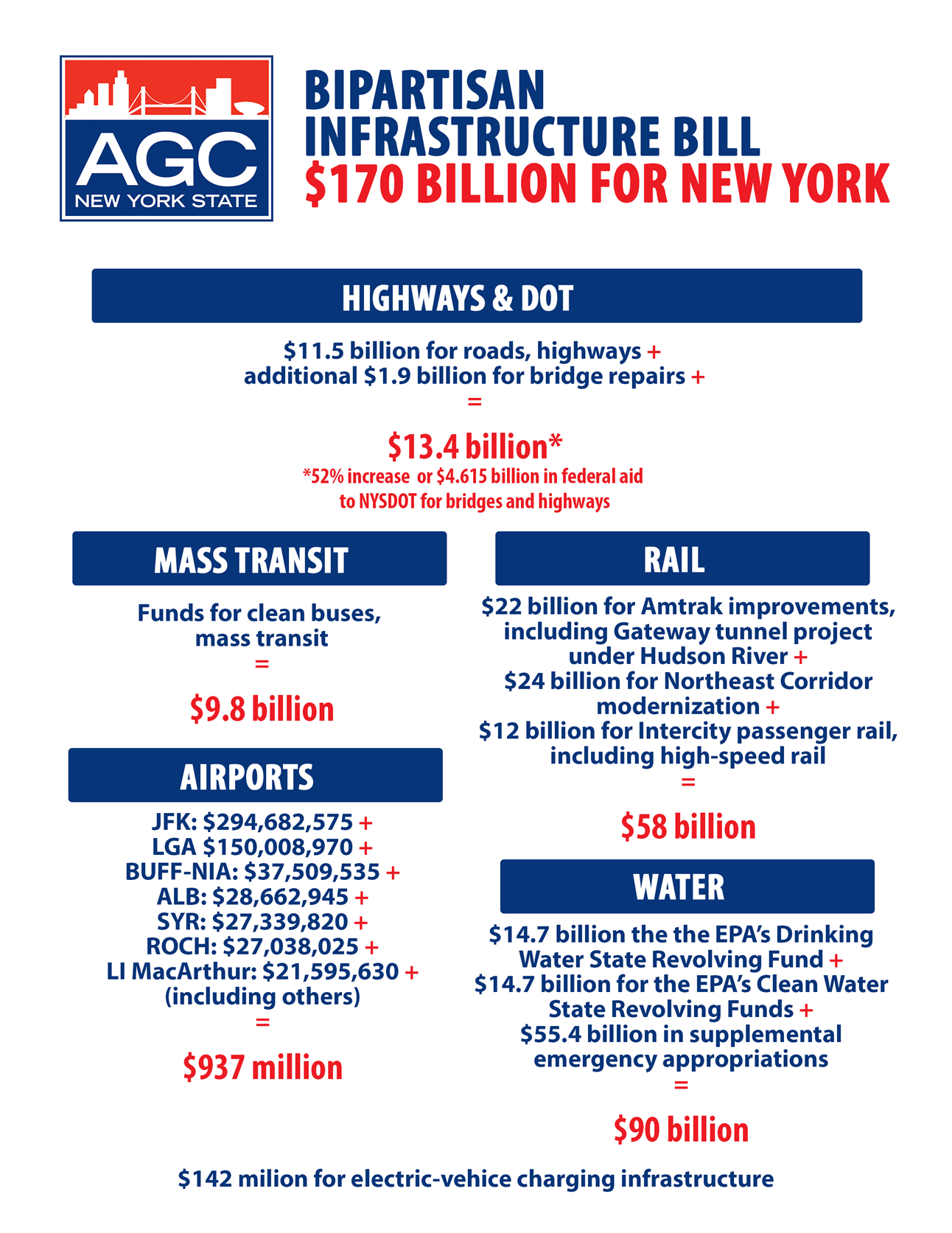 All told, the Bipartisan Infrastructure Bill will mean an additional $170 billion in investment in New York's aging infrastructure, according to Senator Schumer's office.  That is truly historic.  These investments will drive real, substantial job creation and will fuel economic recovery—and build the foundation for a stronger economy going forward.
AGC NYS looks forward to working with Governor Kathy Hochul and the Legislature to turn this historic funding into historic action in the coming state budget.  We will be advocating for more robust and substantial capital programs, including a new, multi-year NYSDOT Capital Program that will finally allow the Department of Transportation to shift from preservation mode—or, as I call it in layman's terms, "Scotch tape and paint mode," to the kind of real reconstruction New York's aging and deteriorating roads and bridges really need.
So, let's get past the political posturing and rancor and get on with the work of rebuilding our State.  This is a good bill for America—and a great bill for New York.  New York's construction industry is ready to get to work and deliver projects that will improve our communities and provide a foundation for a stronger economy going forward.  It is a truly historic opportunity—one we've long sought—and now its here.  Let's get it done.
Mike Elmendorf is President & CEO of the Associated General Contractors of New York State, New York's leading statewide construction industry organization and the New York State Chapter of the Associated General Contractors of America.