BEACON COMMUNITIES, STATE & LOCAL OFFICIALS, ROME HOUSING AUTHORITY BREAK GROUND ON RENOVATION OF NEW YORK'S FIRST CARBON-NEUTRAL PUBLIC HOUSING BUILDING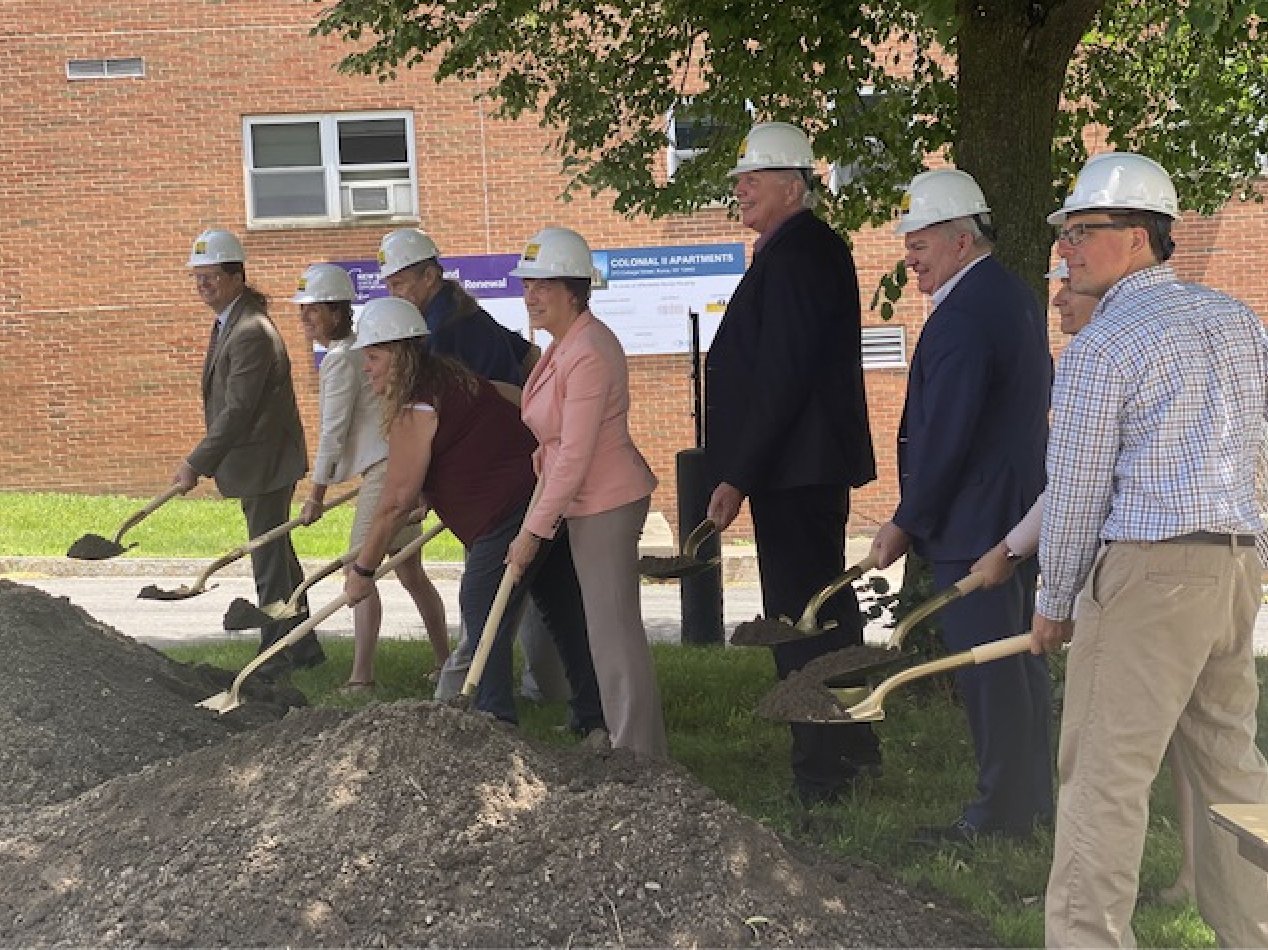 $40.8 Million Project – a NYSERDA Buildings of Excellence Competition Winner – Will Serve As Statewide Blueprint, Help Advance Climate & Clean Energy Goals, Improve Affordability & Standard Of Living For Tenants
ROME, NY – Beacon Communities, one of the nation's largest affordable housing firms, and the Rome Housing Authority were joined today by state and local officials at a groundbreaking ceremony at Colonial II Apartments – New York's first carbon-neutral public housing renovation. 
The $40.8 million project is a complete rehabilitation of a 99-unit elderly and disabled affordable housing building, which was awarded $1.3 million through NYSERDA's Buildings of Excellence Competition due to its cutting-edge sustainable design.
"Colonial II Apartments will provide its residents a home, help revitalize the surrounding area, and provide an example of smart, sustainable development for the future," said Darren Scott, Upstate East Director of Development at New York State Homes and Community Renewal. "The preservation and improvement of our existing public housing facilities is crucial. This portfolio is among the most valuable affordable housing assets we have."
"The design of this building provides highly efficient, affordable comfort; when it's complete, it will be a better building, a better place to live, and better overall for the community," said Patrick O'Shei, Director of Market Development at the New York State Energy Research & Development Authority.
"Preserving neighborhoods and growing neighborhoods is essential to the wellbeing of any community," said state Senator Joseph A. Griffo, a former mayor of Rome. "We are going to be able to serve a segment of our population, seniors, and those with disabilities, and provide them with modern, energy-efficient housing. That is something that is part of the American dream – to ensure people are living comfortably and safely."
"One of the things that excites me the most about this project is that these apartments are going to be expanded in living space, and now they will be of size that make the residents feel more at home," said Rome Mayor Jacqueline M. Izzo. "This takes a lot of planning, and it is also a commitment for quite a period of time, to get these projects off the ground and all that work is being done behind the scenes."
As a result of this significant investment, all building systems at Colonial II will be electrified, and geothermal-sourced high-efficiency heat pumps will be installed, along with a small solar field. The failing brick façade will be replaced with a panel system that improves temperature control and decreases overall energy usage. Together, these improvements will help the state advance its ambitious climate and clean energy goals. 
The Colonial II project is being undertaken in partnership by Beacon Communities; the Rome Housing Authority; RIDA Architecture, PLLC; Staengl Engineering; Active Solar Development; and New Ecology Inc. 
"This is the first public housing renovation that will be carbon neutral in the state of New York and that's a really exciting thing to be able to say," said Dara Kovel, Chief Executive Officer at Beacon Communities. "We hope that this will be a blueprint for other housing authorities and affordable housing redevelopments across the state of New York".
"We should be investing and lending in the communities in which we all live and serve," said David Walsh, Managing Director of Community Development Real Estate, JP Morgan Chase & Co.  "I'd like to congratulate everyone for working to bring this project across the finish line, because anyone who has ever done a project like this knows how complicated it is."
The rehabilitation of Colonial II's interior will transform the original 99 units into 74 modern and affordable apartments available to households with incomes at or below 50 percent of the area median income.
The project will provide residents with the most up-to-date affordable units available. It builds on the success of the Colonial I rehabilitation – a $22 million project completed in 2019 – that created 83 energy-efficient, affordable homes for seniors and disabled individuals, upgrading a 1966 building constructed by the Rome Housing Authority.
"This entire exciting project could not happen without the support and dedication of our partners," said Maureen Birmingham, Executive Director of the Rome Housing Authority. "It's going to give something back to the tenants, and also to the entire community." 
"I'm very excited to be a part of the Colonial II conversion and I'm very happy to see the progress that's been made since construction began," said Raymond Hitchcock, a 10-year Colonial II resident and Vice Chairman, Tenant-Elected Commissioner of the Rome Housing Authority Board.  "This new conversion will give residents and myself much larger units that are easily accessible and have modern appliances."
If you were unable to join us in person for today's groundbreaking, a recording of the event can be found here: https://fb.watch/dwHR2YkQk0/.