AT&T, The STEM Alliance and 914United Partner to Create New Technology and Digital Literacy Program for Formerly Incarcerated and Justice Involved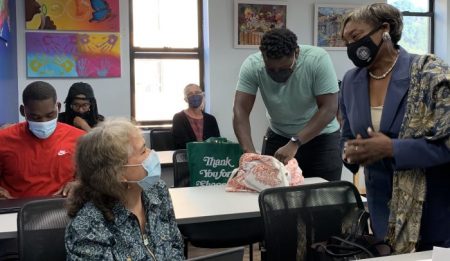 WESTCHESTER COUNTY, NY, Oct. 7, 2021 – AT&T, The STEM Alliance and 914United have teamed up to provide an innovative technology and digital literacy education program for formerly incarcerated and justice involved Westchester County citizens.  The program is part of The STEM Alliance's Digital Equity Now initiative and AT&T's commitment to working with organizations across the country to address the digital divide impacting Black, Brown and underserved communities that have faced long-standing social inequities and higher unemployment. In celebration of National Digital Inclusion Week that kicked off on October 4th and the graduation of the inaugural cohort of the innovative program, Senate Majority Leader Andrea Stewart-Cousins and Assemblyman Steve Otis, both champions of social justice and advocates for digital equity, joined Amy Kramer, President, AT&T New, Margaret Käufer, President, The STEM Alliance and Jonathan Alvarez, Co-Founder and Executive Director, 914United on Thursday October 7th to tour the program, address the clients on the importance of digital literacy and digital inclusion issues and to discuss what they had learned and what they hope to achieve now the program is over.
AT&T's support of The STEM Alliance's Digital Equity Now initiative is a part of the company's recently announced $2 billion nationwide commitment to help bridge the digital divide and homework gap.  As part of this support, AT&T and The STEM Alliance based in Westchester are collaborating on other digital literacy programming for underserved students across the county. Digital Equity Now focuses on "digital rehabilitation and resilience" and providing vital tech skills that help to maximize the potential for underrepresented young adults to succeed as they reenter their communities.
Providing digital literacy along with devices and connectivity is so important, as tech access and digital knowledge impact every aspect of daily life in today's world, from education to healthcare to job seeking and workforce skills.  For those who have been justice-involved or reentering the workforce following incarceration, there is an even higher need for direct education in tech skills.  With AT&T's support, 96 of these high need clients – predominantly young adults – will participate in Tech Skills for Success classes (TSS) – a STEM Alliance program implemented in partnership with 914United and other Westchester nonprofits as part of the Digital Equity Now initiative. The first-of-its-kind program is being funded by a $25,000 contribution from AT&T. The new digital literacy program is being taught by 914 United for free at its facility in Yonkers and is open for county residents that qualify.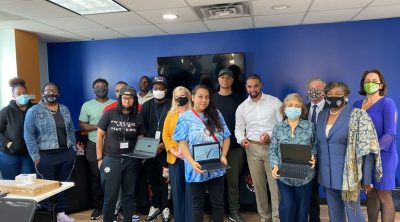 This program provides technology education to help participants better navigate the increasingly digital world while also equipping them with the computer skills necessary for employment and everyday life. The current cohort at 914United provides a small group setting, serving eight clients at a time with fifteen hours of education on the Google platform including project-based work that applies to real work scenarios.  The program also focuses on understanding computer basics, using word processing software, navigating the internet, using search engines and email, operating hardware and devices, staying safe online, and learning the benefits of mobile technology such as smartphones and tablets.  Participants also leave the program with access to an independent online learning portal for Microsoft platform certifications.
With the focus on skills, Digital Equity Now enables participants to find opportunity through the digital efficiencies that aren't always equitably available for all. The program's mantra is that providing digital skills is equity, not charity. Instead of "giving clients a fish," we are "teaching them to fish." The small class sizes are critical to meet the clients where they are including meeting parole scheduling obligations, mental health concerns and attention issues.
"With AT&T's support this work, which was originally piloted with the Youth Shelter of Westchester, is now being expanded to 914United and other Westchester partners who focus on juvenile recidivism and workforce reentry.  The STEM Alliance leads the work by writing curriculum, providing new, free Chromebooks, and hotspots with unlimited data for TSS clients. But the work is achieved through partnerships with other nonprofits who recruit the program participants," STEM Alliance President, Meg Käufer explained. "The partnership model is critical to this success.  Our partners have trusted relationships with their clients and able to create a safe learning environment for them to expand their skills even when they feel vulnerable or uncertain."
"Nearly every career requires digital skills, but many people returning to the community after incarceration struggle with accessing and using new technology. The unemployment rate for formerly incarcerated individuals is five times higher than the national average and systemic racism makes the situation even worse for justice-involved people of color," said Senate Majority Leader Andrea Stewart-Cousins. "Equipping formerly incarcerated people with the skills to better navigate our increasingly digital world is but one way we can help them overcome barriers to employment and break the cycle of recidivism. Thank you to AT&T, The STEM Alliance and 914United for coming together to support these New Yorkers as they reintegrate into society and make positive change. Congratulations to those who have completed the inaugural training course, I wish them success going forward."
"Congratulations to AT&T, The STEM Alliance and 914United for using the digital inclusion model to provide the tools for clients seeking to improve their employment opportunities and digital lives," said Assemblyman Steve Otis (91st AD-Westchester), who initiated a new NYS Digital Inclusion Grant Program in the state budget. "More than any time in history, digital literacy is essential to career development, accessing health care and functioning effectively in everyday life. This program will deliver these skills and change lives."
"Because our society needs to address inequities and social justice, AT&T is committed to supporting meaningful and equitable change in communities across our state and across our nation," said Amy Kramer, President, AT&T New York. "This is why AT&T is proud to collaborate with the STEM Alliance and 914United to deliver digital literacy skills critical for reintegration into today's innovation economy and builds upon our dedication to narrowing the digital divide by helping provide digital knowledge to individuals, despite socioeconomic background, gender, race, or ethnicity. I want thank Majority Leader Stewart-Cousins and Assemblyman Otis for visiting the program and for all they do to advance digital literacy and social justice locally and across New York."
"It is imperative to have digital literacy courses available for those returning home from incarceration as many of them work to rebuild their lives and prepare for the professional world," said Jonathan Alvarez, Co-Founder and Executive Director, 914United. I want to thank AT&T for their support in helping make this critical program possible and for their help to close the digital divide for our clients."
The STEM Alliance's mission is to organize STEM education and enrichment initiatives in order to inspire a community where all are empowered to embrace STEM passions to solve problems.  By creating a network of STEM learning opportunities, we work to connect learners to STEM skills that are both urgently needed to address today's problems and that are associated with higher wage earning and fewer periods of joblessness.  The organization sees STEM skills are a ladder of opportunity helping to break the cycle of poverty and that is why it is dedicated to equal access to STEM enrichment experiences for all. Despite the challenges of the pandemic environment, it launched Digital Equity Now and completed more than 300 pilot distributions and tech education classes to a wide range of eligible low-income clients ranging from children to parents to day laborers to individuals who have been previously involved in the criminal justice system. The STEM Alliance's activities serve more than 4,000 people annually.
914United is a local program-based mentoring non-for-profit organization working to educate, empower, and enrich the youth and the justice involved. It champions the philosophy that it takes a village to raise a child and a team to achieve success. In this spirit, the organization delivers a team of Real Models and Reentry Mentors whose dedication and community values lie in supporting and uplifting those impacted by socio-economic inequities. 914Uniited's aim is to assist youth in successfully transitioning into adulthood and provide returning citizens with essential support to sustain productive living.
###
About Philanthropy & Social Innovation at AT&T 
We're committed to advancing education, creating opportunities, strengthening communities and improving lives. AT&T Connected Learning is a multi-year commitment to bridge the digital divide and narrow the homework gap, so today's learners are connected with skills, resources, and opportunities for success in school and in life. Since 2008, we've committed $600 million to programs that help millions of students across all 50 states and around the world, particularly those in underserved communities.