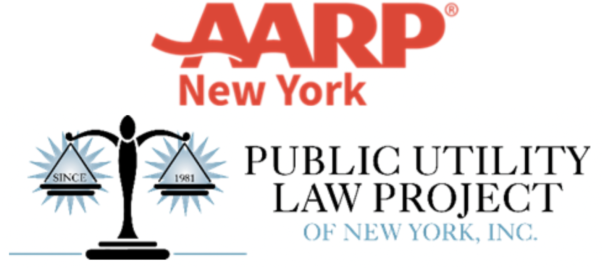 AARP, PULP Praise Proposed Second Phase of Utility Debt Relief to Help Consumers Behind on Bills

Proposal would provide tangible relief to customers who got no relief from Phase I; Stakeholders urge quick adoption and implementation – though question financial burden on ratepayers 
ALBANY, N.Y. – AARP New York State Director Beth Finkel and Public Utility Law Project ("PULP") Executive Director and Counsel Laurie Wheelock issued the following statement on the release of the Department of Public Service's Energy Affordability Working Group's proposal for a second phase of utility debt relief . A breakdown on the stakeholder proposal can be found here.
"This program will be a lifeline to residential households that did not already receive relief under the Phase I program – which applied to residential low-income customers identified as being enrolled in their utility company's Energy Affordability Program – and to small business customers that continue to carry a balance left over from the pandemic.
"Still, we are concerned that ratepayers will shoulder the bulk of the cost of this proposal. To date, no state funding has been offered, and the utility shareholder contribution of approximately 15% falls short of what we had urged.
"Despite that inequity, we recognize that ending the utility arrears crisis is imperative for New York's financial recovery by getting ratepayers, especially older New Yorkers and those on low- and fixed-incomes, back on track to financial stability.
"AARP New York and PULP will continue to work with the Department of Public Service, the various utilities, the consumer advocates, and other stakeholders to bolster enrollment in utility low-income bill discount programs and advance additional measures that reduce energy burdens and improve overall affordability.
"Low- and fixed-income households should know that the Home Energy Assistance Program ("HEAP") and its "Emergency" component are now available to help eligible customers heat their homes this winter. Most New Yorkers can find more information or apply by visiting the State Office of Temporary and Disability Assistance ("OTDA") website or by calling their local Department of Social Services Office. New York City residents can visit their local Human Resources Administration ("HRA") office or call the HRA HEAP Infoline at 1-800-692-0557."
"Importantly, receipt of HEAP will automatically enroll customers in their utility's low-income Energy Affordability Program (EAP), which provides customers with a discount on their monthly electric and/or gas utility bills."
"Finally, help is also available for customers behind on their water and wastewater utility bills. The Low-Income Household Water Assistance Program recently began a new program year, which means that some households may even be eligible for additional relief if they have received a LIWAP benefit in the past. New Yorkers can find more information and apply by visiting the State OTDA website."
Follow AARP New York on Twitter:  @AARPNY and Facebook: AARP New York
 Follow PULP on Twitter: @UtilityProject and Facebook: UtilityProject

AARP is the nation's largest nonprofit, nonpartisan organization dedicated to empowering people 50 and older to choose how they live as they age. With a nationwide presence and nearly 38 million members, AARP strengthens communities and advocates for what matters most to families: health security, financial stability and personal fulfillment. AARP also produces the nation's largest circulation publications: AARP The Magazine and AARP Bulletin. To learn more, visit www.aarp.org/nearyou and follow @AARPNY on social media. 
Since 1981, the Public Utility Project of New York ("PULP") has been the sole independent organization educating, advocating and litigating on behalf of New York's low-income utility consumers. Our work has empowered and protected millions through the enactment of the Home Energy Fair Practices Act ("HEFPA") and four decades of battling against increasing energy, telephone, and water unaffordability. In our 40th Anniversary year, PULP's direct services and principled advocacy kept the lights, heat, water, telephone, and broadband "on" for 2.7 million vulnerable households throughout the COVID-19 pandemic. PULP looks forward to many more decades of serving low- and fixed-income New Yorkers. Learn more atwww.utilityproject.org or follow us on social media @utilityproject.