"A Sure Bet for New York's Future" Alliance and Local Elected Officials Hold Press Conference Calling on the State to Move Forward with Downstate Commercial Casino Licenses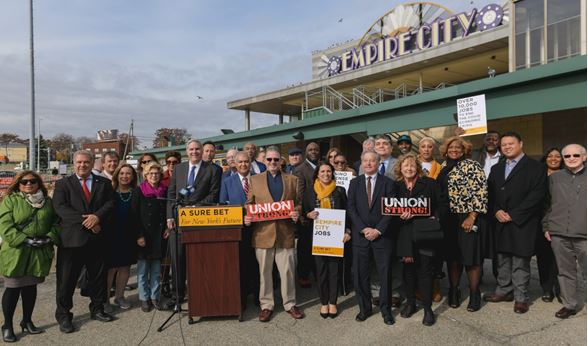 Alliance of over 70 business, labor, nonprofit and community organizations in Westchester and the Bronx calls on Albany to act in upcoming legislative session
Yonkers, NY (November 17th, 2021) — Today, "A Sure Bet for New York's Future" Alliance, along with state and local elected officials and community partners, held a rally outside of Empire City Casino by MGM Resorts to demonstrate strong community support for New York State to introduce a process that can quickly award downstate full-scale commercial casino licenses, highlighting the immediate need for jobs in Yonkers, Mount Vernon, the Bronx, and the region.
Assemblymember Gary Pretlow, chair of the Racing and Wagering Committee, called on the Governor to support his legislation to accelerate the downstate casino licensing process. "We in this part of the state want this to happen, and we want it to happen now. This helps the Bronx, Westchester, Rockland County, and the state of New York. That's what this is all about – helping the state of New York," Pretlow said.
"From a business standpoint, from a local government standpoint, this is a no brainer," said Westchester County Executive George Latimer adding, "You have here already the infrastructure for the most successful casino you could imagine."
Yonkers Mayor Mike Spano said, "Enough is enough. We don't need to wait. We know that this will bring in hundreds of millions of dollars in revenue and thousands of jobs to this region."
"I can't think of a project more deserving of our collective attention than getting full gaming right now, this year for Yonkers and for downstate," said State Senator Shelley Mayer. "We in the Senate majority under the leadership of Andrea Stewart-Cousins are totally committed to getting this done this year, no question, no excuses, no delay."
"This is a renaissance moment for not only my city of Yonkers, but all of Westchester and the Bronx, and really the region," said Assemblymember Nader Sayegh. "Let's keep the revenue right here in New York State."
"We need to come back bigger, stronger, better, and that's what this investment can do," stated Assemblymember Nathalia Fernandez, a member of the Bronx delegation. "I really hope the Governor is on board, because if not, she's gonna hear from all of us, especially in the Bronx."
Community groups also showed their support for the project, which they say will have far-reaching benefits to the local community.
"Returning parents back to work is one of the city's highest goals so we don't have to rely on staying home," said Henry Wilson, Alliance Co-chair and Executive Director of Youth Community Outreach Program. "I strongly support this effort, the board of directors of the Mount Vernon YCOP strongly supports this effort, and many of my colleagues and all the friends and parents support this effort."
Local leaders also underscored the importance of the long-term investment that a full-scale commercial casino license at Empire City represents.
"This is not the circus that comes to town and picks up and leaves," noted Mount Vernon Mayor Shawyn Patterson Howard, adding "This is ten thousand jobs here to stay."
"This could be a huge, game-changing incubator for workforce development like we've never seen before," said John Ravitz, Alliance co-chair and Vice President and COO of the Business Council of Westchester. Citing local support for the full casino license, Ravitz noted "Westchester, the Bronx, and all of the downstate region are urging Albany to work quickly. Downstate can't wait."
Highlighting the broader economic effects of a full-scale license for Empire City, Lisa Sorin, Alliance co-chair and President of the Bronx Chamber of Commerce said, "We keep talking about the jobs, which are so critical, but we're also looking at businesses that will be supported by this; minority-owned businesses, small mom and pop shops, construction work, everything that's needed to build something like this."
"Ten thousand jobs in this economy is definitely a sure bet to help the Bronx's economy, Westchester's economy, and the state's economy," stated Marlene Citron, Alliance co-chair and President of Bronx Overall Economic Development Corp. Emphasizing the urgent need for the casino licensing process to move forward, she added, "There are a lot of jobs that were lost during COVID that are not coming back. So we need these jobs, and we need to ensure that this casino be brought here so that all of us can win."
The Alliance includes more than 70 business, labor, nonprofit and community organizations from Westchester and the Bronx who support the creation of thousands of new, family-sustaining union jobs for local families. Attendees stressed the importance of Albany prioritizing meaningful relief and sustainable job growth for a region severely impacted by the COVID-19 recession.  Alliance members repeatedly highlighted the overwhelming community support for Empire City to be able to apply for and receive a full gaming license.
The press conference featured remarks from Yonkers Mayor Mike Spano, Westchester County Executive George Latimer, NYS Senator Shelley Mayer, Assembly Members Nader Sayegh, J. Gary Pretlow, Nathalia Fernandez, and Steve Otis, Mount Vernon Mayor Shawyn Patterson Howard, Yonkers City Council Members John Rubbo, Mike Breen and Tasha Diaz, along with the founding co-chairs of "A Sure Bet for New York's Future", co-chairs John Ravitz, Vice President and COO of the Business Council of Westchester; Thomas Carey, President of Westchester Putnam Central Labor Body; Marlene Cintron, President of Bronx Overall Economic Development Corp; Lisa Sorin, President of The New Bronx Chamber of Commerce; and Henry Wilson, Executive Director of Y-COP.
Also in attendance were representatives for NYS Senate Leader Andrea Stewart Cousins and Yonkers City Council Member Shanae Williams.
Members of the Alliance also attended to show their support, including John Cooney, Jr, Executive Director, Construction Industry Council of Westchester and Hudson Valley Inc.; Carlos Laboy, COO of the Municipal Housing Authority of Yonkers; Henry Djonbalaj, President, McLean Avenue Merchant Association; Carmen Goldberg, Advisor, 100 Hispanic Women of Westchester; Millie Becker, President, Skyqueen Enterprises; Kenneth Plummer, President, Kensworth Consulting; Richard McSpeddon, Vice President, LOCAL 3 IBEW / Westchester Central Labor Body; Florence McCue, Yonkers Federation of Teachers; Stacey Thompkins, President, Tompkins Excavating; Dwayne Norris, Co-founder & COO, Soulful Synergy; Douglas Singer, Managing Member, Singer Law PLLC; Olga Luz Tirado, Executive Director, Bronx Tourism Council, and Jodie Reaver of SWAC-PAC.
The Alliance currently has more than 70 members, and it continues to grow. To learn more about the Alliance and/or join as a member visit: www.thebcw.org/alliance
About the Alliance
A Sure Bet for New York's Future is an Alliance of businesses, community organizations, labor groups, and other local groups who are calling on Albany to introduce a process and timeline to quickly award downstate full-gaming commercial casino licenses to create thousands of new jobs New Yorkers need, create billions in economic impact, and help revitalize our communities.