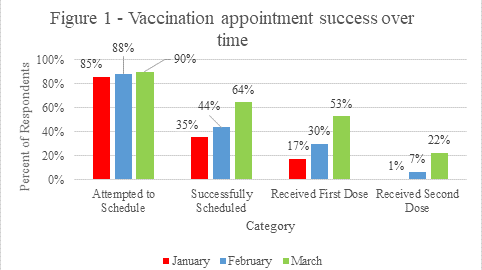 64% of AARP NY On-Line Activists Succeed in Scheduling COVID Vaccine, but Problems Persist: Survey #3

Some Must Travel Far; Lower Success Rate for People of Color
ALBANY, N.Y.— As COVID-19 vaccines continue to roll out across the state, AARP New York's on line activists responding to a third survey in the past six weeks reported greater success scheduling and receiving doses – but also continued problems including long trips to vaccine sites, particularly outside New York City, and less success among people of color.
This month, 64% of over 2,076 respondents who attempted to schedule an appointment – about 90% of the 2,313 total survey respondents – indicated they were successful. That's up from 35% who tried in late January and 44% last month. And over half (53%) said they had received at least their first dose of the vaccine, up from 30% in AARP New York's February survey.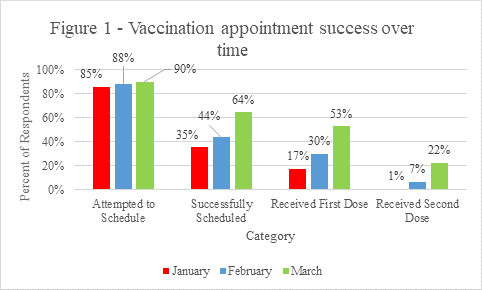 Still, people of color continued reporting more difficulty, with only 56% successful in scheduling an appointment compared to 65% of white respondents, and 47% receiving at least their first dose vs. 53% of white respondents. Many indicated continued frustration with the sign-up system with some saying they've given up, while many respondents outside New York City said their only option was to travel long distances.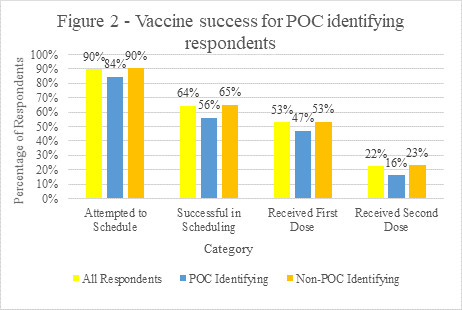 "We're making progress, but there's certainly room for improvement," said AARP New York State Director Beth Finkel. "More than a third of these on line activists – who know how to use websites – still couldn't get in line for a vaccine. Others still have to travel far from their homes. And people of color still face disparities.
"We need continued improvements to the sign-up system, especially for the many older New Yorkers who aren't computer savvy," Finkel continued. "And what is the State plan for the homebound?"
In addition to the State's vaccine website (https://am-i-eligible.covid19vaccine.health.ny.gov/), the State offers a toll-free phone line (1-833-NYS-4-VAX, or 1-833-697-4829) to schedule vaccination appointments.
AARP's dedicated team of reporters is updating our website in real time (aarp.org/nyvaccine) with the latest information about when the vaccine will be available for you and where to get it.
Here are capsules of some of the latest survey's responses:
"Initially it wasn't easy to find a website to try and sign up.  Then every time we tried, there were no available spots.  Day after day, so we stopped."
John, Person of Color in New York City
"I tried three different sites, including one about 2 blocks from my house.  Not one of the sites has responded with a scheduled appointment."
"Trying to get the vaccine is very, very difficult … When I try to register, I wind up giving up. They make me feel like I'm going in circles."
Mary, Person of Color in Freeport
"No one has it or they tell me no appointments are available. I am trying for my mom, who is 78 and cannot get appointment anywhere on Long Island – Suffolk County. I even tried Nassau County and I can't even get one for myself and I have underlying conditions, but I am concerned about my mom first since she is going to be 78 this week."
"I have an appointment for the vaccine [in April] all the way up in Binghamton NY. That is over a 3 hour drive. I am 65 years old and have hypertension. Also I am a security officer around people all the time when I work."
"HORRIFYING!  First, I sat on hold for hours, then tried via the website to schedule. It took six weeks to get an appointment for my 88-year-old mother, who was just vaccinated, and now I'm having horrible problems getting a vaccine appointment close by. I'm forced to drive 190 miles away to get my first dose – it has been a nightmare."
"I've managed to schedule 1st dose vaccination appointment for Pfizer early last week (February) for this Friday afternoon at a mass POD in my county (Queens – NYC) at Citi Field.  It hasn't been easy to do this online, a matter of patience and persistence in keep checking to see what and when slots are available & open. Most are still limited to seniors age 65 and up and very few for the rest of the elderly population under 65 with pre-existing or comorbidities.  Walgreen, CVS and RiteAid are not doing anyone under age 65. State of NY run sites within the last week has opened up more, still with restrictions on zip codes in many cases.  Travel & transportation logistics can be a challenge for anyone without easy access to mass transit and/or requiring bus to train/subway transfer. Consider myself lucky in getting one sooner than later as I will turn 65 in the middle of this month. Best I can do is also get a different slot for wife on the next day (this Saturday) and a brother in law that is 68 years old for the same afternoon."
Henry, Person of Color in Whitestone
Follow us on Twitter:  @AARPNY and Facebook: AARP New York
About AARP
AARP is the nation's largest nonprofit, nonpartisan organization dedicated to empowering people 50 and older to choose how they live as they age. With a nationwide presence and nearly 38 million members, AARP strengthens communities and advocates for what matters most to families: health security, financial stability and personal fulfillment. AARP also produces the nation's largest circulation publications: AARP The Magazine and AARP Bulletin. To learn more, visit www.aarp.org or follow @AARP and @AARPadvocates on social media.