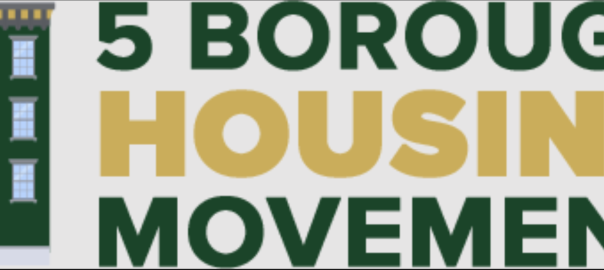 5 Borough Housing Movement Gets Key Support From Four Elected Officials as Budget Deadline Looms

Reps. Meeks, Espaillat, Torres and Manhattan BP Levine Say Office Conversions to Housing Crucial to Future Growth of New York City
February 22, 2023 – Congress Members Gregory Meeks (NY-05), Adriano Espaillat (NY-13) and Ritchie Torres (NY-15) and Manhattan Borough President Mark Levine today joined the call for Albany to expand New York City's ability to convert offices into housing. The lawmakers are the latest to join the 5 Borough Housing Movement, which is leading the charge for New York State to end the outdated housing policies that continue to stunt the Big Apple's growth.
"We can't afford to miss opportunities to address the housing supply crisis that so deeply impacts my Queens constituents and all New Yorkers. That's why it's vital for New York to seize the moment this year and advance policies for converting unused office space into affordable housing. It won't just help Manhattan to finally produce its fair share of new housing – it will also play an important role in relieving housing pressure in my district and others across the outer boroughs," said Rep. Gregory Meeks (NY-05).
"No hardworking New Yorker should ever have to worry about providing their family a safe and affordable place to live," said Congressman Adriano Espaillat (NY-13). "I am glad to see cooperation between state officials and community organizations working together to create innovative and necessary ways to expand affordable housing options in New York City."
"New York is confronting the greatest affordability crisis since the Great Depression," said Congress Member Ritchie Torres (NY-15). "The need for a dramatically expanded housing supply to overcome both housing insecurity and homelessness has never been more urgent. I commend Governor Hochul for putting housing where it belongs in the state budget: front and center. Although far from a magic bullet, commercial-to-residential conversions represent an innovative solution that will make New York more affordable for more New Yorkers."
"Across Manhattan, we are seeing prices increase and supply dwindle, forcing New York families out of their homes and communities," said Manhattan Borough President Mark Levine. "Converting some commercial buildings for residential use could increase the supply of affordable housing and seriously help combat this housing crisis. Now is the time for bold and aggressive action to address the affordability crisis in our borough, and I'm ready to work with the Governor, Mayor and State Legislature to make that happen."
"The next few weeks present an opportunity to create a fairer, better New York City," said John Sanchez, Executive Director of the 5 Borough Housing Movement. "Lifting the FAR cap and expanding the ability for office conversions will unlock housing in areas that have fallen behind the rest of the City. That's why you're seeing representatives like Congress Members Meeks, Espaillat and Torres and Borough President Levine come on board in support of our movement."
The elected officials – representing Queens, Manhattan and the Bronx – are the latest in a growing coalition behind 5 Borough Housing Movement's efforts. Those include the New York Building Congress, the Partnership for New York City, the NAACP NYS Chapter, the Garment District Alliance, the Downtown Alliance, the Arc of Justice, Urban Upbound, and several local chambers of commerce.
The movement is calling on State lawmakers to address this issue by putting forth policies including:
Enabling Office-to-Residential Conversions
Making sensible changes to State law will allow the large-scale conversion of commercial buildings to residential use. The most likely targets for conversions are older office buildings in Manhattan that are struggling to compete with newer offices due to the impacts of the pandemic.
Lifting the Floor Area Ratio (FAR) Cap
The current 12 FAR cap obstructs affordable housing by limiting the density of new construction in New York City. Lifting the cap will unlock opportunities for conversions, particularly around Manhattan transit hubs.
Helping New Conversions to Deliver Affordable Housing
It is not enough to promote conversions that will deliver market rate housing. Government should provide a tax incentive to encourage converted buildings to include affordable units.
With these policies, the coalition believes future conversions could produce tens of thousands of new homes in Manhattan over the next decade, with a significant portion set aside as permanently affordable.
More information on the 5 Borough Housing Movement can be found at 5borohousing.org.