Senator Breslin, Assemblymembers Fahy and McDonald Join with the State's Leading Animal Advocacy Groups and Call on Governor Hochul to Sign the Puppy Mill Pipeline Bill

NY's Puppy Mill Pipeline Bill, Passed by Wide Bipartisan Margin, Would Ban Sale of Dogs, Cats, and Rabbits in Retail Pet Stores Across State
Pet Stores Could Still Partner With Shelters and Rescues To Help Customers Adopt Pets and New Yorkers Can Still Go Directly to Licensed Breeders
ALBANY, N.Y. – State Senator Neil Breslin (D-44), Assemblymember Patricia Fahy (D-109) and Assemblymember John McDonald (D-108) joined Bill Ketzer from the ASPCA and Libby Post from the New York State Animal Protection Federation (NYSAPF) at the State Capitol to deliver thousands of postcards from shelter advocates and supporters across the state. The postcards, like those participating in today's event, call on Governor Kathy Hochul to sign New York's puppy mill pipeline legislation (S.1130/A.4283) that would ban the sale of dogs, cats, and rabbits in pet stores. The legislation, which passed by a wide bipartisan margin, is now on Governor Hochul's desk for signature.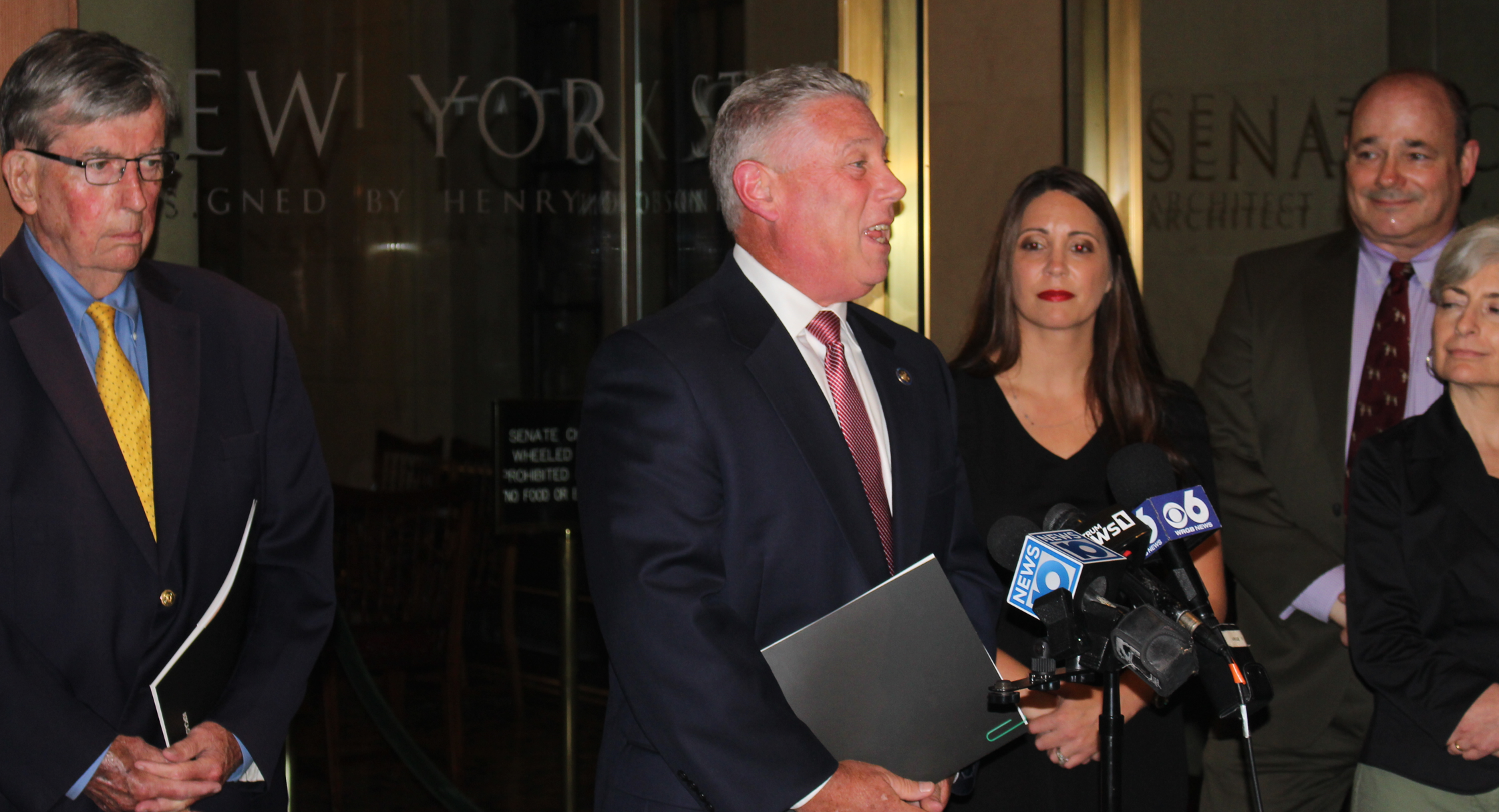 The postcards, distributed by NYSAPF, add to the over 10,000 constituent emails the Governor has received since session ended. They feature two photos that are examples of how both breeding dogs and their puppies are treated in these facilities. It is these puppies—which survive inhumane treatment and dangerous conditions–that end up for sale in retail pet shops.
Often sold to unsuspecting consumers, these puppies come home with pre-existing conditions, such as parvovirus and congenital issues, which cost purchasers thousands in veterinary care which may not always be successful.
Senator Neil Breslin said: "It is critical for the safety and welfare of so many companion animals that we shut down the puppy mill pipeline. There are so many good animals currently in need of adoption. There is absolutely no need to continue to help puppy mills to continue to operate. I am proud to support this important legislation and encourage Governor Hochul to sign it into law as soon as possible."
Assemblymember Patricia Fahy said: "For too long, the puppy mill pipeline in New York has enabled the maltreatment of dogs and puppies across the state. Commercial breeders supply a majority of NY pet stores, with almost half (43%) coming in trucks from Missouri. Up to 70% of retailers have been cited for violations in the last 5 years alone, illustrating how rampant abuse is propped up by the puppy mill pipeline in New York State. I'm proud to cosponsor and support legislation that will finally ban the puppy mill pipeline in New York."
Assemblymember John T. McDonald III, RPh said: "The supply for retail sales of certain animals comes primarily from puppy mills. By implementing the Puppy Mill Pipeline Act, New York would be preventing many animals from being born into and living in inhumane conditions. This bill is also an important consumer protection effort and will protect those who seek to bring an animal into a loving home only to find out that the pet they purchased at a substantial cost is very ill or has severe medical issues resulting from previous neglect. Thank you to the sponsors and advocates who never paw-sed in their efforts to move this important legislation forward."
Libby Post, Executive Director of the New York State Animal Protection Federation said: "Of the $123.6B spent on pets in the United States, less than two percent comes from the sale of puppies, kittens and rabbits. This is an opportunity for these pet stores to rebrand as humane businesses. New York can no longer afford to be complicit in animal abuse and as long as we allow puppy mills to bring their 'product' into the state, the Empire State is guilty of abuse. The overwhelming support from both sides of the aisle for this bill shows that the last bastion of nonpartisanship is puppies and kittens. Governor Hochul should join in this agreement and sign the bill."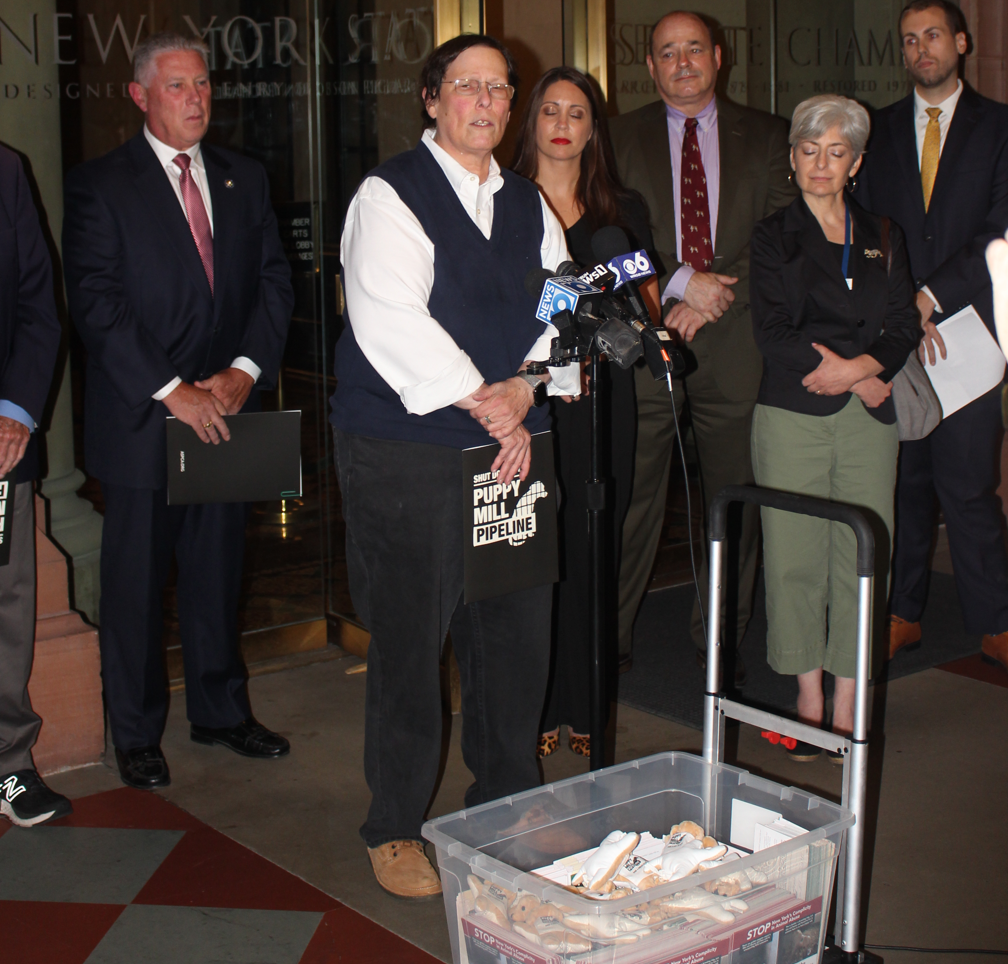 Bill Ketzer, senior director of state legislation for the ASPCA, Eastern Division said: "The vast majority of New Yorkers have spoken, and the state legislature has taken action. Right now, however, the pipeline of puppy mill puppies destined for one of the pet industry's largest markets–New York pet stores–continues to flow, allowing retail sellers and commercial breeders even more profit from unconscionable animal suffering. We urgently implore Governor Hochul to uphold the public's call to reject this cruel and irreparably broken system by signing the Puppy Mill Pipeline Bill into law."
Brian Shapiro, New York State Director for the Humane Society of the United States said: "Governor Hochul's signature on this bill would protect New York consumers and family pets from the awful scourge of puppy mill cruelty. The HSUS respectfully asks that this popular legislation be signed into law without delay."
The bill allows animal shelters and rescues to hold adoption events at pet stores which, in turn, will help the stores build a new brand loyalty. Nothing in the bill prohibits buyers from going to reputable breeders to get a specific breed of dog.

About the ASPCA®: Founded in 1866, the ASPCA® (American Society for the Prevention of Cruelty to Animals®) is the first animal welfare organization in North America and serves as the nation's leading voice for animals. More than two million supporters strong, the ASPCA's mission is to provide effective means for the prevention of cruelty to animals throughout the United States. As a 501(c)(3) not-for-profit corporation, the ASPCA is a national leader in the areas of anti-cruelty, community outreach and animal health services. For more information, please visit www.ASPCA.org, and be sure to follow the ASPCA on Facebook, Twitter, and Instagram.
About the HSUS: Founded in 1954, the Humane Society of the United States fights the big fights to end suffering for all animals. Together with millions of supporters, we take on puppy mills, factory farms, trophy hunts, animal testing and other cruel industries. With our affiliates, we rescue and care for tens of thousands of animals every year through our animal rescue team's work and other hands-on animal care services. We fight all forms of animal cruelty to achieve the vision behind our name: A humane society. Learn more about our work at humanesociety.org. Subscribe to Kitty Block's blog, A Humane World. Follow the HSUS Media Relations department on Twitter. Read the award-winning All Animals magazine. Listen to the Humane Voices Podcast. 
About NYSAPF: The New York State Animal Protection Federation was founded in 2010 with the goal of giving an advocacy voice to New York State's network of animal shelters. It has grown to over 100 members across the state that includes shelters, rescues and animal welfare organizations. It is the leading voice on animal shelter issues in New York and is responsible for the establishment of the $8M Companion Animal Capital Fund which help to underwrite capital projects at shelters. For more information, go to www.nysapf.org.