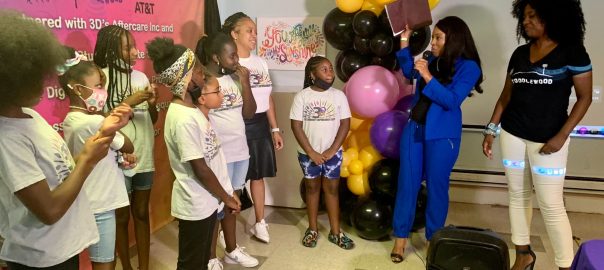 3 D's Aftercare Inc, Toddlewood Studios and AT&T Host Digital Literacy and Content Summer Program to Help Close the Diversity Gap in Technology, Support Local Black-Owned Businesses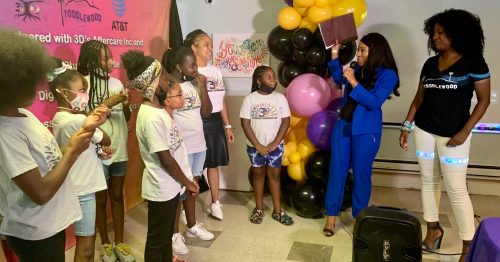 The AT&T Junior Digital Content Creator Program provided 50 local, underrepresented students a free two- month digital literacy and STEAM program to help address the digital divide and demonstrate how technology can be utilized to enhance social good
Program part of AT&T's recent $2 billion nationwide commitment to help bridge the digital divide and fight the homework gap
Nassau County, NY – August 31st, 2021 – AT&T and two local Long Island organizations, 3 D's Aftercare, Inc and Toddlewood Studios, partnered to create an innovative digital literacy and education summer program designed to help local students impacted by the digital divide, address equality issues in the technology sector, and support local Black-owned businesses by developing digital content they can use for commercials. The AT&T Junior Digital Content Creator Program was designed by the stakeholders to encourage more underserved and diverse students to enter the field of technology, an industry that has long faced a pervasive diversity gap, while supporting local Black-owned businesses on Long Island. The program provided 50 students from underrepresented communities, aged 8-12 years old from various towns of Nassau County an opportunity to gain digital literacy and readiness skills through a unique technology-focused, immersive experience creating digital content. The program also encouraged students to explore STEAM (science, technology, engineering, art and math) educational and career paths. The free two-month long program was made possible by financial support and programming collaboration from AT&T as part of the company's recently announced $2 billion nationwide commitment to help bridge the digital divide and homework gap.
The AT&T Junior Digital Content Creator Program's unique and engaging curriculum was developed and taught by 3 D's Aftercare, Inc and ToddleWood Studios. The program introduced students to new digital skills and the future of digital content development, while providing them with the latest cutting-edge video and editing technology to use during the program. Classes were designed to offer a creative and civic minded way to expose local students to the skills and technology necessary to create film, new media and multimedia projects. As video content continues to grow in popularity, the demand for filmmaking and content development professionals is only increasing, and this project provided students with a unique opportunity to learn valuable lessons and skills on how technology can be used to solve social issues, increase the social good, and further their career opportunities.
The program's students learned how to operate digital cameras; compose and light video shoots; add music to video assets; handle on-site production; appear on-camera themselves; edit in a post-production environment; present their products; develop narratives; and interview video subjects.
Using these new talents, students worked with four Nassau County Black-owned businesses that were hit disproportionately hard by COVID to create digital commercials, helping each business establish a larger online brand identity and increase sales. The students worked with industry professionals to create, film, edit, script write and develop creative content for the commercials and worked with the business owners to understand their business and advertising needs. The students rotated the roles and responsibilities of stage managers, directors, camera operators, lighting technicians, interviewers, and acting talent. Each business will receive a free 30 – 45 second fully produced commercial and a 15-minute video interview between a student and the owner on what makes their business distinctive or different. The four-businesses that participated in this project are:
• Quintessential Boutique, Oceanside – a hair salon and boutique with an online store with the latest trends.
• Swirl Bliss, Baldwin – an independently owned and operated frozen yogurt shop offering an assortment of healthy yogurt flavors.
• Sweet & Savory Café, Baldwin – a family-owned cafe that specializes in providing a sense of community.
• StrongHER, Baldwin – a certified personal training business offering nutrition consulting, group fitness classes and personal training for women.
"During this challenging time, Nassau County has stepped up our partnership with school districts and non-profits to empower students with the digital and technical skills they need to thrive in the new normal. I thank AT&T for contributing to our efforts through this generous commitment, and I wish participating students the best of luck," said Nassau County Executive Laura Curran.
"As advancements in technology continue to lead us into an ever-expanding digital world, it is more important than ever that we close the digital divide that currently exists in so many of our communities. Across all aspects of life, digital literacy is becoming necessary to success," said State Senator John E. Brooks. "The AT&T Junior Digital Content Creator Program is performing an essential service by providing so many students from marginalized communities the opportunity to gain digital knowledge to which they otherwise would lack access. It is clear that this program put these students in a better position to succeed in their future endeavors. Thank you to 3 D's Aftercare Inc, Toddlewood Studios, AT&T for their work on this project. Programs like this make our communities better for us all and I hope to continue this critical work with our community partners moving forward.
"Thank you, AT&T, for this incredible opportunity. I have been able to work with the talented students of 3 D's Community Center and they are flourishing. This project is providing them with a transferable skill set, experience and confidence and I could not be more proud. We look forward to future community partnerships," said Assemblywoman Taylor Darling.
"Supporting our youth who are impacted by the digital divide is paramount and I am grateful that AT&T was able to generously provide this innovative educational program to 50 local students while at the same time supporting four local minority owned businesses," said Assemblywoman Judy Griffin. "I appreciate that 3 D's Aftercare, Inc and Toddlewood Studios were able to partner with AT&T in developing and delivering this empowering and encouraging initiative. I am so proud of Community Partnerships like these since it positively impacts our youth and helps our minority-owned businesses thrive."
AT&T's partners on the program included:
● 3 D's Aftercare, Inc- Meets the needs of both parents and children with academic and cultural enrichment; fosters dream development and dream manifestation and empowers parents to actualize their goals. Founded by Dr. Zodelia Williams, the program's mission is to empower children, create confidence and encourage academic accountability. Their goals are to empower children with higher self-esteem, a greater sense of self-worth and an understanding of responsibility through mentoring, parent support, tutoring, STEAM initiatives, After School until midnight, Summer Camp, The Teen Cafe, Middle School Mingle, College Cafe, David's Dug Out, The Teen Parent that Rocks Parenting Program, Aged like fine wine 55+ club, life skills training, social-emotional learning, conflict resolution, workshops, scholarships and so much more
● Toddlewood Studios – Over 10 years, Toddlewood, created by renowned photographer and director, Tricia Messeroux, has been recreating high profile individuals in entertainment, politics, and media with their doppleganger kids age 5-12. Toddlewood's focus is to creatively empower kids of all ages to make a difference in their lives and give them a "red carpet dreams come true" attitude no matter what their circumstance by educating them in a fun and artful way about past and present influential role models. Toddlewood Studios consists of videographers, video editors, graphic designers, art directors, hair and make-up team and PA's.
"Through their Junior Digital Content Creator Program, AT&T, 3 D's Aftercare and Toddlewood Studios provided youngsters with an array of immersive, hands-on digital media experiences that empowered them to strengthen their proficiency in STEAM subjects and use those skills to make an immediate positive impact in the community," said Nassau County Legislator Debra Mulé. "I applaud everyone involved in devising and implementing a truly innovative endeavor that equips our children for the future while supporting local Black-owned businesses in the present day."
Digital knowledge is quickly becoming the new literacy and is the driver of all new global technology. With the growing demand to innovate, organizations across various industries struggle to fill skilled positions. It's projected that there will be 3.5 million STEM jobs in the U.S. by 2025, underscoring the importance of providing youth the tools and skills necessary to compete in this innovation economy – especially those in underserved and underrepresented communities. The urgency for more diverse technology-trained employees is accentuated by the low percentage of diverse people entering the technology industry. This alarming diversity shortage in the tech industry and the growing STEM job market emphasizes the importance of providing programming like the AT&T Junior Digital Content Creator Program for youth of all backgrounds and economic situations.
"AT&T is proud to collaborate with 3 D's Aftercare Inc and Toddlewood Studios and to develop and support this innovative experience for students and further our commitment to providing resources for STEM-related educational programming throughout New York. "This program builds upon our vigorous efforts to bridge the diversity gap in the technology industry, and we look forward to building these relationships in the months and years to come," said Magdalonie Paris-Campbell, Manager of External Affairs, AT&T. "Our economy continues to transform at a robust pace – requiring a workforce with a focus on technological education and literacy – and digital literacy programs like the AT&T Junior Digital Content Creator Program are vital to ensure that students, despite gender, race, or ethnicity, are equipped to compete in the global innovation economy of tomorrow."
"We appreciate AT&T for affording our students the opportunity to be empowered, affirmed, educated and elevated through The Toddlewood Studios AT&T Junior Digital Content Creator Program," said Dr. Zoe Williams, Executive Director, 3 D's Aftercare Inc.
"Given the digital world we live in today, it's crucial to empower students with creative skill sets so that they have the ability to do more than just take selfies. They can create meaningful content to inspire, inform and advocate through technical, digital production capabilities. Working with 3 D's Aftercare, Inc students through the driving support of AT&T has made this program a creative reality. And for that I'm grateful," said Tricia Messeroux, CEO, Toddlewood Studios.
AT&T's support for this program is aligned with the company's legacy of supporting educational programs focused on STEM disciplines in New York through AT&T Aspire, the company's philanthropic initiative that drives innovation in education by bringing diverse resources to bear on the issue including funding, technology, programing, employee volunteerism and mentoring. Aspire is one of the nation's largest corporate commitments focused on school success and workforce readiness by creating new learning environments and educational delivery systems to help students succeed and prepare them to take on 21st century careers.
To view the AT&T Junior Digital Content Creator Program's commercials and interviews conducted by the students with the business owners, please visit https://tmezzcreative.com/att/.
###
About Philanthropy & Social Innovation at AT&T
We're committed to advancing education, creating opportunities, strengthening communities and improving lives. AT&T Connected Learning is a multi-year commitment to bridge the digital divide and narrow the homework gap, so today's learners are connected with skills, resources, and opportunities for success in school and in life. Since 2008, we've committed $600 million to programs that help millions of students across all 50 states and around the world, particularly those in underserved communities.